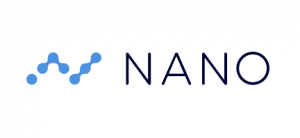 Nano is my favorite cryptocurrency.   Over the past few months it has shot into the top 100 cryptocurrencies and keeps gaining in popularity.  I've put together this guide on Nano, how to buy it and why I think it has an excellent future.
What is Nano
Nano is a cryptocurrency that was built from the ground up to be a currency.  Bitcoin does a great job of being the "gold" of crypto.  It's valuable, but can be expensive to move.  Nano is definitely the "currency" of cryptos.  It offers near instant and fee-free transactions!
This is why I love it so much.  It solves a real problem that many cryptocurrencies struggle with today.  Nano is also scalable.  So even if it becomes super popular and used by everyone in the world, the platform should still work.
Nano was previously known as RaiBlocks.  They changed their name this year during a rebrand.  I think this was a smart move and "Nano" certainly sounds perfect for a utility currency.
What can Nano be used for
Nano can be used to make purchases.  Bitcoin can take 60 minutes to confirm transactions, where as Nano transactions happen almost instantly.  This makes it perfect for use as a transactional currency.
Nano will also be perfect for micro-transactions.  It's not economically viable to send small amounts of bitcoin.  But micro-transactions are completely viable with Nano.
Crypto traders should also love Nano.  It's perfect for transferring between exchanges and being used for arbitrage opportunities.  Because transactions are instant, you won't miss out on a trading opportunity waiting for your transaction to confirm.
Why I like Nano
It has a great team of genuine talent.  Nano isn't a hard fork and doesn't rely on other peoples work.
Solves a real problem in the world of cryptocurrency.
Highly scalable.
Fee-Free transfers
It's really fast
Where to Buy Nano
When I first bought into Nano, it was really hard to find exchanges that supported it. But thankfully more and more exchanges are selling it.
Here are my picks on where to buy Nano:
One of the largest crypto exchanges.  You will need to deposit via Bitcoin or another cryptocurrency.  This makes buying Nano a two step process if you're starting with Fiat currency.  However Binance are a trusted exchange with a good reputation.
If you live in Australia then good news, you buy Nano with Fiat!  They support instant bank deposits (via PoLi).  You can also sell you Nano back to AUD if you wish to cash out.
Other Exchanges
Careful of some of the smaller exchanges.  Exchanges comes and go and they can be risky. If you do choose to use another exchange, just make sure you transfer your coins off right away.
Where to store Nano
Make sure you don't store large amounts of Nano in an exchange.  In the past exchanges have been hacked, so it's best to store your Nano in a wallet.
Nano offers an official web wallet, which although could be better designed, does the job.  They are bringing out a mobile wallet as well and you can sign up for a beta invite.  It will be released publicly soon.