One of the most reliable ways to make money online is through blogging.  I earn a full-time income from blogging.  And even though things have changed so much over the past few years, it's still a great way to make money.
In this guide I'm going to share with you why you need your own website if you plan to make money online, and why I believe blogs are the perfect method for passive income.  And of course I'm going to share with you how I make money and how you can do the exact same thing!
Start your own Money Making Blog
The good news is that building a blog requires no technical skills.  You don't need to know how to code or anything.  The entire process of setting up a blog is automated.
My number 1 tip is to get a website as soon as possible.  The sooner you start the easier it is.  I'll be truthful, you can't make money overnight with a blog.  This site took over a year to start earning money.  Now while I don't think it would take that long if you're dedicated it still takes time.  So stop putting it off and just get started:
I recommend two places to start your blog.  Definitely steer clear of Bluehost and HostGator.  I've had problems with them being way to slow.  And that can really impact your earnings down the track.  It's best to use a decent host:
Siteground – Siteground is like Bluehost or HostGator (i.e perfect for beginners) but is built for running profitable WordPress blogs.  You can install a blog automatically on Siteground and it'll even let you setup advanced stuff like an SSL certificate all automatically.
Cloudways – I absolutely love Cloudways for WordPress hosting.  It's what I use.  You basically get a VPS (your own server) but it's managed for you like shared hosting.  So you get the same sort of support you'd expect at Siteground (which is legendary btw) but with your very own server.  And it's actually really cost effective too – it costs just $10 a month!!  I'm using Cloudways for my affiliate sites, and it's my secret weapon.   Check out this guide on how to setup your site on Cloudways. It's a tiny bit more complicated than Siteground but still super easy.  And they offer a free migration service too if you're not technical.
Sign up to one of the services above and get your site started asap.  The sooner you start, the sooner you'll be able to build your website and starting getting some Google love.
Choosing what to Blog About
If you want to make money from a blog, then you need to choose a theme.  Don't just start a "general" blog.  These don't make money. This blog is themed around making extra income.  So I write about blogging, investing etc.  The trick to picking a good theme is to pick something that has lots of money making potential.
Here are some niches which tend to work well:
Finance and Investing
Health and Fitness
Niche review sites (like camping gear)
Self help and personal development
All of these niches have plenty of affiliate programs (more on that below) that you can make money with.  There's no point picking a niche that has limited money making potential.
Find a cool domain for your blog
Once you have a niche in mind, you can come up with a good domain.  I use LeanDomainSearch – it's a free tool that lets you generate names based on a keyword.  So say I was creating a niche website about camping gear.  I would enter something like: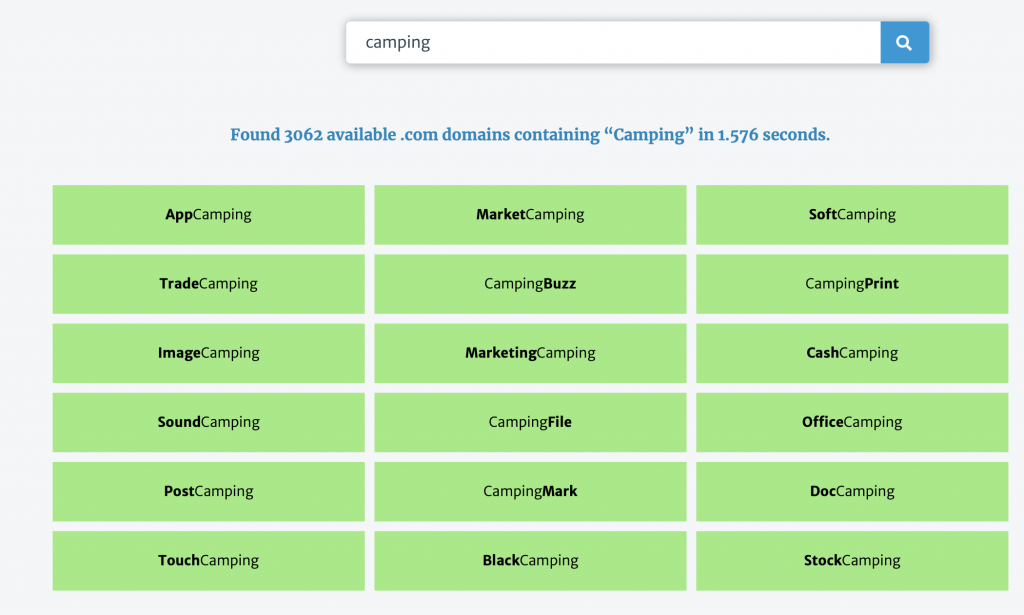 If you can't find something that sounds good, just add a "the" to the front or "blog" to the end.  You'll easily be able to find available domains.
Don't worry too much about the domain name.  It matters less than people think it does.  I've had some truly awful domains that ended up making a lot of money.
Get a base blog setup
Signup to Siteground or Cloudways and get a base installation of WordPress setup.  For a money making blog you'll need:
SSL Certificate (google penalises sites without one).  Both Siteground and Cloudways offer automatic install
Some sort of CDN – this will speed up your website.  Again siteground and Cloudways offers these.
About Page – add a page with some basic info about you and your site.  Tip – non anonymous sites always work better
Contact Page – give people a way to contact you.  I get daily emails from people looking to do business with my sites.
Privacy Policy and Terms of Service – you can generate these.  Just google a TOS generator.  No need to pay for anything fancy.
With a new blog, I like to keep things fairly simple.  I use GeneratePress as the theme.  I like having a nice and clean look and GeneratePress lets me customise everything without needing to code.  I also make sure I setup the widgets in the sidebar.  I use the "popular posts" widget from Jetpack (which is free).
Find an Affiliate Program
The secret to making money blogging is with affiliate marketing.  While you can make money in a number of other ways, by far the most effective is with affiliate marketing?  Why – well a single commission could net you $50+.  And to get a commission you actually don't need a ton of traffic.  I've built sites that make affiliate commissions with less than 20 visitors per day!
Finding affiliate programs is really easy.  Just google blogs in your chosen niche and see what they're promoting.  There are also a ton of directories out there.  Most affiliate programs will require you to have a blog or site already setup to apply.  Thats why I told you get something setup asap!!
Choose an affiliate program that has a commission of more than $10 per sale.  Some offer a % deal others will offer a CPA (flat commission).  Just make sure it's netting your more than $10.  Why?  Because it's so much easier to promote a program that makes you more money.  I've seen bloggers promote things where they earn $1-$3 per commission.  And they work so hard and earn a ton of commissions but only walk away with <$20 month.  But if you promote a higher valued item you only need to make a couple of commissions to start earning decent income.
Create a "Money" Post
The trick to making money with a blog is not about writing a single article and then hoping you'll make money.  You have to use what pro bloggers call "Silos".  The idea is you have a page that is geared towards promoting an affiliate program.
For example, lets say I was running a health blog and I was promoting a supplement via an affiliate program.  What I would do is create a page titled something like:
[Insert Supplement Name Here] – does it really work?
or maybe something like
[Supplement Name] – 2019 Review
These pages would be linked to in the blog header menu and in the sidebar.  And on those pages I would include lots of affiliate links.  I would make sure each of those pages had lots of content (at the bare minimum 500 words) and plenty of images.  And I would use sales language too.  Honestly the first pages you'll create probably won't be too great.  But you'll get better as you start to blog more.
Create Blog Posts
Now this is where the magic happens.  You start blogging!  To get your first blog post ideas, go to Google and search for the thing you're promoting.  Use the product name.  Then at the bottom (or sometimes top) look at the suggested search queries.  You can use these exact queries as your blog post titles.  And then just fill them with relevant content.
For example.  Let's say I started a blog talking about hacking your health.  And I was promoting a product called BulletProof Coffee (yes they have an affiliate program, so you can steal my idea).  I would search for Bulletproof Coffee:

I would use some of these as my first blog posts.
The trick is to make sure you link to your money page in EVERY single post.  Internal backlinks are the secret SEO trick that pro bloggers all use but don't really want to share – why? Because it works so well.  You honestly need very few external backlinks if you have the right blog posts and lots of internal backlinks.   I would also include some direct affiliate links in each post too.  Don't be afraid of putting affiliate links in every post.  If you want to make money blogging, you need to be thinking about how each post will make you an affiliate sale.
Once you start creating posts like these you'll get into a habit of making posts that help answer people's questions and push them towards a sale.    I keep a document open on my MacBook with blog post ideas that I add to on a daily basis.
Promote
There are many ways to promote a blog.  Start promoting your blog as soon as you've registered the domain and setup your base wordpress site.  Here are my fav ways:
Leave Blog Comments – find similar blogs to yours and leave some good comments.  Don't spam!  Add value to the conversation.  Treat it as though you're trying to make a new friend that way you won't come off as spammy.  Blog comments are good way to get some initial traction.
Post to socials – Twitter, Facebook and Pinterest.  Make sure you post every blog post to these networks.  Use hashtags/keywords where appropriate.
Join a Community – join a network like MyEzy where you can connect with other bloggers to setup opportunities such as link exchanges.
Guest Post – Guest blogging takes a lot of time and work, but it's also probably the single most effective way to increase blog traffic.  Find related blogs to yours and offer to do a guest post.
Top Tips for Successful Blogging
Use a Good Theme – for almost all my affiliate sites I use the GeneratePress theme.  It's a really clean and basic theme that you customise anyway you want.  Eventually I'll switch this blog over to it as well.
Make sure your blog is fast – Google penalises slow websites.  Thankfully both Siteground and Cloudways (my recommended platforms) offer additional tools just for WordPress sites that more sure they are fast.
Start with one affiliate program – Start with one affiliate program and then move onto more when you start earning commissions.   I find it's much easier to pump out really good money making content when I'm focused on the one program.
Stick with it – Most people who fail with blogging give up after a few months.  Honestly it gets so much easier if you stick with it for a little while.  I've been running this blog for a few years and other sites for 5+ years.  And it's so much easier now than it used to be.  Like with anything in life you need to practice.  So the more posts you write, the more you'll learn about what works on what doesn't.  You could read endless guides about blogging, but none of it will be as effective as just starting your own.
Let me help you out
Do you have a blog thats not making any money?  Are you yet to create a blog and need some help?  I want to help you.  I'm a member of MyEzy which is a community for bloggers.  It's a paid community but it's really cheap (less than $10 one off fee).  If you join up, just post a discussion and I'll answer it within 24 hours.    I'm more than happy to take a look at your site and offer suggestions and can help you find better ways to monetise.  Alternatively if you don't want to join MyEzy (it's worth it), then feel free to email.
Go start blogging!
It's time to start your own money making blog.  The good news is that you can still make a full-time income from blogging, all you have to do is get started and stick with it.  Visit Siteground to start your blogging journey!