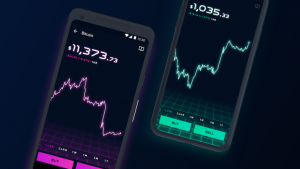 One of the biggest problems in cryptocurrency right now is converting fiat currency in
to cryptocurrency.  When Bitcoin exploded in late 2017, Coinbase (currently the largest seller of Bitcoin) suffered constant downtime.
So it's great news that a new player is entering the crypto space – the super popular stock trading platform Robinhood!
It's good to see another large company enter the space.  There are no shortage of small, dodgy companies selling crypto.  Many of them are probably fine, but they do suffer from trust and usability issues.  Robinhood on the other hand already has an established customer base, over $100+ million in funding from VCs and well designed easy to use apps.
This is going to be a really positive boost for Bitcoin and other cryptocurrencies.  Coinbase really struggled to keep up with customer demand during the last surge, so hopefully when the next one comes, things will be much smoother.
Zero Fee Trading
This is probably the biggest news – Robinhood is offering zero fee trading.  This means you can buy Bitcoin with zero fees!  Coinbase charges fees of up to 4%, so this is certainly going to create some stiff competition.  Robinhood is using cryptocurrency to attract customers to their platform, and are willing to run this part of their business at a loss.  Whether this is a smart long term strategy remains to be seen.
Bitcoin and Ethereum
Robinhood is starting with just Bitcoin and Ethereum trading.  This makes sense as it's what most people are looking to buy!  They'll allow you to transfer $1000 from your bank account instantly to make purchases.  This means you won't need to suffer any lengthy delays which could cause price movements.
They are rolling this out in just 5 U.S states to begin with, but expect more States and Countries to be added over time.