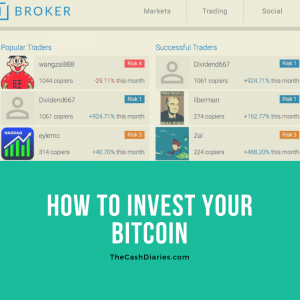 So you have a stack of Bitcoin.  You could just hodl it or you could try and turn it into even more Bitcoin.  The market at the moment is pretty flat with not much happening.  That makes it the perfect time to invest your Bitcoin and grow it into something larger.
In this post I've put together some different options for investing using Bitcoin and also some things you need to be aware of.

1Broker – Copytrade
1Broker is a broker where you can trade stocks, forex and commodities using Bitcoin.  Trading on your own can be tricky.  But 1Broker has a nifty copy trading feature that lets you copy the trades made by experienced and profitable traders.    The top trades on 1Broker have returns of over 50%.    You simply choose how much Bitcoin you want to allocate to each copied trade and the maximum number of traders per day.  Then 1Broker will do the rest.  It's a great way to profit from the skills and experience of others.
Bitbond – Lend your Bitcoin
Bitbond lets you lend your bitcoin out to verified small businesses.  These businesses are mostly in the ecommerce space and are selling on eBay and other platforms.  They need capital upfront to purchase stock.  And so you can help them by lending your bitcoin.  You'll earn up to 25% p.a!  The great thing about Bitbond is your money is invested in proven business models and profitable businesses.  So it reduces much of the risk of p2p lending.
You can spread your Bitcoin across lots of different loans to reduce the risk in case one loan defaults.  Lending is proven way to grow your capital.
Binance and CoinSpot – Invest in Altcoins
The most successful way I grew my Bitcoin balance was by investing in Altcoins.  Altcoins are basically anything that isn't Bitcoin.  There are thousands of Altcoins.  Many of them are known as "shitcoins" and aren't worth investing in, but many are.  The good thing about Altcoins is they can grow much faster than bitcoin.  I've invested in coins and seen a 100x return.  Something that is impossible with Bitcoin now.
The places to invest in altcoins are Binance and Coinspot.  Coinspot is only available in Australia, but if you do live in Australia, then I recommend it over Binance.  Binance is pretty good and has a huge range of coins.
Most of the coins on Coinspot are pretty good.  I've had good success with investing in coins that are just outside the top 100 on CoinMarketCap.  Remember buy low and sell high!  Don't just buy into an altcoin after it has had a bull run of 20%+.  Wait for a good opportunity.
HODL
Don't be afraid to just hold onto your bitcoins.   If you believe in Bitcoin and cryptocurrency, then you'll probably also believe that it's still in its early days and there is lots of room for growth.  So just holding onto your Bitcoin can be extremely profitable in the long run.
If you're looking to start a Bitcoin investment, you can get $10 free when you sign up to Coinbase here.  Coinbase is the number one seller of Bitcoin and it's where I buy all my bitcoin.