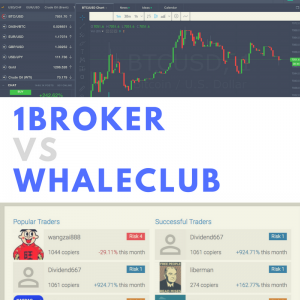 Both 1Broker and Whaleclub are trading platforms that let you trade using Bitcoin.  Instead of depositing fiat currency you deposit Bitcoin.  And then you can use this Bitcoin to trade stocks, forex, commodities and more.
I've traded on both of these platforms so if you're stuck trying to figure out which one to join, let me help:
Testing out the Platforms
While testing out the platforms I opened and closed trades and tested deposits and withdrawals.  I also had an opportunity to contact support on both platforms to see how responsive/helpful they were.  Both platforms were tested using real accounts (I still trader regularly on 1Broker using actual Bitcoin).
1Broker
I've been using 1Broker for the past 12 months to trade stocks and forex.  I'm going to take you what I like about the platform and what I think can be improved.
What I like about trading on 1Broker
Quick and Easy Signup
Signing up on 1Broker is quick and easy.  One of the advanatages of using a broker that doesn't have fiat deposits, is that there are no complex verification procedures.  And you don't need to upload any documents to prove who you are – I know many of you worry about how these are stored etc.  On 1Broker you simply sign up, deposit and start trading.  Simple as that.
Low Fees
1Broker has really reasonable fees.  There are no fees for depositing bitcoin or keeping it in your account and there are no commissions on trades.  You simply pay a spread.  Certain trades will also attract financing fees but these are no higher than most platforms.     On unleveraged stock trades there are no financing fees!! This means you can open a long stock trade and leave it open to maximise profits.  I love this longer term trading style.
Good Selection of Assets to Trade
The selection of stocks and forex pairs isn't huge on 1Broker.  They list most of the popular tech stocks.  Think Tesla, Facebook, Apple etc.  I'm guessing these are of most interest to the type of trader who will be trading using Bitcoin.  They do have a good selection of indices to trade and also offer commodities.
Copy Trading
This is a really nifty feature – if you don't know much about trading, you can simply copy the trades made by other profitable and successful traders on the platform.  So even if you're new to trading you can make money.  Copy trading is pretty simple on 1Broker, just browse through the profiles of traders, and when you see someone you like you can "copy" them.  You choose how much you want to allocate to each copied trade and the max number of trades you want to do per day, and the rest is done by 1Broker.  Some of the top traders on 1Broker make over 100%+ per year, so there is definitely room to profit.
Variable Leverage
On 1Broker you can choose how much leverage you want to use on a trade by trade basis.  This is a really great feature that I wish more trading platforms would have.  You can also select 1x leverage which is unleveraged.
What I don't like about trading on 1Broker
Interface could be improved
The interface is pretty basic.  I do like simplicity but it could be improved. This isn't a huge flaw and I'm sure that it'll be improved over time.
Whaleclub
Whaleclub is very similar to 1Broker.  However it does have a couple of distinguishing features:
What I like about Whaleclub
Nice to look at Interface
The interface on Whaleclub is very good looking.  And much better than most traditional brokers that have been around for 10+ years!  There are nice charting tools too which allow you to draw on indicators.

Chatbox
Another thing I really like about Whaleclub is the chatbox.  This is part of every page on the trading interface.  It lets you chat with other members and share your trades with the community.  Trading can be a pretty lonely profession,  so I like that they are making things a bit more social.
What I don't like about Whaleclub
Fees are way to high
Whaleclub charges hourly financing fees which in my opinion are way to high.  Because of this it's very hard to trade profitably.   The fees are the sole reason why I no longer trade on Whaleclub.
Support is unresponsive
I tried to contact support to try and fix some trades that were not executed correctly.   I never received a response.  Because of that I can't recommend this platform to people anymore.
I feel like Whaleclub will need to change if they want to keep customers.  I feel like they will.  So if they do end up changing and offer more competitive fees and better support, I'll reivew them again.
The Winner: 1Broker
Overall 1Broker is a clear winner.  I've really been enjoying trading on this platform.  It's given me a great opportunity to make money while we're in a bit of a down crypto market.
Do you trade on 1Broker?  Let me know your experiences in the comments.