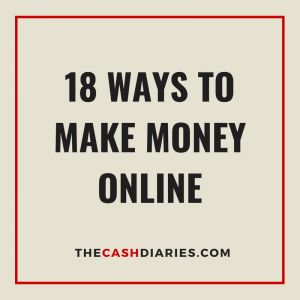 Are you looking for some ways to make money online quickly?  I've put together 18 very different options.  Some of them require a little skill, where as others can be done by anyone.  Some require a little money up front and others can be done starting with nothing.  So there should be something for everyone.
Stock Trading
Stock trading is difficult.  But for those willing to put in the time and effort to learn how stock trading works, it can be extremely profitable.  I love it because it's one of those jobs that you can do in your PJs and you can often be extremely flexible in when and where you work.
Getting started will require some capital up front.  If you're not sure whether or not you're good enough to be a stock trader, then why not start with a free practice account. You'll be able to test out your trading skills with virtual money and see whether or not you'd make a good day trader.
Survey Sites
Survey sites are a really easy way to make money online.  You don't need any special skills and you can get started in your spare time.  I think it's entirely possible to make a few hundred dollars a month from survey sites.  In my tests I was able to make $200 from doing a few surveys every day.
The best online survey site is Swagbucks.  They have lots and lots of surveys to complete as well as other ways to make money from your spare time.  I've used it before and it really does work.
Fiverr
Fiverr is an online marketplace for small jobs.  You can sell your skills on Fiverr.  You can do anything from recording short videos to designing logos or marketing websites on Twitter.  Chances are you've probably got some skill that you can sell via Fiverr.
The top sellers on Fiverr make full time incomes.  But you can also work on this part time.
Search the Web
Did you know you can make money from searching the web?!  Websites like Swagbucks will pay you every time you search.  This is because they insert ads above the search results (just like google does) and share the money they make from the ads with you.  It's a win-win.
You won't get rich from searching the web, but it's a good way to make a little extra from something you are already doing.
Start a blog
This is one of my favorites!  I'm a blogger and have been making a full time income from blogging for the past few years by running a number of blogs.  It actually doesn't take a great deal of time and I believe that you can get started part time.
Building a profitable blog is tricky though.  You need to come up with good content that people want to read and build an audience.  Most people struggle for the first couple of months.  But if you stick with it you'll be rewarded with a new source of income.
The best way to make money with blogging is by affiliate marketing.    This is where you link to products from your blog and earn a commission if someone buys that product.  You can also sell ads on your blog and sponsored reviews.
Publish a Kindle Book
The Kindle store is hugely popular and a great way to make money.  Did you know that anyone can publish books on the Kindle store?  Writing a book is hard, but don't worry – you don't need to create the next Pride and Prejudice.  Often short books on niche topics will sell really well.  Non-fiction books work best.  Just think of a problem and offer people some solutions.
I know many people who make full time incomes from writing kindle books.
Resell on eBay
This money making method is tried and proven.  Reselling on eBay involves going to garage and estate sales and finding things that could be sold online.  These might be books, board games, antiques, records and much more.  Products will often sell for more when they are listed on eBay because they are exposed to a bigger audience.
Why not start by trying to sell some of the things in your attic that you no longer need.  This will be a great way to get to grips with selling on eBay and make yourself some extra cash on the side.
To get into this business you need very little cash to start.  As you start selling more, you'll be able to purchase more stock and expand your operations.  Some eBay resellers list hundreds of products every day!
Sell stock photos
Selling stock photos is a great way to make money from your photography skills.  There are numerous marketplaces out there that let you sell your photos.
Your photos will need to be of high quality and this means you'll probably need a DSLR camera.  These can be expensive but once you've bought a camera and lens it'll last for years and years.
Taking good photographs does require skill and practice but there are countless resources out there on how to take better photos.
It's hard to make a full time income from stock photos, but it's a great way to make some passive income on the side.
Lend Money
If you have some cash on hand at the moment, you could use it to make more money!  Remember the age old saying "it takes money to make money".  Well in this case that is entirely true.
You can sign up to peer to peer lending marketplaces where you'll lend your money out to borrowers.  The good thing is that you lend small amounts to multiple borrowers.  Each loan is made up of lots of different lenders.  This diversifies the risk a bit.  Peer to Peer lending has proven to be profitable.  You won't make huge returns but an annual return of 10% is easily doable.
P2P lending is great if you've got some savings you want to earn from.
Did you know you can now also lend your Bitcoin!  Lending platform BitBond lets you lend and earn interest from bitcoin.
Trade Cryptocurrency
Cryptocurrency might just be the most disruptive financial product in decades.  And you too can cash in on Crypto.  The easiest way is to just buy some Bitcoin or other other coin and hold onto it.
Or you could choose to trade cryptocurrency.  This involves buying and selling coins to profit from market movements.  Good traders make a profit in all sort of market conditions and even when the price falls.
If you're looking to just buy some coins and hold onto them, then I would recommend taking a look at Coinbase (for Bitcoin, Litecoin and Ethereum) and Binance (Good for alt-coins).
Cryptocurrency can be extremely volatile so don't invest all your savings.  Start small and work to increase your holding over a year or so.
Become a Freelancer
Freelancing is a reliable way to make money online.  You simply sign up to marketplace like Freelancer, browse through the jobs and submit a proposal to complete them.  You can freelance in many many areas.  From writing blog content like this to designing graphics or coding websites.    You also don't need technical skills.  There are freelancing jobs which are simply time consuming but anyone can do.
Freelancing works great as both a part-time and full-time job.  If you're looking to go full-time, it may take a few months to build your reputation as a good freelancer.
Start a YouTube Channel
YouTube might not be as profitable as it was a few years ago, but I think it's still a great way to make money.  Starting out is really difficult.  If you've already got a following on Instagram or Twitter you may be able to leverage that to build subscribers.  If you're starting from scratch it might take a few months of creating videos before you get your first subscribers.
Once you start building a subscriber base you'll be able to make money through Google Adsense and through paid sponsorships and merch sales.
Design and Sell your own Fashion Label or Merch
Starting your own fashion label is now easier than it ever was before.  And you can get started with zero dollars!  Print on Demand companies like Printful will print your designs on tshirts, hoodies, etc.  And they will also ship the product out to your customers.  All you need to do is setup a website with a storefront, connect it to printful and you are good to go.
Getting setup might be a bit confusing and will be time consuming, but once you're over that initial hurdle things will become easier.
Affiliate Marketing
Affiliate marketing is where you link to products and earn a commission if someone buys that product through your link.  The biggest Affiliate program on the planet is Amazon Associates.  Amazon will pay you for referring customers to them.
All you need to do is setup a website and start reviewing products!  When people read your review and click through to amazon, you'll make money.
Affiliate marketing is a great way to make money and many people (like me) make a full time income from it.  It's a very competitive space and does require lots of work up front, but once you figure things out it sort of all just works on its own.
Buy and Sell domain names
One of the very first ways I started making money online from was by buying domains and selling them on again.  You can sell them through Godaddy Auctions, Flippa or Sedo – these are all marketplaces for buying and selling domains.
One technique I would use was to buy a domain and put a wordpress blog on it.  And I would sell it as a complete website.  It was a good way to buy a domain for $10 and sell it for $50. A quick and easy profit.
Share your Trading
Do you trade stocks or forex?  Did you know that you could make money by sharing your trades.  At the top of this post I mentioned copy trading.  This is where investors will copy the trades made by other people.  In return the trader makes money for every person who copies them.
Invest and Save
Probably the most passive and easiest way to make some extra  money is by investing and saving.  There is a catch though – without a huge amount of capital to begin with you're not going to make very much to begin with.  But don't that put you off.    Thanks to compounding, things might start small but overtime they can get much much bigger.
The best place to invest and save is through Acorns.  It will automatically save your spare change.  Over the past 12 months, I've made around $380 from Acorns.  And all I had to do was install the app – it does the rest.