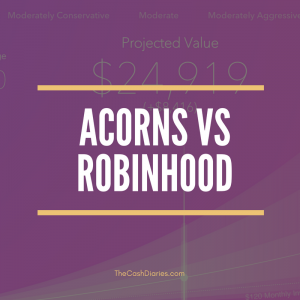 Acorns and Robinhood are both excellent financial apps.  Both of them are changing the way young people invest and save.  But which one should you choose and do they serve the same purpose.
In this post i'm going to explain the difference between Acorns and Robinhood.
Robinhood
Robinhood is an app for buying stocks.  What makes it unique is that it does charge any commissions on "buy" stock trades and only passes on the SEC imposed fee when you sell a stock.  This means it's very cheap to buy stock.
Normally you would only want to buy stock if you had more than $1000.  This is because you'd be paying a large fee to your broker.  You'd need to buy enough stock to offset the fees your broker charges.
On Robinhood you can start buying shares with less money because you won't need to deal with any commissions.
For investors this means you can buy shares more regularly and take advantage of dollar cost averaging.
Using Robinhood it's up to you to choose which stocks you want to buy.  This can be a bit risky.  Most people who try and pick stocks actually end up losing money.
Why you should use Robinhood
Want to pick stocks – if you want to build a portfolio of stocks that you've picked and are in complete control of, this is for you.
Dividend Income – if you want to focus on building a passive stream of dividend income then you can buy "dividend" stocks through Robinhood.
Dollar cost averaging – if you're looking to buy smaller amounts of shares at regular intervals to take advantage of dollar cost averaging than robinhood is a good pick.
Acorns
Acorns is very different to Robinhood.  Instead of picking stocks on your own, your funds are automatically invested in a diverse portfolio of stocks.
Acorns also uses a unique "round-up" mechanism to make sure you're constantly investing.  You link Acorns with your bank account, and then every time you make a purchase, acorns will round up to the nearest dollar and transfer this small "round-up" amount into your acorns portfolio.  Effectively, the more you spend, the more you'll save and invest.
Acorns does charge a fee, however at $1 a month for balances under $5000, this is lower than what you'd be paying if you were to buy the same ETFs through a stock broker.
Why you should use Acorns
Automated Investing – Acorns works in the background to ensure you're constantly investing.  It's great for lazy people or those looking to invest with a hands off approach.
Quality Portfolios – instead of having to pick stocks on your own, Acorns has put together portfolios with the help of nobel prize winning economist Dr. Harry Markowitz.  He is the father of modern portfolio theory.  I'll be honest, you're probably not going to be able to put together a better portfolio on your own.
It works – I actually use Acorns and have done for the past two years.  I've made a 27% gain in that time.  That's a pretty incredible return (i've been using the "aggressive portfolio").
Both Acorns and Robinhood are great apps.  And I recommend both of them.  But they both are very different.  And yes, you can use them both.  Do you use either of these apps?  Let me know in the comments how you've found them.