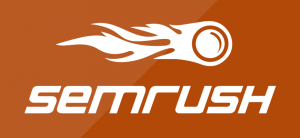 The more traffic you have the more money you can make.  It's a pretty simple concept.  But what's not simple is how you actually get that traffic.  It can sometimes seem like a bit of a dark art, with so much conflicting information.  So it's best to stick to the basics.  And for my basic SEO work I like to use SEMRush.
I started using SEMRush a little over a year ago, to help build traffic to my authority and niche sites, and I managed to increase traffic across the board.
Valuable things you should be doing with SEMRush:
Check out your competition
Here's a really simple yet often overlooked tactic in building traffic – see why a competing site is ranking so well.  I start by Googling my competitiors and then putting them into SEMRush.  I can check out where they have placed backlinks.  Knowing this, I start to get an idea of exactly what needs to be done to jump above them.
Track your rankings
When building traffic, you need something to work towards.  Also there is no point having no idea where your site sits.  SEMRush allows you to put your keywords into the app and it will track where you rank.  SEMRush can also send you weekly reports on how you're progressing.
Audit your site and see what you're doing wrong
Even the best SEO experts often overlook things.  So it's nice to be able to run your site through an audit and figure out all the little things you've missed.  SEMRush will give you seo suggestions on things you should be doing.
And more…
SEMRush can do a lot more.  If you do any paid advertising, you'll love the tools to help manage and discover paid ad campaigns.  For people targeting social media, there are also tools to keep track of all your social campaigns.
SEMRush is a pro tool and for most of the features, you'll need to be a member.  However, I do recommend you check out the free tools as well.  Even before I was a member, I love the free tools and used them on an almost daily basis.