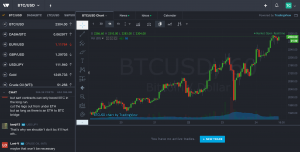 Did you know you can now use Bitcoin to trade stocks, forex and commodities?  It's just like trading using fiat currency, but the base currency in this case is Bitcoin.
Whaleclub is a fast growing online broker that allows you to trade entirely using digital currency.  So if you're looking to make use of your bitcoin reserves, read on:
Depositing
The huge advantage Whaleclub has over traditional brokers is the funding process – depositing is pretty much instant and happens at the speed of bitcoin.  You don't need to go through a verification process, all you need is an email address to sign up.  Then, just generate a deposit address, and transfer bitcoin from your wallet.
Deposits can also be made using the Dash cryptocurrency.
Whaleclub doesn't deal in any fiat currency.  This makes it much easier for them and reduces the chance that their platform can be used by fraudsters.  If you want to cash out in say U.S dollars, you'll need to transfer your bitcoin back to somewhere like Coinbase or another exchange.
CFD Trading with Bitcoin
All trading on Whaleclub is done through CFDs.    This means you're not buying the underlying asset, but rather speculating on the price.  The advantage is much faster order executions and the ability to both buy and sell – meaning you can profit from both the rise and fall of the asset.
CFD trading is obviously very common and offered by most brokers.   But what isn't common is a CFD broker that is entirely bitcoin based.  In the past, if you wanted to use your bitcoin to trade cfds you'd need to exchange it for USD first, or have it exchanged into a fiat currency if your broker accepted it as a deposit option.  Now you don't need to as the base currency in your Whaleclub account will be Bitcoin.
CFD trading for U.S clients
As far as I can tell, Whaleclub accepts clients from all countries including the U.S.  As they only require an email to register, you can effectively be an anonymous trader on the platform.
Trading Stocks with Bitcoin
Whaleclub allows you to trade a number of popular stocks.  The selection isn't huge, but fairly decent.  I'd like to see more stocks added in the future.  As Whaleclub continues to grow in popularity we might see more added as the number of traders grows to support the required liquidity.
Currently you can trade stocks such as Apple, Amazon, Netflix, Tesla etc.  Obviously there is a slant towards tech stocks.
Trading Forex with Bitcoin
If you're a forex trader, you can now trade forex using your bitcoin reserves!  All the major currency pairs are offered.  The spreads are quite tight and competitive with other brokers.  They offer leverage up to 222x.
You're also able to trade commodities (such as Gold and Oil) and indicies on the platform.
Put your bitcoin to work
If you're ready to start using your bitcoin, and you are already an experienced forex trader, then I definitely recommend giving whaleclub a try.  They have a great interface, a good community, and a really competitive trading product.  There are a couple of other Bitcoin forex brokers out there, but none compare in terms of interface and usability.
You can try out whaleclub for free here