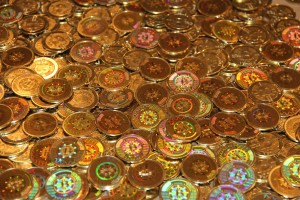 Buying Bitcoin online is now super easy, but depending on the country your in, things can get a little bit confusing.  But the good news for my fellow Aussies is that it's super easy to buy Bitcoin in Australia.  I've put together the exchanges that I've actually used and trust.
CoinSpot is a bitcoin exchange based in Australia.  But they don't just support Bitcoin – they have one the largest selections of cryptocurrencies available on any site.  If you've heard about some random coin…chances are you can buy and sell it on CoinSpot.
You deposit on the exchange using Poli.  Which is an Australian payment method.  Basically it allows you to make instant bank transfers.  Its easy to use – it may feel a little odd, but it has a good reputation.   Unfortunately there aren't any other payment options.
You can also sell your cryptocurrencies on CoinSpot – which is something many people overlook.  There are many many more sites that allow you to buy coins, but don't allow you to sell.  Withdrawals are processed to your bank account and this is done twice a week.
Coinspot recently chose to support the bitcoin fork BCH or BCC (Bitcoin Cash).  And they credited customer accounts who owned bitcoin with BCH.  This was a great move, and something other exchanges didn't do.  Coinspot really seems to look out for their customers.
Coinbase is based in the U.S but accept customers from Australia.  In my opinion they are the easiest exchange to use.   It takes less than 10 minutes to go from signing up to buying bitcoin.   One difference to Coinspot is that Coinbase accepts credit card.  So if you're not interested in using your bitcoin to buy bitcoin, then this might be the option for you.
You can also buy Ethereum and Litecoin on Coinbase.  Australians won't be able to sell their bitcoin though through Coinbase.  So you'll need to transfer it to somewhere like Coinspot if you're looking to cash out.
These are my two favorite exchanges for buying Bitcoin in Australia.  There are lots of others but I can only recommend the ones that I've actually used and never had any problems with.  Let me know in the comments what exchange you use in Australia.