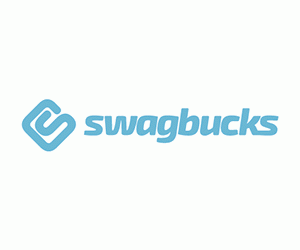 Swagbucks is a website that pays you to do many of the things you already do online.  You earn a little bit of cash for completing surveys, searching the web and online shopping.  But is it a legit way to make money online?  In this post I'm going to share my experiences and the potential profit you can make from joining swagbucks.
What is Swagbucks
Swagbucks pays you to complete online surveys.  They also pay you to use their search engine, watch videos, install apps on your mobile and a number of other things that you are probably already doing online.
I mainly use Swagbucks just for completing the surveys as I've found they pay the most.  Surveys will take anywhere from 5 minutes to 1 hour, although most of them take around 15 minutes.  To be honest it's pretty mindless stuff – but the good news is that you get paid for your time.
Marketing companies pay Swagbucks in return for getting people to complete surveys.  This market research is what drives the advertising industry so it's valuable stuff and that's why you can get paid to do it.
It's a great way to earn a little extra while you're watching TV.  If you're like me, and use your phone while watching TV, you may as well get paid for doing it.
You get paid in "Swagbucks" which can be converted into Gift Cards or PayPal payments.  I take the paypal payments option as I like the cold hard cash.  But it might be more valuable to convert your points into gift cards.
How much can you earn on Swagbucks
It's not too hard to earn $200 in a month on Swagbucks.  In order to earn this much you would have to spend some time each day completing surveys.  But don't worry the time needed is nothing like a full or part time job.  I'm talking about using your spare time to earn a little extra.     I set myself a goal of making $200 a month and was able to succeed.  Some months I don't earn very much at all, as I just don't have the time.  But if you commit a little time everyday you'll be able to reach that goal.
I've put together a complete guide on how you can make more money with swagbucks here.
How to get the most out of Swagbucks
Here are some pointers on how to maximise your earnings on Swagbucks:
Complete the daily goals – by completing a certain number of surveys each day, you'll earn extra bonus credits.  These add up over time.
Pick the most valuable surveys to complete – seems obvious but spend some time figuring out which surveys pay the most for the least amount of time taken.  Swagbucks gives you an estimate on how long it should take to complete the survey.
Install Apps – sometimes there are offers to install mobile apps.  Most of which are free.  It's an easy way to earn larger amounts of credits.
Use their search engine.  If you don't mind seeing some ads above your search results then you can earn money every time you search.
Cashback on your shopping – Swagbucks will pay you to shop at your favorite stores.  You just need to click through to the store from the swagbucks site.  Don't go out of your way to spend more, but if you're already shopping online, you may as well earn some money back.
Why I like Swagbucks
There are a number of popular online survey sites out there, but Swagbucks is the one I earn the most from and it's my number 1 recommendation.  Here are some reasons why:
Available in many countries – Many survey sites are only U.S based.  Swagbucks is available all over the world.  I'm not based in the U.S and there are still lots of surveys for me to complete.
Lots of Surveys – i've never managed to complete all the available surveys on Swagbucks.  If you've got the time then you can just keep on earning.
High payments – I've found that I've been able to earn more on swagbucks compared to other similar sites.
Not just surveys – they have lots of different ways to make money.  So if you don't like doing online surveys, you can still sign up and earn cash.
Do you use swagbucks?  How much have you made? Let me know in the comments.