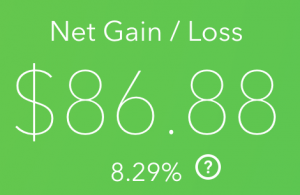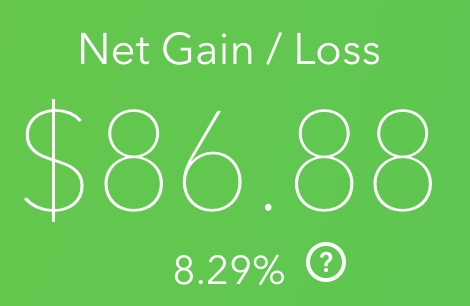 Another month, another Acorns update…
I've been using the Acorns investment app for the past few months and have been sharing my experiences here.  With all these new investing apps, and products, it's hard to know if they actually work.  So I hope by sharing my results, I'll encourage more people to look beyond the traditional products and explore all the cools new investing tools out there.
Acorns works by rounding up my purchases to the nearest dollar and transferring the difference to an investment account.  For example, if I was to spend $3.90 on a coffee, it would transfer $0.10 to the investment account.    The app is linked to your bank account so it automatically tracks purchases you make with your cards and handles the transfers seamlessly.  I don't even notice the money coming out of my account, which makes it a great way to save.
March 2017 Results
So how have I done so far?
Account Value: $1135.22
Growth since last update: $98.22
Overall Profit: $86.78
That's a nice little profit of 8.29% – which is obviously way more than you'll get having your money sit in a bank account or even in a term deposit.
What attracts me most to Acorns is that I can invest in index funds without needing a lot of cash upfront and without all the brokerage fees.  I pay $1.25 per month in fees, which is clearly not having an impact on the actual profits.
This past year I managed to save over $1000 doing basically nothing, and I'm looking forward to seeing how much I can save over the coming 12 months.
Do you use Acorns or other similar saving apps?  How have you found the experience?  Let me know in the comments