Whaleclub is an exciting new type of trading platform that allows you to trade forex, stocks and commodities using cryptocurrency.
Have you ever wanted to trade Apple stocks using Bitcoin?  Or use Dash (another cryptocurrency) to trade forex?  Well now you can.  But can you actually make money?  Is it legit?  Well read on to find out more about this new type of trading.
While this concept is new, I'm sure we'll start to see more and more trading platforms popup that are entirely backed by bitcoins or other cryptocurrencies.  Why?  Because cryptocurrencies are global currencies that can quickly and easily be transferred.
How it Works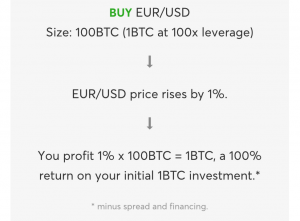 Signing up takes a couple of minutes with no need for verification.
Once registered you deposit bitcoin or dash.  These are credited instantly to your account.
Trading works by opening positions using your cryptocurrency.  You can now buy and sell CFDs or trade forex.
Trading the price of Bitcoin
One popular use for Whaleclub is speculating on the price of Bitcoin.  You can speculate as to whether the price of bitcoin will rise or fall.  For example, you'd open a long position (buy) if you thought it would rise, and a short position (sell) if you thought it would fall.
You could do this on an exchange, however you wouldn't be able to easily profit by shorting bitcoin using a standard exchange.    Another advantage of Whaleclub is leverage – allowing you to place larger positions using smaller amounts of capital.  Of course leverage increases the risk, and high leverage should only be used by experienced traders.
Trading Forex or Stocks
Probably the most lucrative feature of Whaleclub is that you can trade forex and stocks using Bitcoin.  If you wanted to do this in the past, you would've first needed to exchange your bitcoin into a fiat currency and use that on a cfd platform.  But now whaleclub operates completely in crytocurrency – in fact they don't accept fiat currency at all.
So what can you trade?  Well if you've ever used a forex broker or cfd platform before, the markets will be very familiar.  You can trade all the major currency pairs, commodities such as oil or gold, indicies, and stocks such as Apple, Netflix and Twitter.  They have a very decent selection of markets, that will appeal to most traders.
A beautifully designed platform
What really impressed me the most about Whaleclub, was just how well designed the platform is.  It's entirely web based, with no software to download.  Trading feels fast and fluid and the platform is logical and easy to use.  If you're starting out trading, you'll find it easy to open trades and experienced traders will enjoy using the software as well.
They also offer a mobile version of the web app for mobile trading.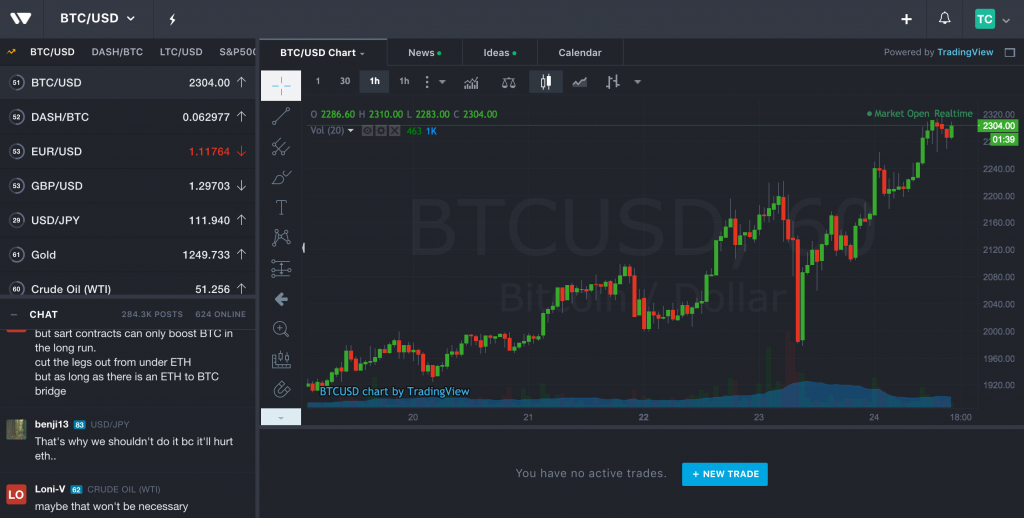 Social Trading…Sort of.
I wouldn't call Whaleclub a social trading platform, but it does offer a chat system which makes it feel social.  The chat is very active and Whaleclub tries to encourage activity by offering bonus rewards to people who participate in the chat.   The chat makes Whaleclub feel active and alive, I think it's a cool feature.
Trading Ideas
A neat little screen on Whaleclub is the "ideas" view.  It shows you some of the technical and fundamental analysis that you could use as part of your trading strategy.  There's also a news feed and calendar so you can stay on top of economic events which will have a price impact.
Turbo Trading
Turbo trading is like binary options.  I feel this is much more risky than regular trading, but may appeal to those who prefer binary options.   WhaleClub calls it turbo trading, and it's done through the same interface.
Whaleclub Deposit Bonus
Whaleclub offers a 30% first deposit bonus.  I'm not sure how long this offer will last, but you can claim it using this link.
Can you make money?
If you're already using other forex brokers, day trading, stock picking or trading bitcoin, then yes you will be able to do the same on Whaleclub. It might not be for complete beginners who have never traded before.    But it compares well with other brokers.  It has very competitive spreads and low fees – which are on par or better than most brokers.  You don't pay any execution costs, only the spread.
If you're new to trading, then I would recommend you starting with a Demo account.  Whaleclub offers a free demo account and you can switch between your real and demo account at anytime.
In a way this feels like the future.  Using a global currency such as Bitcoin to trade directly!  That's a really cool idea.  I'm sure we'll start to see more and more services like Whaleclub.  Now you can use your bitcoin for more than just sitting in your wallet.