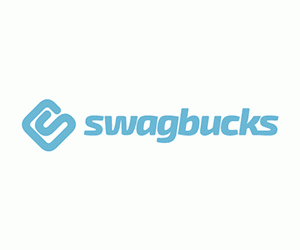 I've been using Swagbucks for the last couple of years to generate some income on the side.   In this post I'm going to answer some common questions I get about Swagbucks.  This way you can form your own opinion as to whether or not Swagbucks is legit.
Can you really make money with Swagbucks?
While it's possible to make money on swagbucks,  no one is going to become a millionaire using the service.  Furthermore, you're also not going to be able to quit your day job and replace it with a survey site like swagbucks.  It's not going to generate that much revenue.
So whats a more realistic figure?  If you do a few surveys everyday and basically check into the site daily and complete multiple tasks (which will result in bonus payouts) you can make around $100-$200 a month.    You could make more than that, but it would require a lot of time.
One of the best things about Swagbucks is that there are many different ways to make money and an almost endless supply of surveys to complete.  That means if you're willing to put in the time, you can increase your income from the site.
Does Swagbucks Payout?
I've to cashout on Swagbucks multiple times.  And I've never heard of other people having any issues.  On swagbucks you can convert points into PayPal payouts or various gift cards.  I've received both PayPal payments and Amazon gift cards.
Can you make money  without referring your friends?
One of the most effective ways to make more money with swagbucks is to refer your friends to use the service.  They obviously don't need to be your friends – they can be anyone.  Basically you earn 5% of your referrals swagbucks.   While this isn't much, it does allow you to exponentially increase your income.
You don't need to refer people to make more money on Swagbucks.  On an experiment on this site, I showed you that it's possible to make $200 a month on Swagbucks without referring anyone.  It just makes it easier to grow your earnings and even generate passive income.
I know lots of people hate referring people – and the good news is, Swagbucks isn't some MLM scheme.  You don't need to refer anybody it's a minor feature of the site.
Are Survey Sites Legit??
Sites like Swagbucks are a legit way to make money online.  But not all survey sites can be trusted.  Make sure you give each site a quick Google search (or swagbucks search 😉 ) before signing up.  I've heard about sites not paying out in the past or simply closing up shop after a couple of months.  It's best to stick with the big survey sites like Swagbucks that have been around for a long time and have built up a good reputation.
Part of an Income Pie
I like to generate income from multiple sources.  You never know when one of your incomes are going to disappear.   Swagbucks is a great part of a larger income pie.  It's never going to be the majority pie for most people, but if you dedicate some time to it, it can provide a trickle of income each month.  Remember the best way to save more, is to make more.  Imagine being able to save or invest an extra $100-$200 a month?
What I like about Swagbucks
Here are some of the top reasons I've chosen to make money with Swagbucks over other sites:
Always Surveys Available – if you have the time, I've found there always to be a survey available to complete.
Range of Different Money Making Activities – Swagbucks isn't just about surveys.  You can make money by searching the web, watching videos, playing games and they even have a cashback feature where you earn swagbucks for shopping online.
Good reputation – I've never had a problem with Swagbucks payouts and there aren't any reports from other people.