Bitcoin is becoming more and more useful every year.  And now there is a new use for it – you can use it to trade stocks.  This year, a couple of apps have launched that make it super easy for anyone to invest in stocks using Bitcoin.  So if you're sick of HODLing and want to do more with your Bitcoin, read on to find out how.
Abra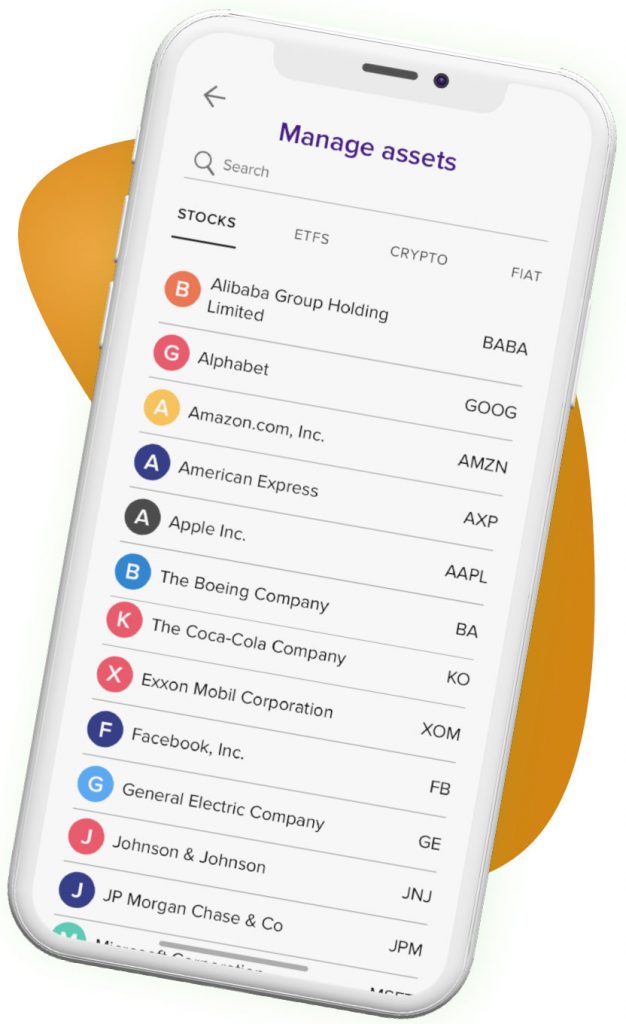 Abra is a non-custodial mobile wallet for cryptocurrency.  Basically it lets you store all your crypto and keep access to the private keys.  But they have also just launched a brand new feature that lets you exchange your crypto into stock and ETF CFDs.   This means you can gain exposure to companies like Apple,  Netflix, Nike, Tesla and many more.  And you can also invest in ETFs like the SPDR S&P 500 ETF.
How to invest in Stocks and ETFs using Abra
You'll need to verify your mobile number – This was the only verification required, which was very nice!
Transfer Bitcoin (or other crypto assets) or Buy through Abra – Abra works like any other crypto wallet, you can easily send assets into the wallet by generating a wallet address.  You can also buy Bitcoin and other coins directly through Abra.  They offer a number of different payment options including Credit Card and Bank Transfer.
Exchange for Shares – Simply tap on the asset you'd like to add to your portfolio (like Apple shares),  click the funding source (i.e Bitcoin) and then initiate the exchange.
What you need to know about stock trading on Abra
Market Hours – Your order will go through when the markets are open.  So if you exchange when the market is closed, it'll be pending until it opens.
CFD Trading – you're effectively trading a CFD on Abra.  This means you don't need to take ownership of the underlying asset, but you'll still profit when the asset rises just like you would holding the actual stock.
Partial Stocks – you can invest any amount into a stock or ETF.  You don't need to buy 1 whole share.  That means you can build a diversified portfolio using a smaller amount of capital.
What I like about using Abra to invest in Stocks
Global – Stock and ETF trading is available all over the world except the U.S.  This means you can invest in stocks and ETFs no matter where you live and get access to global markets no matter if you live anywhere from Argentina to South Korea.
Diversify – I love investing in Crypto but I also know how important it is to hold a diverse portfolio.  Abra makes it easy to invest in crypto and stocks and ETFs.  And you can do it all in the one app.
No Trading Fees – in 2019 there are no trading fees.  This makes it a cost effective option for investing.  And you can also invest with limited funds.
You can learn more about Abra here
SimpleFX
I love Abra because its perfect for newer investors.  But if you're looking for a more feature rich trading platform that you can use with Bitcoin than I would recommend SimpleFX.
Using SimpleFX you can trade Stocks, ETFs, Cryptos and more using Cryptocurrency.  It works like any traditional forex or stock trading platform, but instead of depositing fiat you deposit using Bitcoin or another crypto.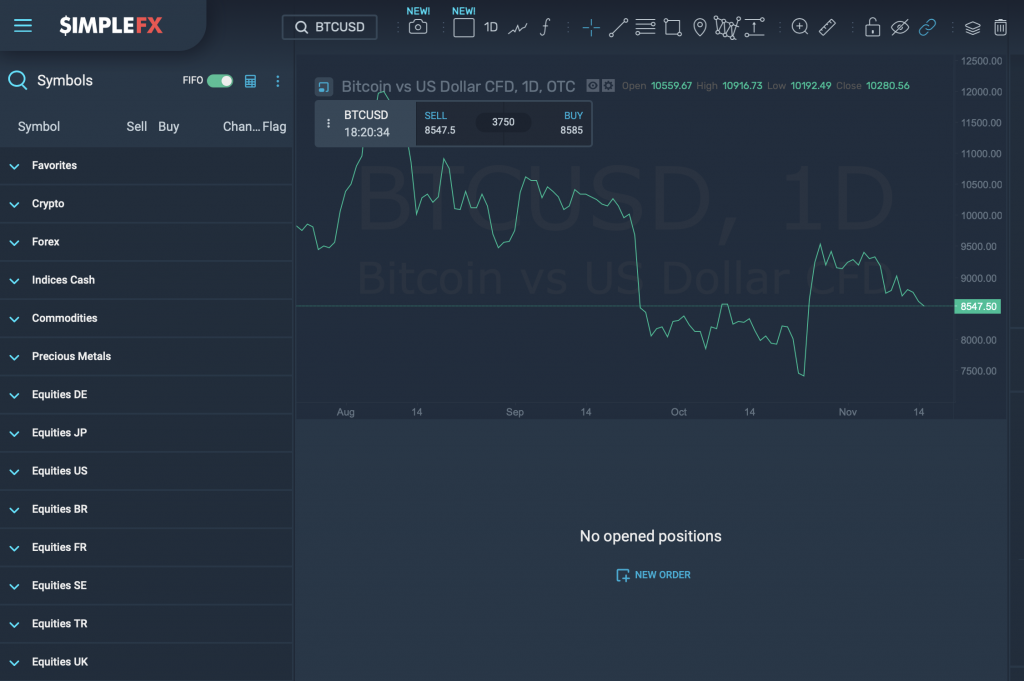 What I like about SimpleFX
Advanced Trading Platform – if you're a pro trader, you'll love SimpleFX.  If you've traded forex before this will feel very familiar.  You can even trade using MetaTrader.
Private – Privacy is becoming more and more important.  SimpleFX requires no complicated verification process to start trading although some features will be locked until you complete some basic verification (which is standard on more platforms)
Huge Range of Assets –  You can trade everything from Equities (stocks) from all over the world, Indices, commodities, crypto, currencies and more.  It has one of the largest selections of CFDs available on any platform.
Deposit using Crypto – put your crypto to work by using it to make more money!  You can deposit Bitcoin, Litecoin, Monero and more.   You can also deposit using Neteller if you would like to use Fiat currency.
You can find out more about SimpleFX here
Practice trading Stocks and ETFs
SimpleFX has a free virtual trading account.  It lets you trade using virtual currency under the same conditions as if you were using real money.  If you're new to trading then I would recommend you start here.  If you can't make money using the virtual account you will struggle to make anything using real money.