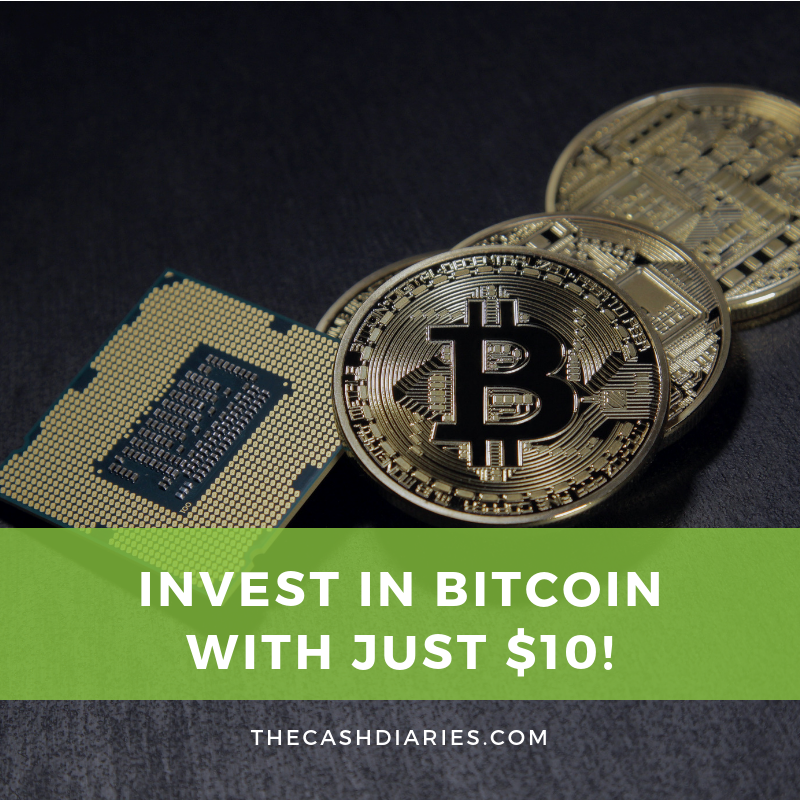 Have you always wanted to invest in bitcoin, but didn't want to risk a lot of money?  If so then I have good news.  You can started investing in Bitcoin and other popular cryptocurrencies with as little as $10.
Here are three options for investing in bitcoin with a limited amount of cash.  As always,  I've used all of these products before.
Coinbase
In my opinion Coinbase is the easiest and fastest way to buy Bitcoin online.    They are the largest seller of cryptocurrency in the world and have an excellent reputation.    I've been using Coinbase for the last few years.
Most importantly you can buy as little as $2 worth of Bitcoin on the platform.
Coinbase also has some nifty features for recurring buys.  You can setup Coinbase to automatically buy bitcoin every day/week/month etc.  This is great if you want to invest small amounts in Bitcoin over a longer period.   This is known as dollar cost averaging and it's a pretty powerful investing strategy that actually works.
Pro Tip:  Sign up to Coinbase through this link and you'll get a bonus $10 worth of Bitcoin if you invest more than $100.
Coinbundle
I've just started using Coinbundle and I'm absolutely loving it.  Coinbundle lets you invest in a bundle of cryptocurrencies with one click and with zero fees.
One of the big drawbacks investing just $10 in cryptocurrency are the fees.  They can eat into any of your profits.  With Coinbundle you don't pay any fees to advisors or to exchanges.    This makes it a cost effective option for investing in Cryptocurrrency with a small amount of money.
This option is also great for those who don't know a lot about cryptocurrency.  The bundles have been put together by experts so you don't need to do any research on your own.
You can get started on Coinbundle with as little as $10.
Coinspot
Coinspot is an Australian exchange.  So it's only available to Australians.  But for those of us lucky enough to live in Australia, it's the best option for buying cryptocurrency.  I've been using Coinspot for the past two years, and have found their platform to be very reliable.
The biggest draw of Coinspot is the huge number of coins you can buy.  Not only can you buy all the popular coins like Bitcoin, Ethereum etc. you can also buy more obscure coins like Nano, Cardano, NEO etc.
Unlike most cryptocurrency exchanges, you don't need to deposit using Bitcoin.  You can buy all the coins on Coinspot using fiat.  Coinspot accepts POLi (which is an instant bank transfer), bank deposit or in person deposits.  And all purchases are instant.  This means you can buy bitcoin instantly without having to wait days for it to hit your account.