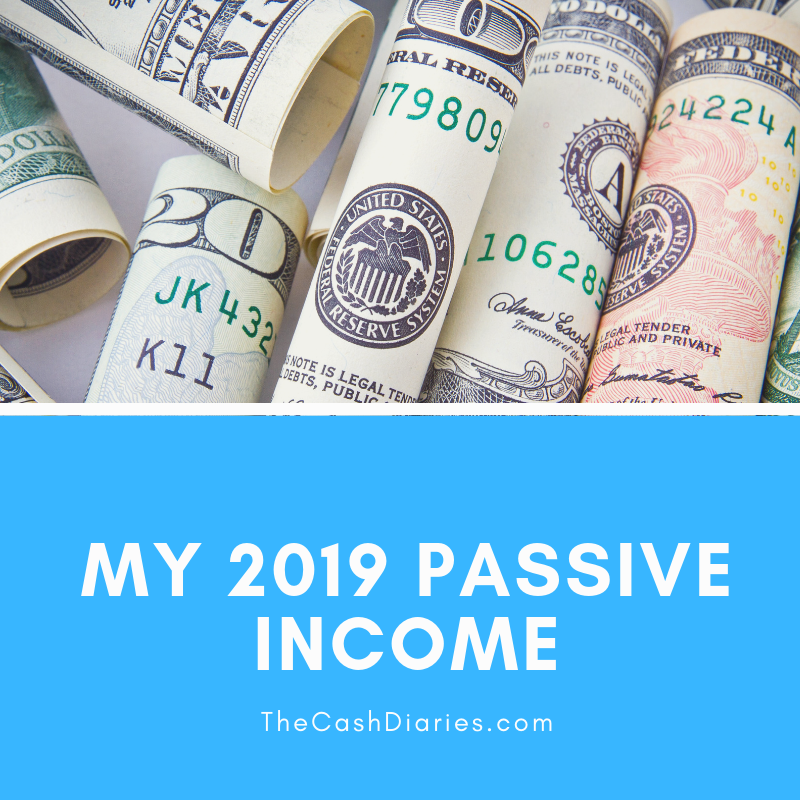 Passive income is the ultimate form of income.  Because it's not directly tied to the amount of hours you're working, it gives you freedom!
In this post i'm going to break down the ways I'm earning passive income this year.  It's changed a lot since 2018, and although I'm not making as much as I was, my income is more diversified and more stable.  Hopefully this will inspire you and give you some ideas on how you too can build passive income.
Cryptocurrency
Cryptocurreny has been my number one earner in 2019.  That is thanks to rise in the price of cryptos over the past few months.    But I also managed to make money from trading even when the market was in decline.  There are so many opportunities in crypto.  Here is how I'm using it in 2019:
Crypto Portfolio
My portfolio is my main gainer this year.  Since the beginning of the year Bitcoin has risen over 100%.  Obviously that's way more than any stock index.  Buying and holding crypto has proven to be profitable month after month.  If you had bought crypto during any month except 1, you'd have made a profit right now.  I regularly invest small amounts in a crypto portfolio through Coinbase and Coinbundle.
The best way to get into crypto, is to start small and invest regular amounts.  I would recommend setting up an automated recurring transaction through Coinbase.  This way it can be set and forget.  My approach is to not invest more than I would be sad to see lose – crypto is still very new and very volatile.
Kucoin Shares
I've been earning interest on Kucoin Shares.  Kucoin is a popular cryptocurrency exchange.  They issued a token called Kucoin Shares.  Holders of the token receive discounts on trading fees but also get issued dividends.  These are paid out daily, so the compounding effect is really nice.  It's a great way to earn some extra crypto even when the market is in decline.
To earn from Kucoin shares all you need to do is grab a Kucoin account, buy some kucoin tokens on their exchange and hold them in your exchange account.
I added Kucoin Shares to my crypto holdings in 2019.  I'm planning to add more staking and dividend coins to be a diversified portfolio of interest generating coins.
Blogging
I haven't been blogging that much in 2019 as I've been working on other projects.  But it's still a huge earner for me.  I love blogging because some of the posts I wrote years ago are still generating income.  While blogging isn't really "passive" income, once you've got it setup it definitely can be very close to passive.
Honestly starting a blog was one of the best decisions I ever made.  If you're serious about building passive income, you need a blog!  Getting started is super easy.  I recommend Siteground to run your blog.  It's what I use and part of the reason my blog does so well in the search engines 😉
Affiliate Marketing
Most of my blog income comes from affiliate marketing.  I simply link to products that I'm already using.  If I don't like it, I won't link to it.  In my experience, affiliate marketing is the most reliable source of blog income.
Acorns
I use Acorns to manage my investment portfolio.  It's an app the automatically invests your spare change in a diversified portfolio of stocks and bonds.  I absolutely love it!   It just works.  I don't need to do everything.  I don't even need to check the app.  I just know that month after month my money is being invested and slowly growing.
Since I started investing in Acorns a few years ago, it has delivered a 22% return.  Not too bad at all!
If you're currently just using a savings account, you're not growing your money.  The interest rate you're getting won't beat inflation so you're actually losing value over time.  While having a savings account with an emergency fund is a very smart idea, using it as your main nest egg is a terrible idea.
So whether you use Acorns, or another investment platform or app, make sure you're not just saving to save.  Instead, save to invest!
Swagbucks
Swagbucks is a rewards site that pays you to complete surveys and offers cashback on online shopping.  You can also get rewarded for watching videos and even searching the web.
In the past I've completed surveys on Swagbucks (and did very well), but this year I don't have the time.  But I have been using the cashback feature and the search engine.
The cashback feature is really nice.  I love to shop online.  I'm not a huge shopper but buy a regular amount of stuff.  I may as well earn some cashback for doing so.  All you have to do is install the Swagbutton (for chrome) and it automatically gives you cashback at a huge variety of stores.  Pretty much most of the stores I usually shop at are supported.
While I'm not earning that much on Swagbucks compared to last year it still making enough passively that I can claim a gift voucher every couple of months.