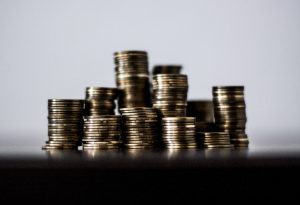 The start of the year is the perfect time to get your finances in shape for the year ahead.   Here are some things that you can do to make sure that 2018 is the best year yet!
Set up a regular savings plan
Regular saving and investing is just plain old common sense.  Take some time to set up a savings plan.  I like to make use of automated apps such as Acorns, which will automatically transfer money into an investment account.  Over the past 12 months I managed to save thousands by doing nothing more than turning this app on.  Plus the money invested grew more than 10% – that's way better than having that money sitting around in my regular bank account.
Plan out your bigger investments
Save money to make money.  That's my motto.  I don't just like saving money for the sake of saving.  I want to put it to use.    Take some time to plan out your big investment moves.  Are you going to go into stocks or property?  Are you planning to try something more risky like cryptocurrency?  Figure out how long it will take to save to make these investments and how long you plan to hold them (are they short or long term).
Prepare for large expenses
What are your large expenses going to be over the coming 12 months.  While you can't plan for the unexpected you can plan for the regular big bills you'll be hit with.  Utilities, car rego, tax etc.  I like to put them into my calendar and then set a reminder a month out.  Just so that they don't sneak up on me.  Give yourself time to prepare for your larger bills.
Cancel Subscriptions
It's amazing how subscriptions can add up over the year.  I find myself forgetting about things I'm subscribed to.  And there are also some subscriptions that I barely use.  The new year is the perfect time to go through all the things you're subscribed to and cancel everything you don't actually use/need.
Declutter
Get rid of the stuff you don't need.  Put it up for sale on Gumtree or Craigslist.  The new year is the perfect time to list stuff for sale.  I've always believed that a clear space = a clear mind.   Plus you can earn a little bit of cash back on things that you don't need and barely used.