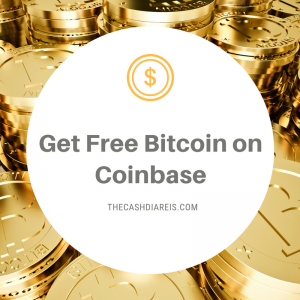 Coinbase is the worlds largest seller of Cryptocurrency.  And in my opinion it's the best place for people to buy Bitcoin.
Did you know that you can also get $10 free worth of Bitcoin on Coinbase?  So don't just sign up, make sure you register through the link below and we both get a nice little bonus 🙂
How to Get $10 Free Bitcoin
Buying Bitcoin on Coinbase is easy.  Here is how to get started:
Complete verification (this is a fraud prevention measure and takes about 5 minutes).
Buy $100 worth of Bitcoin
You'll get $10 free 🙂
What I like about Coinbase
I use a number of different exchanges for Cryptocurrency.  One of them is Coinbase.  Here are some of things I like about Coinbase and why it makes a great exchange:

Good Reputation
In the early days of cryptocurrency, Bitcoin exchanges had a bad reputation.  Coinbase has built up a good reputation – we know the people who are behind it and it's a proper company not just two guys in a shed.
Great Interface
Coinbase was the first exchange to really care about user experience.  Buying Bitcoin is so much simpler on Coinbase.  They made cryptocurrency more accessible – which is a great thing.  Too many exchanges these days look like they belong on Yahoo Geocities.
Instant Bitcoin Purchases
On Coinbase you can buy bitcoin instantly depending on where you live.  In Australia they offer credit card purchases.  In the U.S you can use your bank account to make instant purchases.   This is huge! Having to wait days for a Bitcoin buy to go through is painful.  I love that on Coinbase, when I buy bitcoin, it is available there instantly.
Decent Wallet
Coinbase offers a cloud based wallet to store your coins.  Although I recommend using an offline wallet for large holdings, for storing smaller amounts of Bitcoin and other coins it works really well.
What I don't like about Coinbase
Although coinbase is amazing, there is something I don't like about them.   They listed Bitcoin Cash.  Bitcoin Cash is a fork of the main bitcoin chain.  There's nothing wrong with a fork, but the people behind it are extremely dodgy and straight up con artists.  So although you can buy Bitcoin Cash on Coinbase, I would stay very far away from it.
You can find out more about Bitcoin here
Don't be afraid to drop a comment if you're confused by something on Coinbase – im more than happy to help 🙂