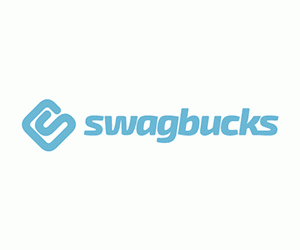 Swagbucks is a legit way to make money online.  It's a popular online survey site that will pay you to complete surveys, search the web, watch videos and more.
Read on to find out how you can get $3 completely free for signing up to Swagbucks.
What is Swagbucks
Swagbucks is a site that pays you to complete simple tasks.  Most of these tasks are surveys.  Market research companies need people to complete surveys and are willing to pay.  Swagbucks connects people with market research companies.
On the site, you'll find dozens of surveys you can complete.  You'll be paid anywhere from a few cents to a couple of dollars to complete each survey and I've found that they take around 10-15 minutes to complete.  The longer the survey the more you'll be paid.
As well as surveys you can also earn money by searching the web, watching videos, installing apps and earn cashback on online shopping.  While you're not going to get rich using Swagbucks it's a good way to make a little extra income on the side.  I ran an experiment where I was able to make $200 in a month using Swagbucks.  This took quite a bit of time, but I was able to complete the challenge in my spare time while watching TV etc.
How to get $3 when you sign up
Swagbucks runs a special promoting where you get rewarded with 300 bonus swagbucks.   This is for new members, so if you're an existing user unfortunately you won't be able to take advantage of this.  Here is how you can get $3 completely free:
Start completing surveys
When you pass 300 swagbucks you'll be rewarded with a bonus $3 worth of free swagbucks.
It's as simple as that.  While $3 isn't much, it'll get you that much closer to your first paypal payout or amazon gift card 🙂