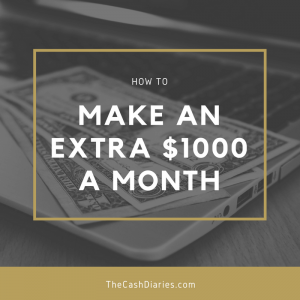 Are you looking to make an extra $1000 a month?  I've put together 5 completely different ways to make some extra cash on the side.   Some of these methods could be considered full time gigs (blogging), where as others such as copy trading, only take an hour or two a week.
Let me know in the comments what methods you use to generate extra income on the side.
Become a Survey Pro
Filling out surveys are a legitimate and easy way to make money online.  Using a site like Swagbucks you can pretty easily make a couple of hundred dollars a month.  But it is possible to make over $1000 a month from online survey sites.
Firstly, you should register on multiple survey sites.  Secondly, you should look at referring other people to these sites.  Swagbucks will pay you 10% of the earnings anyone you refer makes.  This can really add up.    So if you want to be a survey pro, you need to think about not only filling out surveys but how you can promote and market these sites.  This might mean starting a blog like this, growing a twitter following or facebook group.
Sell Online Courses
Online education can be extremely profitable.  I have a couple of friends who make over $10k every month selling online courses.  Creating the courses can be time consuming, but once built they will be a form of passive income with little work required to keep them going.
If you already have a popular blog, adding an online course is easy.  However, you don't already need an audience to succeed.  Marketplaces like Udemy allow you to sell your courses through them.
Sell your skills on Fiverr
Fiverr is a marketplace where you sell services for small fees.  This could be SEO, design,  marketing or tech services.  Think small tasks such as "Submitting a site to 25 social bookmarking sites".   Unlike Freelancing, work on Fiverr is mostly small tasks without any ongoing commitments.
The top earners on Fiverr make thousands of dollars a month.  I recommend looking through the top selling services on Fiverr for inspiration on what you could possibly sell.
Start a Blog
In my opinion blogging is the best long term way to earn $1000 a month.  It does take a lot of work to start and grow a blog.  And it's never really passive income – you need to keep working on it every month, or your blog will start to die.  But if you're willing to put in the work, blogging is the best option on this list.
Blogging usually works best when you're writing about something you are passionate about.  That being said some niches will work better than others.  Writing about Finance, Health or Marketing for example, will give you plenty of different monetization options.
So there are my 5 ways to earn an extra $1000 a month.  What are some of yours?  Let me know in the comments.