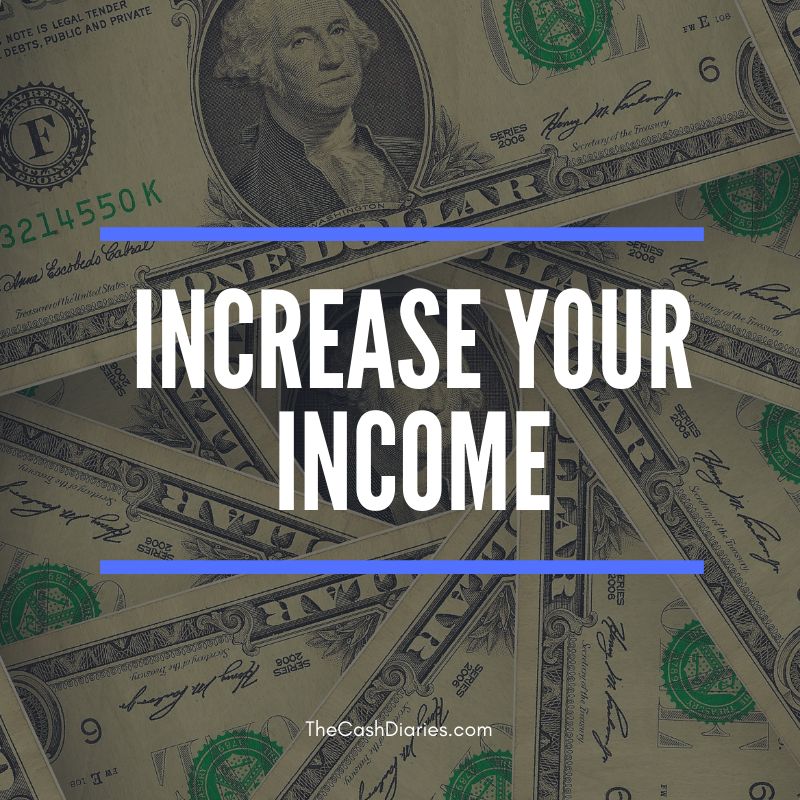 Looking to increase your income this year? Of course!  Let's face it, no one is going to turn down a bigger income.
Here are 5 easy ways to increase the amount of spending money you have and also the amount of overall income you bring in.  Let me know in the comments if I've missed anything obvious.
Save More
The easiest way to increase your overall income is by cutting down on expenses.   It can be amazing how much money we waste if we don't really think about our spending.    And it's amazing how easy it is to save when you really make an effort.
Automated Saving
Setup your bank account to automatically transfer money into a savings account.  This will help grow your savings without having to rely on yourself.
Budgets
Personally I don't like budgets.  Instead I just use the spending tools that come with my bank account.  My bank's app, automatically categorizes expenses and lets me know how much I spend on certain things.  This way I can get a good idea of whether I'm ahead of my saving goals each month or spending too much money.
Subscription Review
Every few months I like to round up every recurring expense in a spreadsheet and cancel the ones I don't use that often.  Subscriptions can really add up if they are left to get out of control.
Start Investing (Acorns)
Saving just for the sake of saving isn't going to increase your income.  Rather, you should be saving to invest.
Acorns
Investing isn't just for the rich or those on wall street.  Thanks to apps like Acorns, anyone can get started investing.  Acorns is an app that will invest your money automatically in a diverse portfolio of stocks and bonds.  It's cheap to use (just $1 per month) and much less risky than trying to pick stocks on your own.  You can start investing through acorns with as little as $5 so there really is no excuse not to use it.
Your aim with Acorns or any other investment is to grow the principle balance enough so that you can withdraw just the profits.  This isn't going to happen overnight.  In fact it could take a couple of decades.  But you'll be rewarded with a passive source of income.
Start a Side Hustle
The most effective way of increasing your income is to obviously increase the amount of money coming in.  I believe everyone should have a side hustle.  A side hustle is a little enterprise that you can do on the side.
Blogging
I work fulltime as a blogger/trader.  But you can still make a little extra income on the side from blogging part time.  Starting a blog is cheap – requiring just $15 or so.  I recommend going with a platform like Siteground.   You'll be able to install WordPress automatically and get a blog up and running without any technical skills needed.
What should you blog about?  Anything you're passionate about.   Why not start a blog documenting your increase in income?  Don't worry about making money at the start, once you've got a few visitors you'll be able to place ads or start affiliate marketing.
Swagbucks
Swagbucks is a website that will pay you for your opinion.  You get paid to complete surveys, watch videos, and even search the web.  You won't get rich using Swagbucks but you can easily make a couple of hundred dollars a month.   Imagine how much your investments would grow if you could top them up an extra $200 each month!  Swagbucks is easy to use and is something you can do while watching TV.
Join Swagbucks for free here and get a bonus $3
Leverage your Assets (Airbnb, Uber)
If you own assets like a car or house, you could be earning extra income from them.  You can rent out your spare room on Airbnb to tourists and travellers.   And you use your car for uber or lyft rides.  A bike can be used for deliveries.
Not everyone is going to have the time to do these things, but they can be used to add tens of thousands of dollars to your income.
Take advantage of Rebates
Did you know that you could be saving between 5-10% every time you shop online.  Websites like Swagbucks offer rebates or cashback everytime you make a purchase.  All you have to do is click through to the shops you usually shop at, through the Swagbucks interface.  Then after you make a purchase you'll receive cashback into your account.