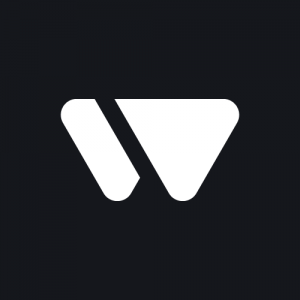 Whaleclub is an innovative trading platform that uses digital currency.  Using digital currency (such as Bitcoin) you can trade Forex, stocks, commodities, bonds and indicies.
This is a great way to make use of your bitcoin if you're a trader and using digital currency has a number of advantages which i'll cover in my review.
Trade Stocks and Forex using Bitcoin
You can now use Bitcoin (or Dash) to trade stocks and forex!  If you've used any trading platform before, this will feel very familiar.    The only difference being that, on Whaleclub you can't fund your account using anything other than Bitcoin or Dash (another cryptocurrency).
Because everything is based in digital currency, everything feels fast. This sort of feels like trading in the future.    Although Whaleclub is currently just one of a handful of brokers who accept bitcoin.   And while some brokers accept bitcoin, they will still convert that to a base currency of USD or another fiat currency.   On Whaleclub everything stays in digital currency.
Trading is super fast with excellent execution speed.   Orders are executed fully and within 500ms.   This means you won't be subject to slippage or partial execution.
Trade Bitcoin CFDs
As well as trading stocks, forex, bonds, commodities and indicies – you can also trade cryptocurrencies.  So you trade on the price of Bitcoin, Dash, LTC and Ethereum.  This is especially handy if you want to trade using leverage or are looking at shorting Bitcoin or another crypto.
A Powerful web based interface
It wasn't too long ago that web based trading interfaces were terrible.  Some of them still are, but Whaleclub's is excellent.  It's fast and easy to use, and the charts (which are powered by TradingView) are feature rich.  In my opinion the interface is better than most desktop based platforms and both amateur and pro traders will enjoy using it.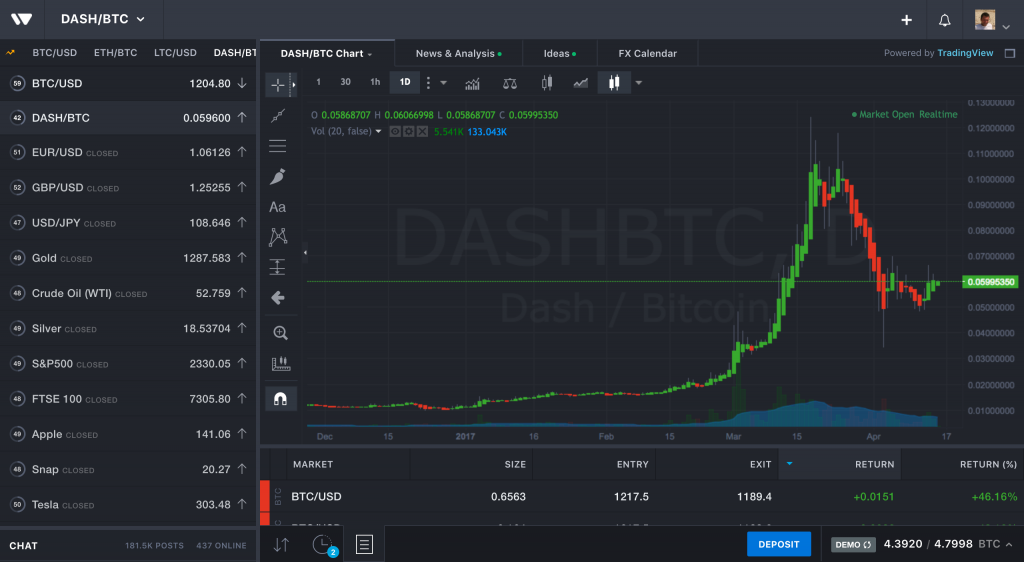 Whaleclub Chat
One of the best things about the platform is the community.  This chat gives you a feel for how the community is currently trading.  Members can share their trades into the chat and how much they are up or down.    The chat makes the whole platform feel alive.  Sometimes I like to just keep it open in the background, even when I'm not trading, just so I can keep up to date.
Trade Ideas and News
Each market also has an associated page with trading ideas.  These are shared by members of the trading community TradingView. This is really useful if you're looking to learn more about technical and fundamental analysis.   There is also a built in FX calendar that shows the major upcoming economic events which could impact the markets.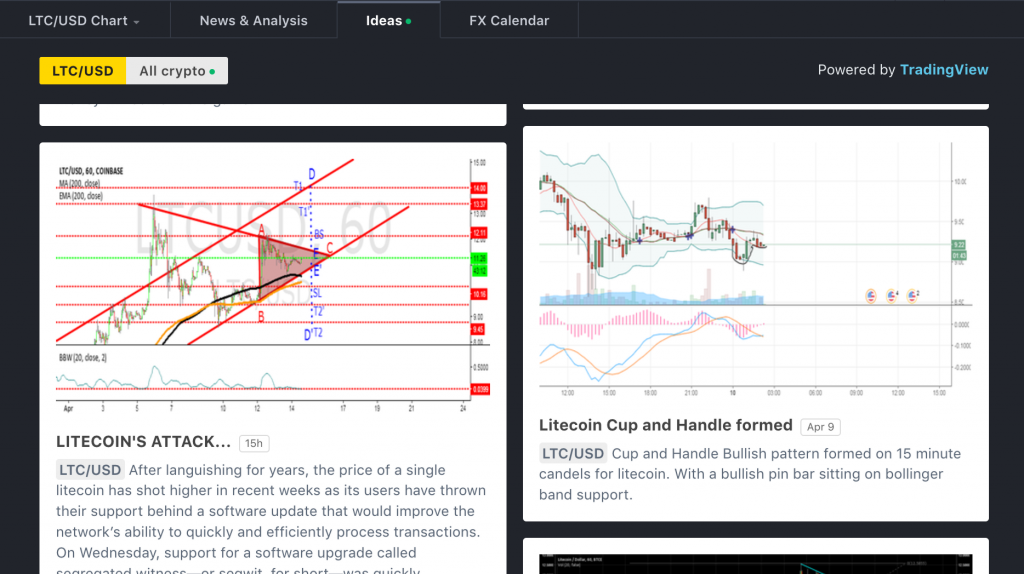 What are the fees like?
Whaleclub doesn't charge a fee to open a trade.  There is a spread and this varies between the different markets.  At the top of each hour, Whaleclub, like many CFD platforms, charge a financing fee.  Again this varies based on the market.  If you trade within the hour, you can avoid this fee.    The fee isn't going to have much of an impact for most traders, but it's something to look out for and take into account before opening a position.
Practice Trading on Whaleclub
Whaleclub offers a free practice trading account.  It's bundled in with your real account and you can switch to it with a couple of clicks.  Remember trading is difficult and like any skill, takes practice.  I recommend all new traders start out with a practice account.   Get to grips with Fundamental Analysis, learn to read charts and practice opening and closing trades.  Don't move on to trading real money before being able to consistently make profitable trades.
Do people make money on Whaleclub?
Yes! The cool thing about the chat is people share their trades.  So you're able to see people making profits.  The important thing to remember is that trading and whaleclub isn't a get rich quick scheme.  You need to know how to trade, or you will lose your money.
Minimum Deposit
There is no minimum deposit, however there is a minimum trade size.  I think most people can get started with around $500 usd.  I say this because you need enough in your account to support a margin and you might want to open multiple trades.
Private, Anonymous Trading
Whaleclub has made it a point of principle to never touch fiat currency and in doing so they don't have to deal with banks.  By being a purely digital currency platform, they can offer a level or privacy that other platforms can't.
To create an account, all you need is an email.  They don't require you to go through any form of verification process.  Meaning you can be up and trading in a matter of minutes.
Trading API
Whaleclub offers a full API.  So those with development experience can trade via the API instead of the interface.  This means you can use all sort of different automated trading strategies.  The API has pretty generous limits making it a powerful tool for the right type of trader.  If you've ever want to trade automatically using scripts, this is the platform to do it on.
Security and Support
Whaleclub stores Bitcoin in distributed cold storage.  This is a measure to prevent against hackers.  As such, withdrawals aren't instant but happen on a rolling basis throughout the day.  I've never had to wait more than a few minutes for a withdrawal to go through.
Support is excellent – i haven't had any real need for support so far, but from the reports I've gathered it seems like most people are impressed.
First Deposit Bonus
While traditional trading platforms aren't offering deposit bonuses much anymore – Whaleclub still offers one.  It's added to your account based on trading volume.  And once it's added to your account, you can withdraw it instantly.  If you're ready to open a real account, then make sure you take advantage of this bonus as it will give you a little buffer against losing trades 🙂