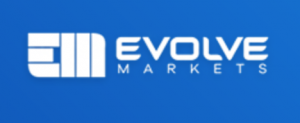 In the past I've written about Whaleclub – a trading platform that only accepts digital currency.  And now there is another player in that space – Evolve Markets.
Evolve Markets is a next generation trading platform that just like Whaleclub, deals exclusively in digital currency, in this case Bitcoin.
Trading Forex, Commodities and more on Evolve
Evolve Markets allow you to trade forex, commodities, indicies and crypto using bitcoin.  It works just like traditional trading platforms.  But instead of depositing using Fiat currency, such as USD, you deposit using Bitcoin.
Straight Through Processing
Unlike Whaleclub, which is a market maker, Evolve Markets is a Straight Through processing broker.  What this means, is you aren't trading against other people on the platform.  Instead your trades are executed using a liquidity provider.  Personally, I don't mind either approach, but some traders prefer one over the other.  If you've tried Whaleclub and it's not really your thing, then this platform might be for you.
The Platform
Evolve Markets uses the Metatrader 4 platform.  This is an industry standard and used by the majority of forex brokers.  This means, that if you've traded on other platforms, switching to Evolve Markets will be straight forward.
You can use MT4 on Windows and Mac as well as through a browser based Web Trader.   Trading can also be done via mobile apps.
Fees
Evolve markets makes money from the spread.  They also offer a pro account that has tighter spreads, but does charge a commission.  The fees are very reasonable though and in line with most brokers.  One good thing is they cover the costs of bitcoin transfer fees when you make a withdrawal.
Demo Account
If you're new to trading, then I would recommend making use of the free demo account on Evolve Markets.  Its a good way to familiarise yourself with the software.  There is no cost to use a demo account and it will work pretty much like a real account.
Put your Bitcoins to Work
Instead of just sitting on your bitcoins and hoping the price will rise, you can now actually use them and hopefully make money from them too.
Can you make money from Evolve Markets?
Absolutely!  It's just like any other trading platform, but it uses Bitcoin.  Personally, I prefer the interface of Whaleclub, but I know many traders love to use Metatrader.  So if you're a Mt4 trader, then I recommend Evolve Markets for you.