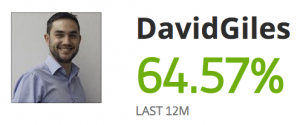 Ok time for another post in my series on who to copy on eToro.  With so many people on the eToro platform, with different trading styles, it's hard to focus on where to invest your money.  So i'm reviewing some of my top picks on people you should look into.
Always remember to do your own research and only copy people who match your investment goals and the amount of risk you're willing to take on.
This review is on DavidGiles, who's had an impressive return of over 60% for the past 12 months.