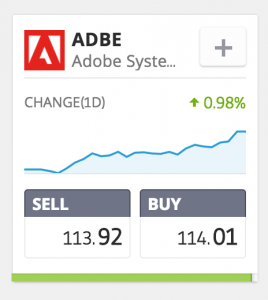 Contract for Difference or CFD allows you to speculate on the movement of an underlying asset. What does that mean? You can trade stocks without having to own the actual stock. I wanted to explain some of the advantages and disadvantages of CFD trading.
Advantages:
Low Fees
This all depends on the broker you use, but many won't charge any commissions. For example, on etoro if you open a buy position on a stock, with no leverage, the CFD is fee to hold. Short and leveraged positions will incur a fee.
The most important thing to note is that these fees are much smaller than traditional brokers which charge $20+ per trade. With such high fees, the stock needs to move a lot before you break even.
Long and Short positions
I love the ability to hold both long and short positions with CFDs. Sometimes I come across a company where I just know there price can't keep rising. With regular stocks, the average joe doesn't have the option to short stocks (profit from a fall in a stock price) unless using a full service broker. And the fees are usually ridiculously expensive. CFDs allow anyone to short a stock.
Access stocks from all over the world
Probably one of the most attractive benefits of CFDs are the huge range of stocks available. eToro offers stocks from exchanges all over the world including the U.S and Europe. If I was to buy stocks in Apple from outside the u.s i would need to pay large brokerage fees (Usually around $50 from my broker), but with a CFD I don't have that issue.
Some CFD brokers will only offer local stocks, so if you're interested in international investments, make sure you find out which exchanges they support before signing up.
Leverage
Leverage is considered by many traders the primary benefit of trading CFDs. You can hold a much larger position than you could with a traditional stock broker. I'm not going to explain how leverage works, and if your new to CFD trading I suggest you don't trade with leverage or use a very low leverage.
The real benefit though is you can make a large profit from relatively small movements in the stock price. Professional CFD traders can make a full time income, even when the markets aren't moving a great deal.
Things to watch out for
Although CFDs have some advantages, they come with some disadvantages to, which are worth learning about before you dive head first into a CFD position.
No dividends
How a broker distributes dividends for CFDs changes from one to another.
Overnight or weekend fees
A broker will typically charge you a small fee for holding a position overnight or during the weekend. Again this varies from broker to broker and will often depend on the size of the position. It's important to be aware of these fees when you open a trade, especially if you're looking to hold it for a considerable amount of time.
The best place to trade stock cfds online
I trade stock CFDs through eToro. My first position many years ago was a purchase of Apple. Since then i've made many many trades.
Trading CFDs might not be the best for beginners. I still recommend if starting out your trading journey with copytrading or if you're not ready to invest, use practice trading. This will stop you from throwing your money away.
Do you trade CFDs? Let me know your stories in the comments.
---
Disclaimer: eToro is a multi-asset platform which offers both investing in stocks and cryptoassets, as well as trading CFDs.
Please note that CFDs are complex instruments and come with a high risk of losing money rapidly due to leverage. 78% of retail investor accounts lose money when trading CFDs with this provider. You should consider whether you understand how CFDs work, and whether you can afford to take the high risk of losing your money.
Past performance is not an indication of future results.
Cryptoassets are volatile instruments which can fluctuate widely in a very short timeframe and therefore are not appropriate for all investors. Other than via CFDs, trading cryptoassets is unregulated and therefore is not supervised by any EU regulatory framework.
eToro USA LLC does not offer CFDs and makes no representation and assumes no liability as to the accuracy or completeness of the content of this publication, which has been prepared by our partner utilizing publicly available non-entity specific information about eToro.