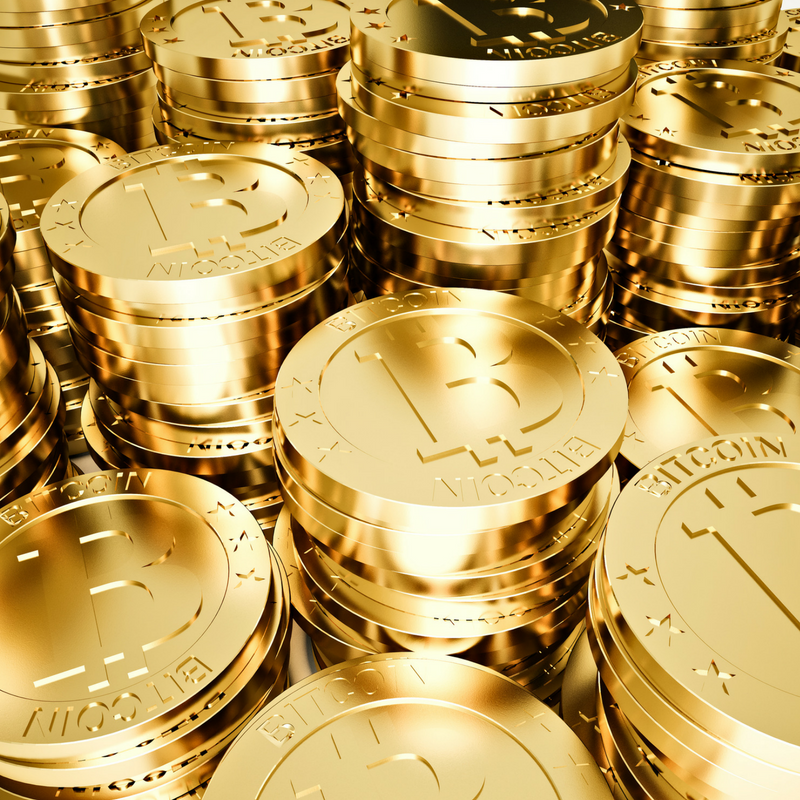 One of my goals for 2019 is to increase my investment and accumulate more crypto while the prices are so low. If you too are looking to invest in cryptos in 2019 then here are 5 different options for getting started. In my opinion these are the easiest ways to start investing.
Coinbase
Coinbase is one of the worlds most popular places to buy and sell cryptos. Here is why:
Great Interface – some of the early crypto exchanges had really complex and poorly designed interfaces. Coinbase is easy to use. Even if you've never invested in crypto before, you'll be able to use Coinbase.
Credit Card and Bank Transfers – I love being able to buy bitcoin and other coins instantly using a credit card or instant bank transfer. This makes getting fiat into crypto really easy.
Fast Verification Process – every (legit) exchange requires some form of verification. This is an anti money laundering requirement. Thankfully verification on Coinbase is super fast and easy to complete.
Trusted Company – Coinbase is very open about it's operations and who is behind the exchange. It's not some shady individuals but a legit U.S company.
Coinbase is a great place to start investing in crypto. You can invest in all the popular coins including Bitcoin, Ethereum, Litecoin and more. Coinbase has indicated that they are planning to add more coins in the future. Although I recommend moving large amounts of crypto to your own hardware wallet, coinbase does offer a great cloud wallet for smaller amounts.
Coinbundle
The reason why i've added Coinbundle to this list is because the unique way they bundle cryptos. Lots of people want to invest in cryptos but are put off by the huge number of coins. It can be a bit overwhelming. Coinbundle simplifies investing by grouping together different cryptos into investable bundles.
You can invest in a number of different coins with just one investment. Coinbundle automatically rebalances your portfolio to keep everything in the correct ratios.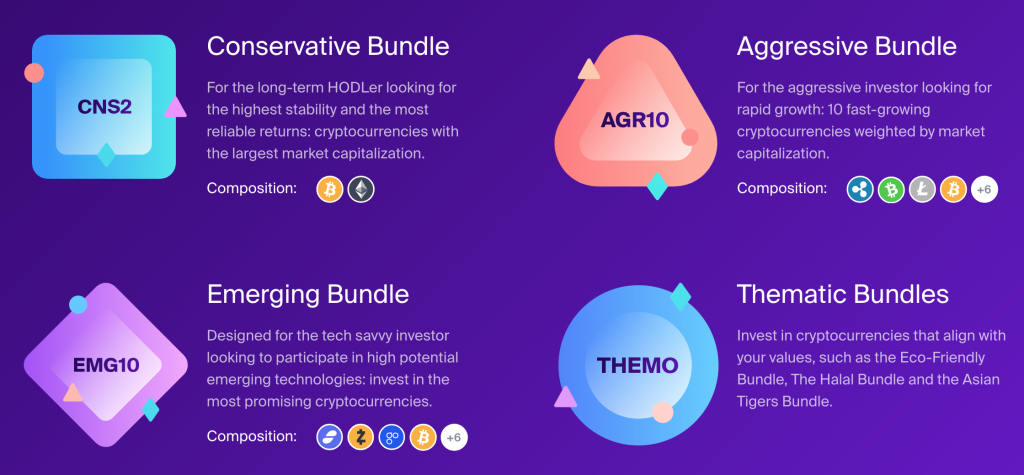 Coinbundle accepts deposits via credit card which makes it quick and easy to get started. Plus they currently don't charge any service fees. In the future Coinbundle is planning to add more bundles including ones created by users.
CoinSpot
Most articles only focus on U.S customers – so here is one for people down under.
If you're Australian then I would recommend you use Coinspot over Coinbase. Coinspot is an Australian based exchange that not only lets you invest in Bitcoin but dozens of other alt coins too. They add new coins every month.
Getting fiat money into Coinspot is easy. They offer a number of deposit options for Australians. These include the PayID (which allows you to pay instantly with your bank account).
They also allow you to sell your crypto through them – something which Coinbase doesn't currently offer for Australians.
eToro
eToro is my favorite online broker. You can trade stocks, forex, commodities and of course cryptocurrencies! Here are some of the reasons why I love using eToro for crypto trading:
Deposit using Credit Cards and PayPal – eToro is one of the few platforms that let you deposit using PayPal. You can also deposit via credit card or bank transfer. They make it really easy to deposit and withdraw.
Trade traditional assets – You can trade assets like stocks and commodities right alongside your crypto investments. Now you don't need to use multiple platforms for your trading.
Copy Trading – one unique feature of eToro is that it lets you copy trades made by more experienced traders.
eToro has a really nice interface for trading. It's a bit more complex than Coinbase but still suited to those who are new to investing. But it's also great for pro investors who are looking for a more professional platform.
Binance
If you're looking to invest in Altcoins than Binance is one of the best exchanges to buy and sell them. Unlike all the other options in this list, you will have to buy Bitcoin (or another coin) first and then transfer it to Binance.
What I do is buy Bitcoin (or Litecoin) on Coinbase and then transfer it to Binance. Once you've deposited Bitcoin on Binance you can then use it to buy altcoins.
Binance is one of the largest exchanges and has a good reputation in the crypto community. The interface is nowhere near as nice as any of the other exchanges on this list, but it's still fairly usable and easy to understand.
Remember that investing in altcoins is risky. So only invest if you know what you're doing.
Practice trade Crypto
Not ready to invest any real money in crypto? Don't worry because you can also practice trade cryptos too. You can sign up for a free account on eToro. They give you $100k in virtual money to practice buying cryptos (and other investments too). It's a great way to learn more about investing and trading without having to risk any real money.
---
Disclaimer: eToro is a multi-asset platform which offers both investing in stocks and cryptoassets, as well as trading CFDs.
Please note that CFDs are complex instruments and come with a high risk of losing money rapidly due to leverage. 78% of retail investor accounts lose money when trading CFDs with this provider. You should consider whether you understand how CFDs work, and whether you can afford to take the high risk of losing your money.
Past performance is not an indication of future results.
Cryptoassets are volatile instruments which can fluctuate widely in a very short timeframe and therefore are not appropriate for all investors. Other than via CFDs, trading cryptoassets is unregulated and therefore is not supervised by any EU regulatory framework.
eToro USA LLC does not offer CFDs and makes no representation and assumes no liability as to the accuracy or completeness of the content of this publication, which has been prepared by our partner utilizing publicly available non-entity specific information about eToro.