I've been copy trading for the past few years on eToro and I'm going to share with you my best tips for trading on etoro and how you can get started. A lot has changed in copy trading over the last few years, so I've created this new guide for 2022.
Keep reading to find out everything you ever wanted to know about investing with copy trading and using eToro:
What is Copy Trading
Copy Trading is simple. You copy a trader and whenever that trader makes a trade, your account will make that trade as well in realtime.
You allocate funds to a trader to copy trade, and then trades are copied using that allocation in the same proportion as the trader. So if a trader uses 1% of their account balance to make a stock trade, your account will make the same trade using 1% of the funds you allocated to that trader.
Copy Trading lets you benefit from the experience and knowledge of better traders. Trading is tricky! And going it alone could be a recipe of failure. So why not lets someone who is more experienced trade for you. That's basically what copy trading is.
On eToro you can browse through the profiles of millions of traders. You can see what trades they have made in the past, and how profitable they have been. Everything is open and transparent. So you're not just copying a trader based on a sales pitch. You can choose to copy traders who have only performed well in the past and traded with low risk strategies.
It's a powerful investment tool that I've been using for the past few years, and something that I've had a lot of success with.
This page on eToro has a great explainer on how the entire system works.
The Best Copy Trading Platform – eToro
I use eToro for almost all of my copy trading. They are one of worlds largest copy trading platforms with over 5 million members. Many copy trading platforms struggle to attract enough decent traders that you can copy. I haven't found thats an issue on eToro. There are lots of very talented and skilled traders with a wealth of knowledge.
Reasons why I use eToro
Here is why I chose eToro as the best copy trading platform over the rest of the competition:
The Best Traders to Copy
eToro has over 14 million members. One problem I've had on other copy trading apps is that there isn't a huge selection of traders to copy. On eToro you can choose to copy thousands of popular investors. This means you can choose from different strategies and different risk profiles.
Huge Range of Markets
eToro has a huge range of markets to trade in. You can trade Stocks, Forex, Cryptocurrencies, Commodities, ETFs and Indices. And they don't just have stocks from the U.S. You can trade stocks from all over the world.
In Australia (where I'm from), and the U.K eToro offers real stock and cryptocurrency trading. On platforms like Plus500, you can only trade CFDs. And most people lose money trading CFDs. On eToro you can buy and hold the actual asset and you don't need to invest with risky leverage or margin!
eToro's crypto offering is just as diverse. Over 2020 and 2021, eToro has been consistently adding new crypto coins. You can now invest in upcoming and trending altcoins including Tezos, Solana, Matic and even Shiba Inu.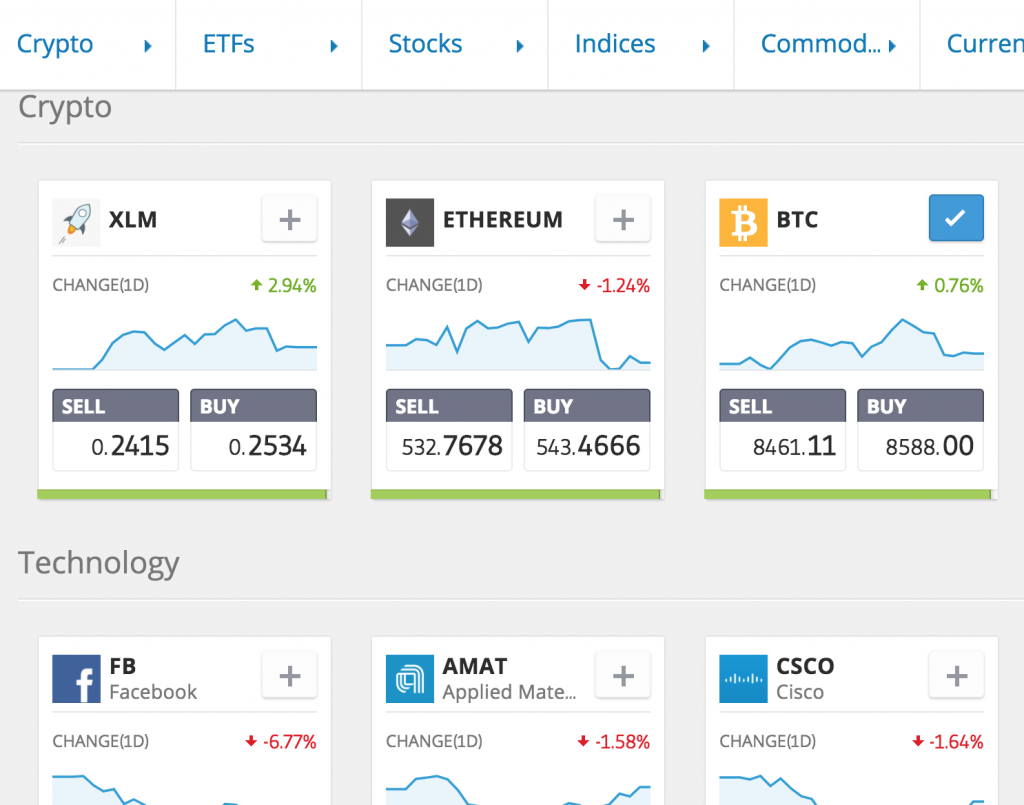 I really like being able to trade traditional assets like shares and forex, alongside new and exciting assets like Bitcoin.
And you can copy trade all of these assets as well.
Powerful Copy Trading Tools
eToro has by far the most advanced and powerful copy trading features. eToro has really worked hard to improve their copy trading platform, and in my opinion they offer the most accurate copy trader app.
In the past, traders could keep losing positions open for months, even years, without it affecting their "profitability". So a trader could be seen as profitable, even though they had lots of losing trades. This is because eToro only calculated the profit percentage on closed trades. eToro has now fixed this. So you get a very accurate picture of how profitable a trader will be. eToro has also worked hard on making sure your performance matches the performance of a copied trader.
There is no other platform that has copy trading features this good.
Social Trading
eToro is known as a social trading platform. Traders can post updates on their feed and as a copy trader, you can ask questions and comment on posts. This is a really important part of eToro. Being able to interact with traders and ask questions will help you become a better and more knowledgeable trader. People who start copy trading often don't have a great deal of experience. And that's why copy trading on eToro is a great way to learn.
Great Interface
eToro's interface is entirely web based (although you can download a mobile app). The web based platform is well designed, easy to use and nice to look at. It's also pretty powerful. There are pro charting features as well for the more experienced users.
Trading platforms, especially web based ones, can be really badly designed. I've use some pretty terrible trading platforms over years. eToro, in my opinion the best looking platform of any online broker, not just copy trading platforms!
You can open a free eToro account here
Disclaimer: 78% of retail investor accounts lose money when trading CFDs with this provider. You should consider whether you can afford to take the high risk of losing your money.
How to find the best Traders to Copy on eToro
These are the search tools that I use when I try and find people to copy trade on eToro:
eToro Search Tools
Set a Low Risk Score – the lower the better. A lower risk score means a trader is using sensible investing strategies that won't see huge drawdowns. I recommend searching for traders with a risk score between 1 and 5.
Experience – make sure you only copy trader investors with at least 12 months history on eToro. Sometimes new traders can just "get lucky" and have a few good months. It takes real skill to have years worth of profitable returns. At the same time, don't be put off if a trader has a couple of bad months. All traders do and it's often the result of fluctuating markets.
Draw Down – The draw down is the difference between the high and low of a portfolio during a set period of time. Generally the lower the draw down the better.
Return – I have no interest in copying traders who don't outperform the index. For example in 2020 the S&P500 gained around 16% (it was quite a high performing year). I could of matched that return by simply buying an ETF that tracks the S&P500 (which you can do on eToro). So if I'm copy trading I'm looking for returns that give me an edge over an index ETF.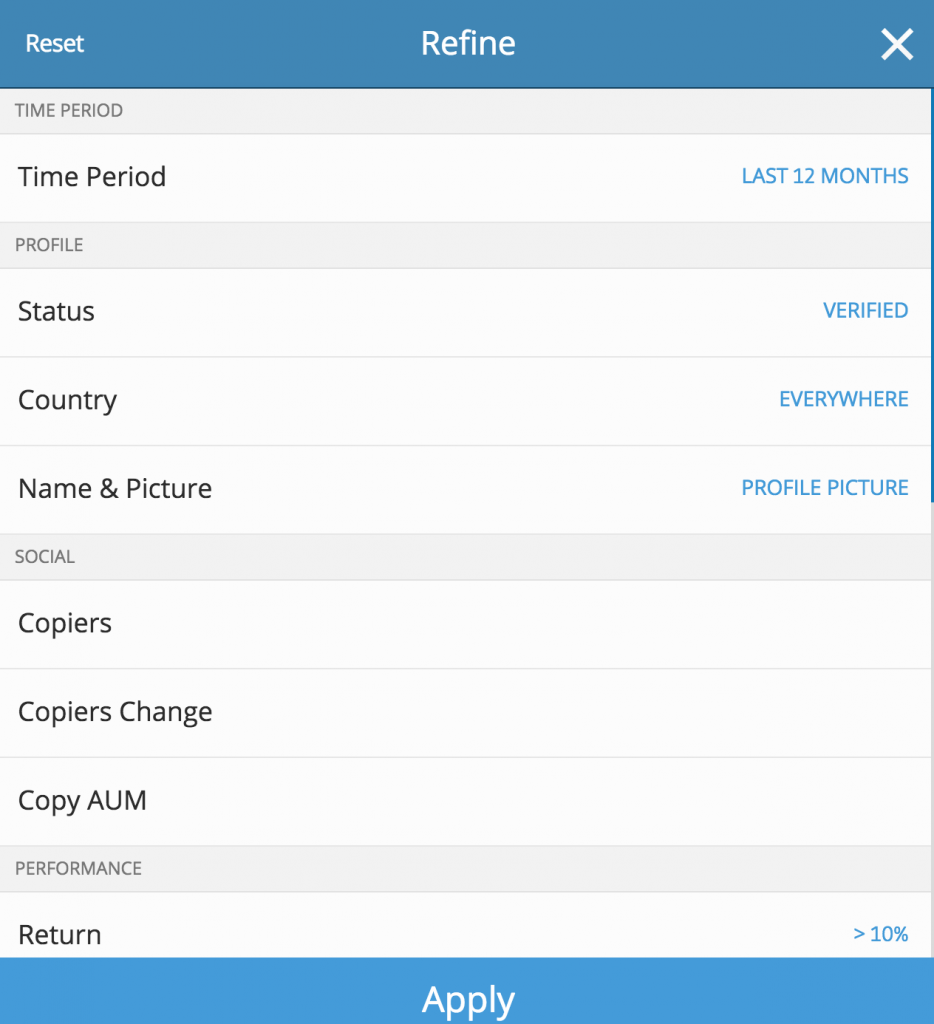 Reasons Why you Should Copy Trade
So what's the point of Copy Trading over investing in stocks or ETFs on your own? Here are some of the pros of copy trading:
Passive Investing
I've both manually traded and copy traded. And I can tell you that manually trading is very time consuming. Forget those ads on TV that tell you that you can work 2 hours a day doing day trading. The reality is you need to spend a lot of time digesting economic news and studying charts. I think it takes more time than a full time job.
Education
The best way to learn about trading is to start trading. But the downside of doing this is you'll probably lose your money like most new traders do. By copy trading, you'll still be trading, but you'll be helped by someone who has way more experience than you. You can ask them questions, you can read about why they made certain trades. I believe that copy trading is a great way to learn about the financial markets.
Gain Access to Markets all over the world
No one is an expert in all markets. Some traders are experts at trading commodities like Gold. Others are experts at trading the German financial markets. On eToro you can copy trade people who dedicate themselves to certain markets. This way you can get exposure to markets all over the world and tap into a global knowledgebase.
Diversification
Copy Trading is a great way to diversify your portfolio. You can copy trade multiple people and in doing so your account could be making hundreds of trades each month. Trying to do this level of trading on your own would be impossible. So even if you're an experienced trader, I still recommend copy trading alongside your own trading.
Investing with Copy Trading
I've had success copy trading, and so have lots of other people. But I can't guarantee you will too. There are lots of factors to consider – who you're copying, when you started copying, how many people you copy etc. My best results have come from copytrading traders who have low risk scores, and modest returns.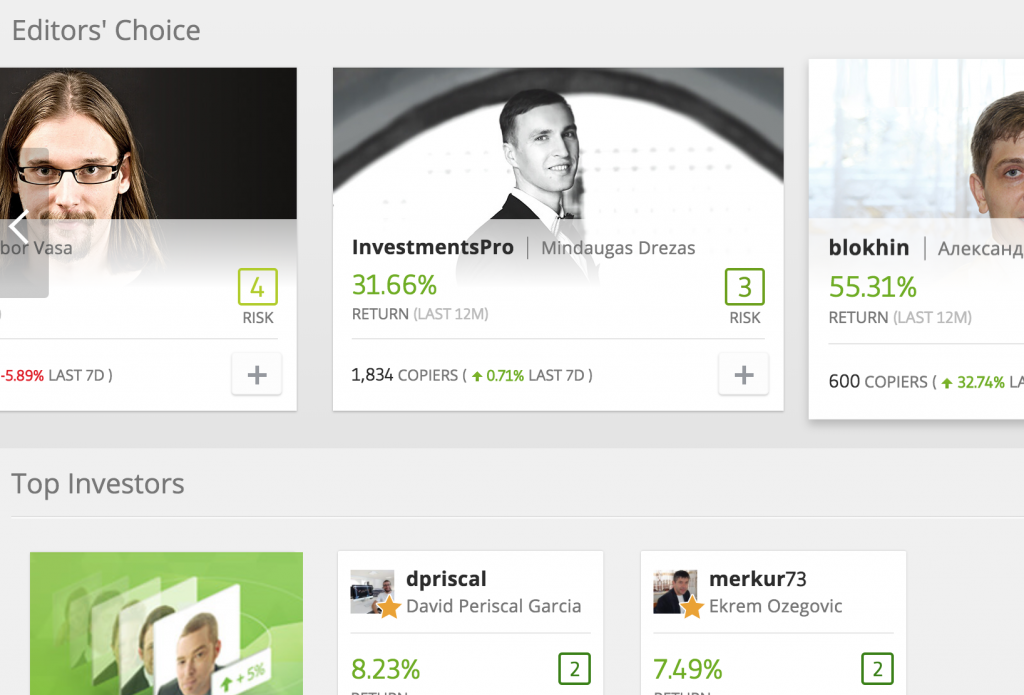 Some traders on eToro have made returns of over 20% each year for the past few years. So there are definitely profits to made.
Frequently Asked Copy Trading Questions
I get lots of emails and comments from people asking about copy trading. Here are the most popular – all these questions relate to the eToro copy trading platform. Other platforms will be different.
How much money do you need to start Copy Trading
On eToro the first time minimum deposit (in Australia) is $50. To open a Copy Trading position however you need $200 (USD).
Does eToro charge fees for Copy Trading?
You may also be charged financing fees.  These are small fees charged on certain trades (for example short stock trades).  A broker charges these because they are lending you money to open a short trade, and need to pass on the interest they are being charged.  These fees are charged daily and over the weekend.  These fees are very small ($0.01 for example) and won't eat into your profits.
Can you stop Copy Trading someone?
Yes you can close a copy trading position at anytime. You are never locked into copying. So you can close the position and withdraw your money at anytime.
Do Copy Trading Profits Get Re-Invested on eToro
Yes. Copied trades are opened in proportion to the copied trader. For example if the copied trader opens a position with 1% of their account, then you will open a similar trade with 1% of the realised equity that you've allocated to copy trade.
Do you earn dividends from Copy Trading?
Yes.  Stock trades on eToro receive dividend distributions.  And these are passed onto you as well.  Obviously you'll own a lot of fractional shares on eToro so you'll receive fractional dividends.
Can you copy someone who only invests in Stocks?
Yes.  eToro offers a search parameter that lets you filter traders who mainly trade in stocks.  This trader could still choose to invest in other assets.  Often traders will mention on their profile that they are a stock trader and will only invest in stocks.
Do traders I copytrade get paid?
Yes.   Traders are rewarded for performance.  The more people who copy the more they will make.  And people will only copy you if you perform well over the longer term.  This income can actually be more than a full-time income for the top traders on eToro.  So not only do they make money from their own trading, but they earn extra income from the number of people copying.
Do Traders Have Access to my funds?
No. Your funds are only allocated to mirror/copy the trades. Your account is still making the trades and you retain access to your funds at all times.
Do popular investors on eToro need to trade with real funds?
Yes.  Your virtual account trades aren't shown on your profile.  Only trades made using real money.  So the traders on eToro are trading with their own money and have real skin in the game.  This is an important part of etoro.  Some copy trading platforms have traders trading using virtual money.  Trading using real money is different especially when it is your own.  You are going to take fewer risks.
How to Get Started Copy Trading
Here is how to start copy trading:
Sign Up to eToro – Open an Account Here (Disclaimer: 78% of retail CFD accounts lose money)
Verify Your Account – eToro has a verification process new accounts need to go through. This is just to prevent fraud and comply with regulations and is different based on which country you live in.
Find traders to copy. Visit the "Copy People" tab. From here you can see the featured traders as well as use the search tools to find people.
Allocate Funds – once you've found someone who you like, just click the "Copy" button. Then choose how much you want to allocate to that trader. Once copied your account will now automatically copy all the actions made by that trader. You can see all your investments on the "Portfolio" page.
CFD Disclaimer: Disclaimer: 78% of retail investor accounts lose money when trading CFDs with this provider. You should consider whether you can afford to take the high risk of losing your money.
Practice Copy Trading
Want to see if copy trading really works without having to invest any money? eToro gives users a free $100k virtual account. You can use this money to copy trade and test it out for yourself. The trades are opened under the same conditions as a real trading account.
You can open a free practice account on eToro here.
---
Disclaimer: eToro is a multi-asset platform which offers both investing in stocks and cryptoassets, as well as trading CFDs.
Please note that CFDs are complex instruments and come with a high risk of losing money rapidly due to leverage. 78% of retail investor accounts lose money when trading CFDs with this provider. You should consider whether you understand how CFDs work, and whether you can afford to take the high risk of losing your money.
Past performance is not an indication of future results.
Cryptoassets are volatile instruments which can fluctuate widely in a very short timeframe and therefore are not appropriate for all investors. Other than via CFDs, trading cryptoassets is unregulated and therefore is not supervised by any EU regulatory framework.
eToro USA LLC does not offer CFDs and makes no representation and assumes no liability as to the accuracy or completeness of the content of this publication, which has been prepared by our partner utilizing publicly available non-entity specific information about eToro.