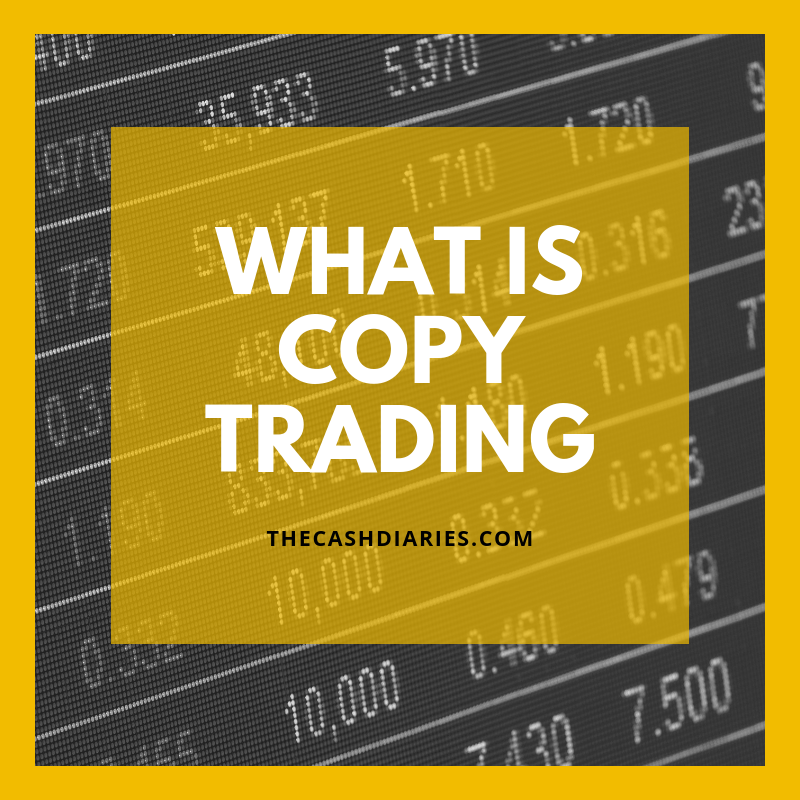 I've been copy trading for the past few years on eToro and I'm going to share with you my best tips for trading on etoro and how you can get started.
So keep reading to find out everything you ever wanted to know about copy trading:
What is Copy Trading
Copy Trading is simple.  You copy a trader and whenever that trader makes a trade, your account will make that trade as well in realtime.
You allocate funds to a trader to copy trade, and then trades are copied using that allocation in the same proportion as the trader.  So if a trader uses 1% of their account balance to make a stock trade, your account will make the same trade using 1% of the funds you allocated to that trader.
Copy Trading lets you benefit from the experience and knowledge of better traders.  Trading is tricky!  And going it alone could be a recipe of failure.  So why not lets someone who is more experienced trade for you.  That's basically what copy trading is.
On eToro you can browse through the profiles of millions of traders.  You can see what trades they have made in the past, and how profitable they have been.  Everything is open and transparent.  So you're not just copying a trader based on a sales pitch.  You can choose to copy traders who have only performed well in the past and traded with low risk strategies.
It's a powerful investment tool that I've been using for the past few years, and something that I've had a lot of success with.
The Copy Trading Platform I use
I use eToro for almost all of my copy trading.  They are one of worlds largest copy trading platforms with over 5 million members.  Many copy trading platforms struggle to attract enough decent traders that you can copy.  I haven't found thats an issue on eToro.  There are lots of very talented and skilled traders with a wealth of knowledge.
Reasons why I use eToro
Here is why I chose eToro over other platforms:
Huge Range of Markets
eToro has a huge range of markets to trade in.  You can trade Stocks, Forex, Cryptocurrencies, Commodities, ETFs and Indices.  And they don't just have stocks from the U.S.  You can trade stocks from all over the world.  And they don't just offer Bitcoin and Ethereum in the Crypto markets.  You can trade more obscure altcoins like EOS, Cardano and Dash.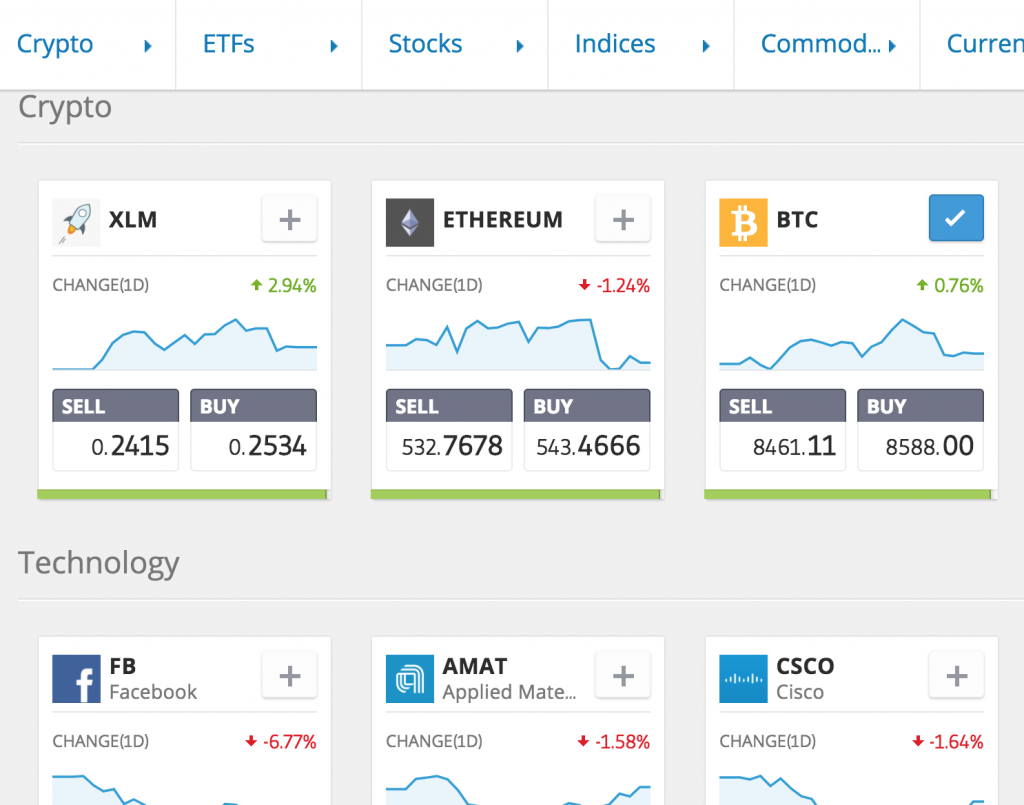 I really like being able to trade traditional assets like shares and forex, alongside new and exciting assets like Bitcoin.
And you can copy trade all of these assets as well.
Powerful Copy Trading Tools
eToro has by far the most advanced and powerful copy trading features.  eToro has really worked hard to improve their copy trading platform, and it is now really good.
In the past, traders could keep losing positions open for months, even years, without it affecting their "profitability".  So a trader could be seen as profitable, even though they had lots of losing trades.  This is because eToro only calculated the profit percentage on closed trades.  eToro has now fixed this.  So you get a very accurate picture of how profitable a trader will be.  eToro has also worked hard on making sure your performance matches the performance of a copied trader.
There is no other platform that has copy trading features this good.
Social Trading
eToro is known as a social trading platform.  Traders can post updates on their feed and as a copy trader, you can ask questions and comment on posts.  This is a really important part of eToro.  Being able to interact with traders and ask questions will help you become a better and more knowledgeable trader.  People who start copy trading often don't have a great deal of experience.  And that's why copy trading on eToro is a great way to learn.
Great Interface
eToro's interface is entirely web based (although you can download a mobile app).  The web based platform is well designed, easy to use and nice to look at.  It's also pretty powerful.  There are pro charting features as well for the more experienced users.
Trading platforms, especially web based ones, can be really badly designed.  eToro has in my opinion the best looking platform of any online broker, not just copy trading platforms.  I would rather use eToro over Metatrader any day of the week!
You can open a free eToro account here
Disclaimer: 67% of retail investor accounts lose money when trading CFDs with this provider. You should consider whether you can afford to take the high risk of losing your money.
How to find people to Copy Trade
eToro Search Tools
eToro has some great tools to search for traders.  Here are my tips on finding the best traders to copytrade:
Set a Low Risk Score – the lower the better.  A lower risk score means a trader is using sensible investing strategies that won't see huge drawdowns.
Markets – I recommend newbies copy trade people who are invested mainly in stocks.  Stocks are slightly less volatile than Forex and a lot less volatile than Cryptocurrencies.
Experience – make sure anyone you copy has at least 12 months of trading experience.  Sometimes new traders can just "get lucky" and have a few good months.  It takes real skill to have years worth of profitable returns.  At the same time, don't be put off if a trader has a couple of bad months.  All traders do and it's often the result of fluctuating markets.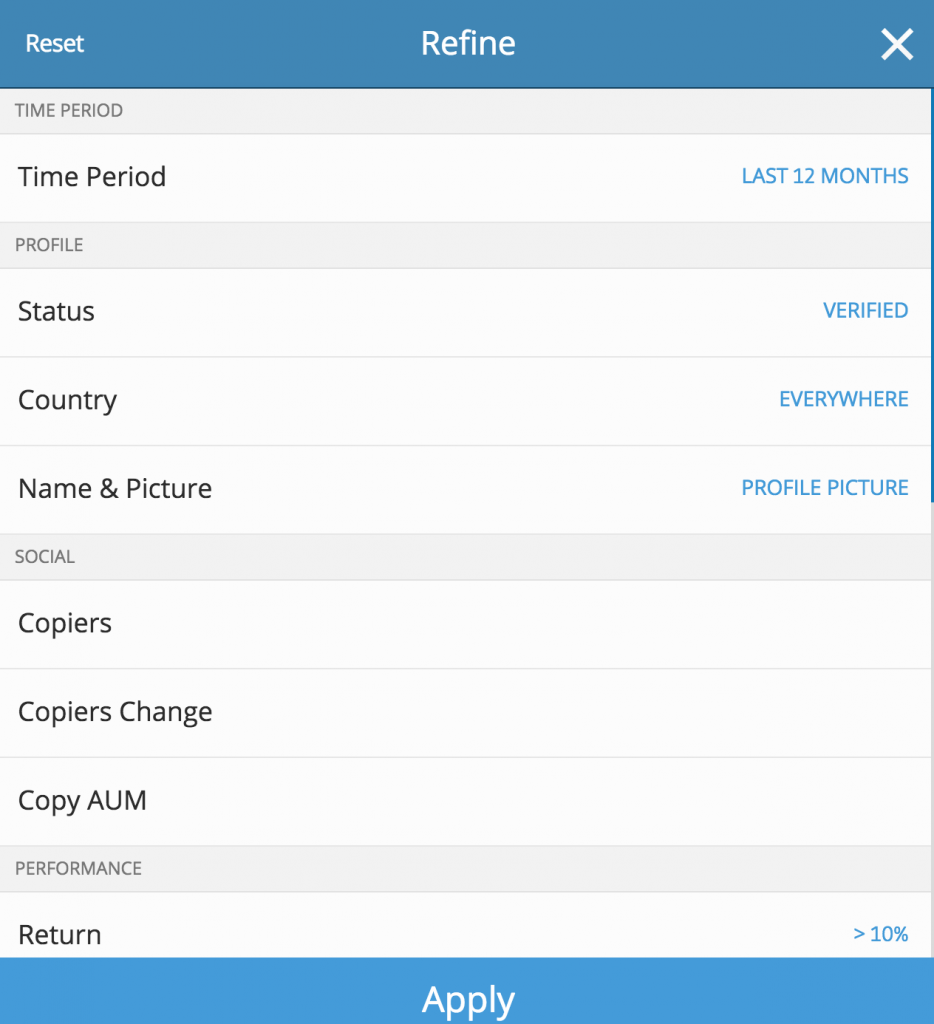 On TheCashDiares
I regularly publish posts with trader reviews.  I don't believe in just copying the "featured" traders on eToro.  Instead, I like to give them a thorough review based on solid investing fundamentals.  Check out my posts on 5 Traders to Copy on eToro and 5 More Traders to Copy Trade.
Copy Trading Newsletter
I publish a monthly newsletter which features the traders I'm copying.  I also talk about some of my investing strategies and some of the different investment platforms I've been experimenting with.
Sign up for my Copy Trading Newsletter here
Copy Trading Chat
I've created a Copy Trading Chat room on Discord.  It's completely free to join.  On the chat you can talk with other copy traders and investors.  Get hints and tips and the latest news from different platforms.  If you have a question, just ask it in the chat room and i'll reply right away.
Reasons Why you Should Copy Trade
Time Saving
I've both manually traded and copy traded.  And I can tell you that manually trading is very time consuming.  Forget those ads on TV that tell you that you can work 2 hours a day doing day trading.  The reality is you need to spend a lot of time digesting economic news and studying charts.  I think it takes more time than a full time job.
Education
The best way to learn about trading is to start trading.  But the downside of doing this is you'll probably lose your money like most new traders do.  By copy trading, you'll still be trading, but you'll be helped by someone who has way more experience than you.  You can ask them questions, you can read about why they made certain trades.  I believe that copy trading is a great way to learn about the financial markets.
Gain Access to Markets all over the world
No one is an expert in all markets.  Some traders are experts at trading commodities like Gold.  Others are experts at trading the German financial markets.  On eToro you can copy trade people who dedicate themselves to certain markets.  This way you can get exposure to markets all over the world and tap into a global knowledgebase.
Diversification
Copy Trading is a great way to diversify your portfolio.  You can copy trade multiple people and in doing so your account could be making hundreds of trades each month.  Trying to do this level of trading on your own would be impossible.  So even if you're an experienced trader, I still recommend copy trading alongside your own trading.
Good Way to Get Started
Trading can be very profitable and I think it's also a lot of fun.  Copy Trading is a great way to get into trading.  It will help you reduce some of the risk associated with trading.
Investing with Copy Trading
I've had success  copy trading, and so have lots of other people.  But I can't guarantee you will too.  There are lots of factors to consider – who you're copying, when you started copying, how many people you copy etc.   My best results have come from copytrading traders who have low risk scores, and modest returns.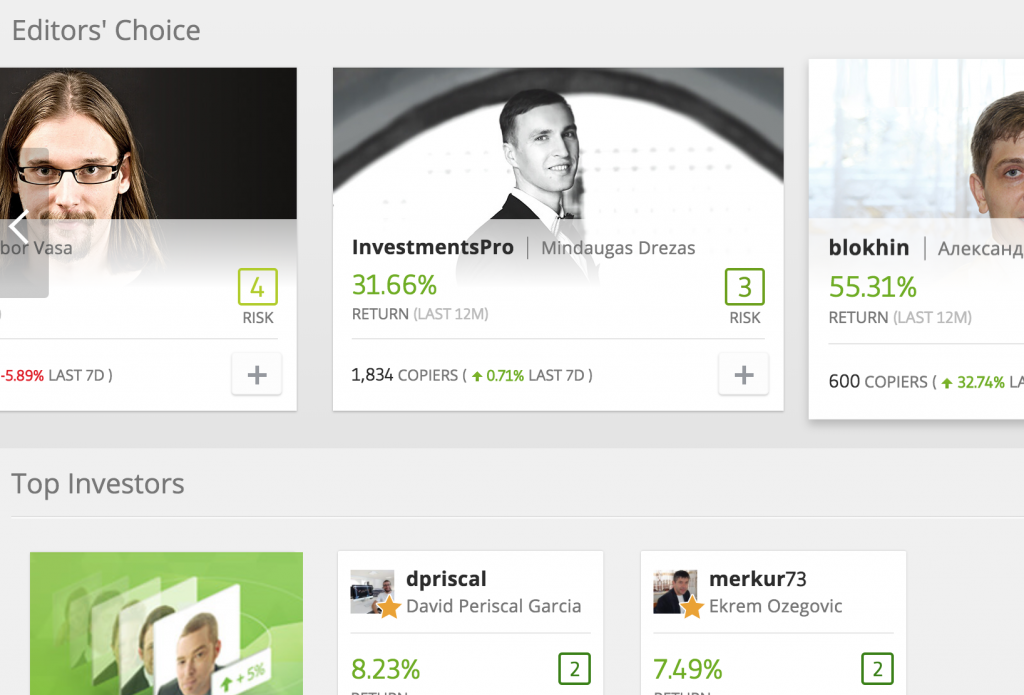 Some traders on eToro have made returns of over 20% each year for the past few years. So there are definitely profits to made.
Frequently Asked Copy Trading Questions
I get lots of emails and comments from people asking about copy trading.  Here are the most popular – all these questions relate to the eToro copy trading platform.  Other platforms will be different.
How much does is cost to start Copy Trading?
On eToro the first time minimum deposit is $200.  After you've made a first deposit, you can top up your account with smaller amounts if need be.  To copytrade you need to allocate at least $200 to a trader.  Don't feel you need to allocate more than that.  I've had great results with just $200.
The reason why you need $200 is that trades are copied in proportion.  So if you invested a smaller amount, the trade size would be too small.
What Fees do I have to pay?
So there are no fees to copy someone.  eToro makes money from a spread.  This is what most online brokers charge.  It's the difference in price between the buy and sell prices.  This small amount isn't much but eToro processes a huge amount of trades, so it adds up for them, while still being very cheap for you.
You may also be charged financing fees.  These are small fees charged on certain trades (for example short stock trades).  A broker charges these because they are lending you money to open a short trade, and need to pass on the interest they are being charged.  These fees are charged daily and over the weekend.  These fees are very small ($0.01 for example) and won't eat into your profits.
Can you stop Copy Trading someone?
Yes.  You can stop copy trading someone at any time.  When you stop copy trading, all open copied positions will be closed and the funds allocated will be returned to you.  So don't feel you'll be locked into a trader.  You're in complete control.
Can I invest more in a copy trader?
If you've been copy trading someone and they've been performing really well, you might want to allocate more funds to them.  The good news is that this can be done through the eToro platform.
Can I withdraw profits made by a trader?
Yes.  You can withdraw the profits made by the trader.   By default these will just be reinvested.  You can only withdraw funds though that aren't allocated to copied trades.  If you want to withdraw those funds you first need to close out those trades.
Do your copy trading profits get reinvested?
Yes.  Your funds get invested in the same proportion the traders use.  So overtime a larger amount of capital will be used for each trade as the funds allocated grow.  This is a compounding effect.
Do you earn dividends from Copy Trading?
Yes.  So stock trades on eToro are paid dividends.  And these are passed onto you as well.  Obviously you'll own a lot of fractional shares on eToro so you'll receive fractional dividends.
Can you copy someone who only invests in Stocks?
Yes.  eToro offers a search parameter that lets you filter traders who mainly trade in stocks.  This trader could still choose to invest in other assets.  Often traders will mention on their profile that they are a stock trader and will only invest in stocks.
Will my results be exactly the same as the person I copied?
This depends.  It won't be identical as you will have opened positions at a different time.  But all future copied trades will be the same.  When they close a trade it will be closed on your account too.  eToro is pretty good with slippage.  And it doesn't seem to be an issue on eToro.
Can you copytrade multiple people?
Yes!  This is a great way to build a diversified portfolio on eToro.  This will spread your risk across multiple trading strategies and markets. You need to copytrade with at least $200 allocated to each trader.  So this can start to add up if you try and copytrade multiple people.  I don't think there is anything wrong with copytrading just one person to begin with and moving on from there.
Do traders I copytrade get paid?
Yes.   Traders are rewarded for performance.  The more people who copy the more they will make.  And people will only copy you if you perform well over the longer term.  This income can actually be more than a full-time income for the top traders on eToro.  So not only do they make money from their own trading, but they earn extra income from the number of people copying.
Do Traders Have Access to my funds?
No.  The funds stay in your account.  And they traders that you copy never trade with this money.  It's simply used to copy the trades they make.  They are trading with their own money.
Do traders need to trade with real funds?
Yes.  Your virtual account trades aren't shown on your profile.  Only trades made using real money.  So the traders on eToro are trading with their own money and have real skin in the game.  This is an important part of etoro.  Some copy trading platforms have traders trading using virtual money.  Trading using real money is different especially when it is your own.  You are going to take fewer risks.
How to Get Started Copy Trading
Here is how to start copy trading:
Sign Up to eToro – Open an Account Here (Disclaimer: 67% of retail CFD accounts lose money)
Verify Your Account – eToro has a verification process new accounts need to go through.  This is just to prevent fraud and comply with regulations and is different based on which country you live in.
Find traders to copy.  Visit the "Copy People" tab.  From here you can see the featured traders as well as use the search tools to find people.
Allocate Funds – once you've found someone who you like, just click the "Copy" button.  Then choose how much you want to allocate to that trader.  Once copied your account will now automatically copy all the actions made by that trader.  You can see all your investments on the "Portfolio" page.
CFD Disclaimer: Disclaimer: 67% of retail investor accounts lose money when trading CFDs with this provider. You should consider whether you can afford to take the high risk of losing your money.
Practice Copy Trading
Want to see if copy trading really works without having to invest any money?  eToro gives users a free $100k virtual account.  You can use this money to copy trade and test it out for yourself.  The trades are opened under the same conditions as a real trading account.
You can open a free practice account on eToro here.