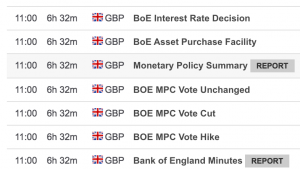 Have you heard of fundamental analysis? Have you wanted to use it to apply to your forex trading? Well all good forex traders, no matter what strategy they use, need to have an understanding of how fundamental analysis works.
So what is fundamental analysis?
Fundamental analysis involves analysing economic, political and social events that may have an impact on the price of a currency.
In basic terms, if the outlook for an economy is good, the currency should strengthen. On the other hand, if the outlook is poor, that country's currency will weaken. The stronger the economy, the more investors and businesses will invest in the country, which will create more demand for that currency.
This is the idea behind fundamental analysis.
As you can see, it's a pretty simple concept to grasp. But what isn't simple is picking the events that will have an impact on the currency.
If you've been trading forex for a while, you'll have come across events that you think will have a massive impact on a currency. But when that event actually comes around, it has no impact at all. Other times, events will jump out of the blue and have a massive impact and you'll be left scratching your head. This is part of forex trading – even the top forex traders aren't perfect at predicting what will impact an economy.
Avoiding Volatility
Trying to predict if the currency will go up or down, based on an upcoming event is quite risky. There are tools out there which will show you what most people are predicting will happen. But often times these predictions are wrong too. Entire markets often get caught by surprise.
One of the best uses of fundamental analysis for new traders is for timing your trades. There are certain economic events that cause massive volatility in the market. Brexit is a good example of this. After the decision, the GDP took a massive nose dive, catching many people by surprise. If you were a clever trader, you would have made sure your trades were closed out, to avoid any massive losses.
Using an Economic Calendar
An economic calendar is the most basic tool for fundamental analysis. The calendar displays upcoming events which may have an impact on a currency. It will often display how important the event is predicted to be, and what the market sentiment is. If you're making forex trades, you need to have a look at an economic calendar each morning to see what events will affect your trades. Some events, you might want to stay right away from, where others, you'll be looking to trade the volatility.
Using Market Updates
Subscribing to market updates are another good way to stay on top of economic news. For example, the daily etoro briefing, highlights the most important events and also gives a quick summary of whats happened the previous day. XM, also offers market briefings, in a variety of different languages. This type of update takes no more than 2 minutes to look over, but will make you a better forex trader.
Practice makes perfect
The best way to understand fundamental analysis, and figure out how to profit from it, is through practice trading. Do yourself a favour and open a practice forex account. Start opening trades and see if your predictions match up with reality. Never open a real forex account without solid and consistent profits in your practice account.
---
Disclaimer: eToro is a multi-asset platform which offers both investing in stocks and cryptoassets, as well as trading CFDs.
Please note that CFDs are complex instruments and come with a high risk of losing money rapidly due to leverage. 78% of retail investor accounts lose money when trading CFDs with this provider. You should consider whether you understand how CFDs work, and whether you can afford to take the high risk of losing your money.
Past performance is not an indication of future results.
Cryptoassets are volatile instruments which can fluctuate widely in a very short timeframe and therefore are not appropriate for all investors. Other than via CFDs, trading cryptoassets is unregulated and therefore is not supervised by any EU regulatory framework.
eToro USA LLC does not offer CFDs and makes no representation and assumes no liability as to the accuracy or completeness of the content of this publication, which has been prepared by our partner utilizing publicly available non-entity specific information about eToro.