I wanted to introduce you to Forex Factory a tool I use on a daily basis to stay informed and improve my trading.
Although I spend most of my time copy trading, I still open the odd manual trade.   I believe the key to successful forex trading is education and Forex Factory is one free tool I like to use.
Economic Calendar
Having access to an economic calendar is absolutely essential for forex trading.  An economic calendar will show you all (hopefully) events that will have an impact on a currency pair(s).   Many traders like to trade when there is a lot of volatility in the markets, where others will avoid trading during major economic events.
The calendar on Forex Factory shows you the upcoming events with any predicted predictions and the actual outcome of the release.
News
The news section on ForexFactory aggregates articles from various websites and is editor controlled.  I like this approach as the quality of news is higher then on other similar aggregators.  Another neat feature is that each story has multiple sources from different outlets – handy if you're looking to really get on top of a story and figure out your position.
Trade Explorer
ForexFactory allows you to connect your brokerage account and analyse your performance.   Doing this will also allow you to share your trades with others on the platform.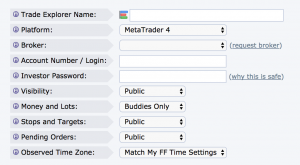 On the "trades" page you can see a leaderboard of the top performing traders and also aggregate information as to how many people are buying or selling a pair.  This is a very rudimentary social trading platform – it doesn't compete with something like etoro but it's nice to see how professional traders are trading.  It's also really interesting to see how different strategies work such as scalping.
So there you go, a quick introduction to one of my favorite tools.  It's completely free to use and most of the functionality is available without even needing to sign up.
You can visit Forex Factory Here