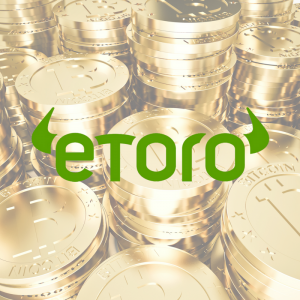 eToro is a popular trading platform for stocks and forex. But did you know they also offer a huge range of popular cryptocurrencies for trading. I've been trading cryptocurrency on eToro for a while now and I wanted to share some of my tips and explain how it works.
Note – This post doesn't apply to US customers
What I like about trading Cryptocurrency on eToro
Here are some the reasons that I like trading cryptocurrency on eToro over other platforms.
Deposits via PayPal or Credit Card
One the trickiest things about cryptocurrency has been getting fiat into a broker. On eToro you can deposit via PayPal and Credit Card. Both these options are instant, meaning you don't need to wait days for your fiat to clear. You can start trading with it right away. This is huge – Bitcoin and other cryptocurrencies are volatile and by the time your bank transfer has cleared the market may have moved on.
Trade alongside traditional markets
I use eToro to trade stocks like Facebook and for copy trading. I like being able to trade all my traditional markets like Stocks, commodities, forex etc and new markets like cryptocurrency all in the one account. eToro is a large broker with over 5 million members and a good reputation. Many of the cryptocurrency exchanges seem very dodgy, and feel as if they might disappear overnight.
Nice Trading Interface
eToro has one of the best looking web trader interfaces out there. There's no software to download and install. You trade everything through your browser.
What you can trade
eToro has been new cryptocurrencies since they started Bitcoin trading two years ago. You can now trade:
Bitcoin
The grand daddy of cryptocurrencies. It's the most talked about and most valuable cryptocurrency in the world. It's what started this entire new financial sector. If you're new to cryptocurrency this is where I recommend you get started.
Ethereum
Ethereum is both a currency and a software platform. And it's the platform that also powers most ICO's. As Ethereum powers much of the cryptocurrency world, it's not going to go away any time soon. In 2017 it experienced greater growth than Bitcoin.
Litecoin
Litecoin is like silver to Bitcoin's gold. It's a lot like Bitcoin but it was built to be lighter and faster. I use Litecoin to transfer funds between exchanges. So it actually has some real world value.
And more
You can also trade EOS, Cardano, NEO and more on eToro. I wouldn't be surprised if eToro continues adding more coins throughout 2018 and beyond.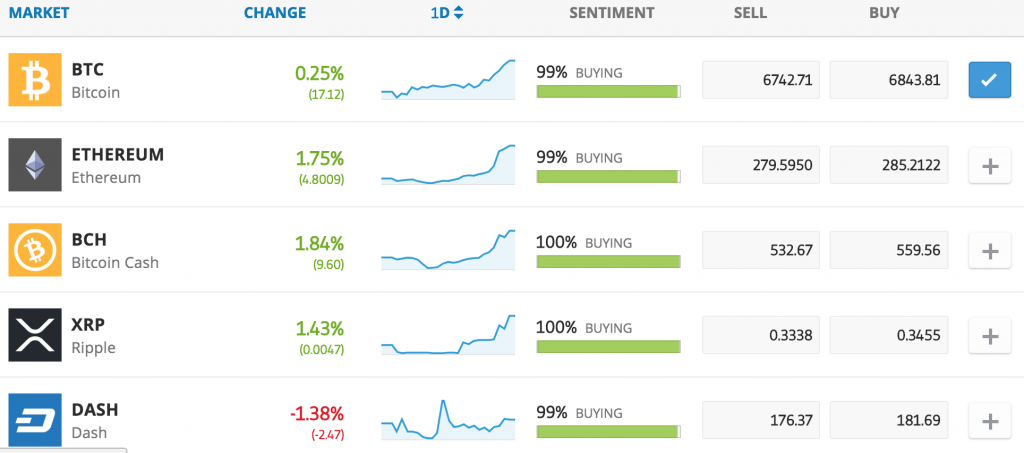 How to Buy Cryptocurrency on eToro
Trading cryptocurrency on eToro is fairly straightforward. Here is how it works:
Create an eToro Account – Creating an eToro account is free. Just fill out the form on this page. If you don't want to spend/make real money on cryptocurrency, you can trade using virtual money. eToro gives all account holders $100k in virtual money to practice trade.
Verify Your Account – You'll need to verify your account. This is to prevent fraud. The process is fairly painless. If you've signed up to a broker or exchange before, this process will be familiar.
Deposit – To start trading on eToro you need to make a first deposit of $200. After the first time deposit, you'll be able to top up your account with smaller amounts. So if you're not ready to invest $200 yet, i'd look at other options like Coinbase.
Open a Trade – Head on over to the markets page, from there you can see all the cryptocurrencies. To open a trade simply click the "buy" button. Enter the amount of you want to trade with (can be as little as $50 and set a take profit amount.
My Trading Tips for eToro
Here are some tips on trading cryptocurrency on eToro:
Set a Generous Stop Loss
A stop loss will close a trade when it drops below a certain point. Stop losses are great tools – they help prevent a losing trade from wiping out your account. However because cryptocurrency is so volatile I recommend setting a lower stop loss than usual.
Don't Trade with Leverage
On eToro you can trade with Leverage. You can also trade without it. Don't use leverage! Cryptocurrency is so volatile that leverage could be very expensive for you.
Buy and Hold (Hodl)
If you're like me and believe Cryptocurrency will have an important role to play in the future, then one of your best options is to just buy and hold. Cryptocurrency will have a rocky ride and if you try trading every bull and bear run you'll probably just lose all your money. Overtrading is one mistake new traders make. Don't be afraid to take a position and just run with it for a while.
Trading using CopyPortfolios
eToro has a product called CopyPortfolios. These are a like an ETF but are traded through eToro. eToro has two crypto related CopyPortfolios that let you invest in a variety of cryptocurrencies with a single investment. So if you're looking to invest in the entire cryptocurrency space and get exposure to all the top currencies, this could be for you.
eToro charges no fees on CopyPortfolios. And you can buy in and sell out at any time. eToro will also rebalance the portfolio each month to maintain the correct ratios.
Investing in CopyPortfolios require a bit more capital then just buying some bitcoin, but it's a great option for those who want a hands off investment in cryptocurrency.
Copytrading and Cryptocurrency
One of the coolest features on eToro is the ability to copy trade. Copy trading is where your account automatically copies the trades of more experienced traders. If you're a new trader it's a great way to start trading. On eToro you can browse through the profiles of millions of traders and because you can see all there past trades as well as how profitable and risky they have been, you can find quality traders to copy. When you copy there trades will be mirrored in your account.
You can also search for traders who mainly trade in cryptocurrency. This link will take you directly to the search results for traders who trade more than 50% in cryptocurrency.
Disclaimer: 78% of retail investor accounts lose money when trading CFDs with this provider. You should consider whether you can afford to take the high risk of losing your money.
Cryptoassets are highly volatile unregulated investment products. No EU investor protection.

Shorting Cryptocurrency
Note – Shorting cryptocurrency is not available to US customers.
eToro lets you open both long and short positions. Shorting might be useful for the more advanced traders. I wouldn't recommend new traders short Bitcoin or other cryptocurrencies. I believe that over time Bitcoin should become more valuable due to it's scarcity. It's a high risk move to try and short it. That being said, there are many traders who have made fortunes from shorting markets. So it is available on eToro, but whether you want to make use of it is up to you.
You can find out more about eToro here
---
Disclaimer: eToro is a multi-asset platform which offers both investing in stocks and cryptoassets, as well as trading CFDs.
Please note that CFDs are complex instruments and come with a high risk of losing money rapidly due to leverage. 78% of retail investor accounts lose money when trading CFDs with this provider. You should consider whether you understand how CFDs work, and whether you can afford to take the high risk of losing your money.
Past performance is not an indication of future results.
Cryptoassets are volatile instruments which can fluctuate widely in a very short timeframe and therefore are not appropriate for all investors. Other than via CFDs, trading cryptoassets is unregulated and therefore is not supervised by any EU regulatory framework.
eToro USA LLC does not offer CFDs and makes no representation and assumes no liability as to the accuracy or completeness of the content of this publication, which has been prepared by our partner utilizing publicly available non-entity specific information about eToro.