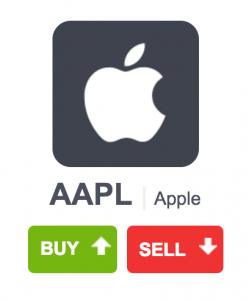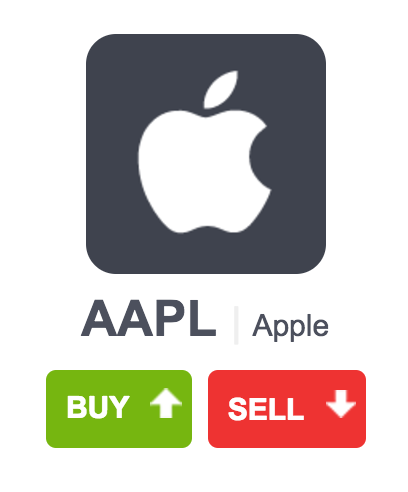 Apple Inc. is just about to launch a new line up of iPhones. Over the past 10 years, the launch event has had an impact on the price of the stock. This volatility is what day traders thrive on. So here's a quick round up of how you can partake in the action.
I use eToro to trade CFDs and thats what i'm using in this post to explain CFD trading. But there are lots of different brokers that offer Apple CFDs these days.
The Advantages of Trading CFDs
CFDs offer a number of advantages for day traders:
International Support – You don't need to be a U.S resident to trade Apple via a CFD. And you don't need a broker that supports international stocks. CFD brokers such as eToro let people from all over the world access stocks from all over the world.
Take long and short positions – This is probably the best feature of CFDs. You can take both long (buy) and short (sell) positions. Meaning, if you think this launch event, or some other future event will have a negative impact on the price, you can profit by opening a short position. And if you think the opposite you'd open a long/buy position.
Low fees – Brokerage fees are expensive. If I was buying Apple stock from here in Australia, the fees would be massive. And if would only be worthwhile if I was buying a large amount of stock to offset the fees. A buy position on etoro is fee free. So you only pay the spread. And short positions are subject to small daily/weekend fees which are tiny portion of the trade size and much cheaper than brokerage fees.
Low capital requirements – Investing in Apple stock on eToro requires just $50. You don't need to buy a whole share. CFDs effectively allow you to open a position of any size.
Leverage – skilled traders are able to make use of leverage to increase profits. Using leverage is risky because it will also increase your losses if the trade goes the wrong way. But for talented traders, I see leverage as a powerful tool in your arsenal.
Copy Trading
If you don't have the confidence to open a trade on your own, why not just copy the trades of someone who knows what they're doing!
On eToro you can find traders to automatically copy – just use the search tools to filter traders that trade stocks. From there you'll be able to find traders, who match your level of desired risk vs return.
Practice Trading
If you're new to trading, or don't want to put down real money copy trading, then do the sensible thing and trade using a practice account. It's the best way to learn about trading and most importantly you won't be putting your money at risk. You can grab a free practice trading account here.
Find out more about trading Apple CFDs on eToro.
---
Disclaimer: eToro is a multi-asset platform which offers both investing in stocks and cryptoassets, as well as trading CFDs.
Please note that CFDs are complex instruments and come with a high risk of losing money rapidly due to leverage. 78% of retail investor accounts lose money when trading CFDs with this provider. You should consider whether you understand how CFDs work, and whether you can afford to take the high risk of losing your money.
Past performance is not an indication of future results.
Cryptoassets are volatile instruments which can fluctuate widely in a very short timeframe and therefore are not appropriate for all investors. Other than via CFDs, trading cryptoassets is unregulated and therefore is not supervised by any EU regulatory framework.
eToro USA LLC does not offer CFDs and makes no representation and assumes no liability as to the accuracy or completeness of the content of this publication, which has been prepared by our partner utilizing publicly available non-entity specific information about eToro.