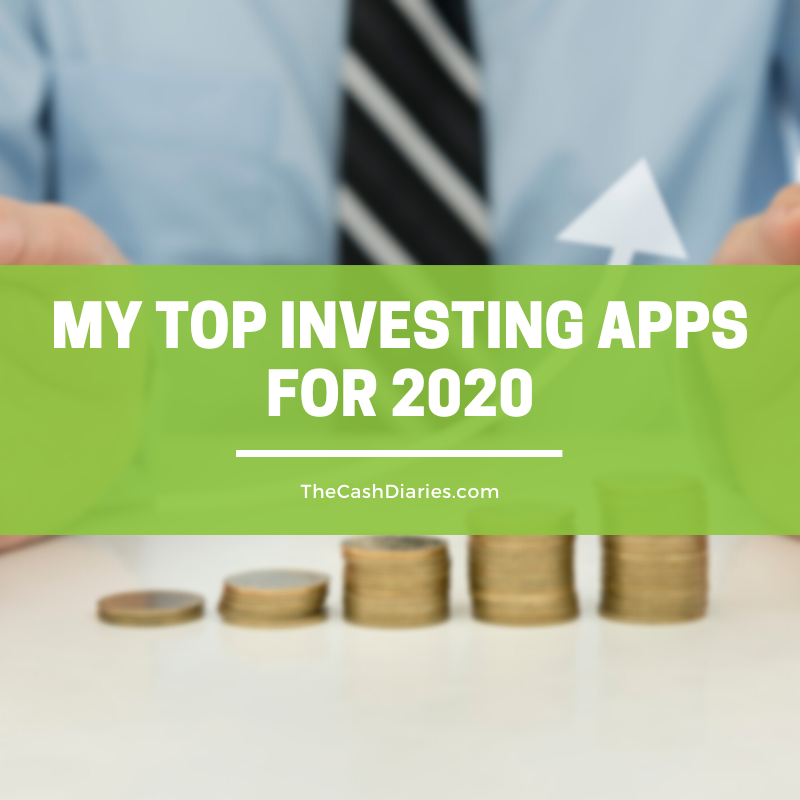 Did you know that if you're currently saving money in a bank account, you're probably losing money. That's all thanks to inflation. Over time your money is worth less and less. That's why decades ago you were able to buy a house for $10k and why just a few years ago a cup of coffee cost a little less. If your bank is only paying you between 0-1% interest and inflation on average is around 3%, the simple maths says you're losing wealth.
Because of this, people who are smart with their money choose to invest rather than just save. So here are some of my picks for the top investing apps in 2020:
Acorns – My top investing app
Acorns is the platform that I've been using for the past few years for most of my automated investing. Acorns automatically rounds up your spare change and transfers it to an investment account. This account invests in a diversified portfolio of stocks and bonds.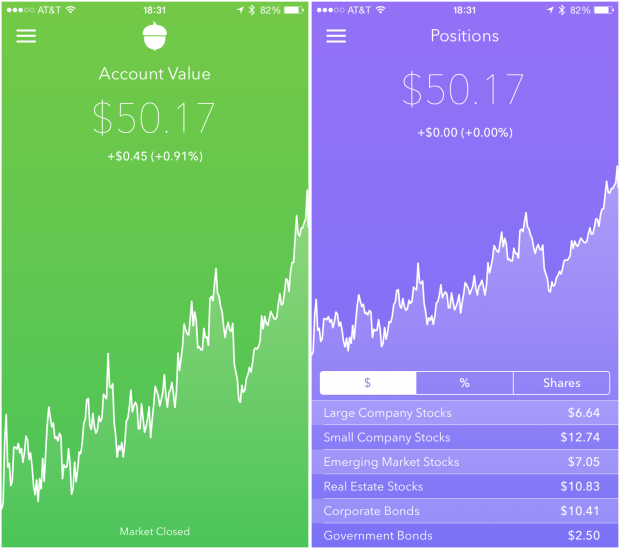 I love that Acorns works automatically in the background every time you make a purchase. A lot of people aren't comfortable doing this so you can also choose to invest using a set recurring investment, one-off lump sums or a combination. But honestly you should just set it up and forget it. Most people fail in investing because they can't overcome the psychological hurdle of continuously putting money aside. By automating this process you're going to be better off in the long run.
Since I started on Acorns my money has grown around 24.45%. Thats a pretty good return. Over the past 12 months I've seen a 17% return. Which is amazing and obviously helped by a bullish stock market.
You can start investing on Acorns with as little as $5. This means that now anyone can start investing no matter how wealthy they are.
Robinhood
Robinhood lets you invest in shares without having to pay any fees. Unfortunately it's only available in the U.S. And I doubt it is going to expand to anymore countries. It's margins are tiny so the huge costs associated with expanding are out of reach for Robinhood.
But if you do live in the U.S then it makes a great option for stock traders. Just be aware, most retail investors who pick stocks end up losing money. I would always invest in a platform like Acorns, which is diversified than trying to pick stocks on Robinhood. However, if you do want to invest in one or two stocks, such as Apple or Tesla – then it's a great platform for it.
eToro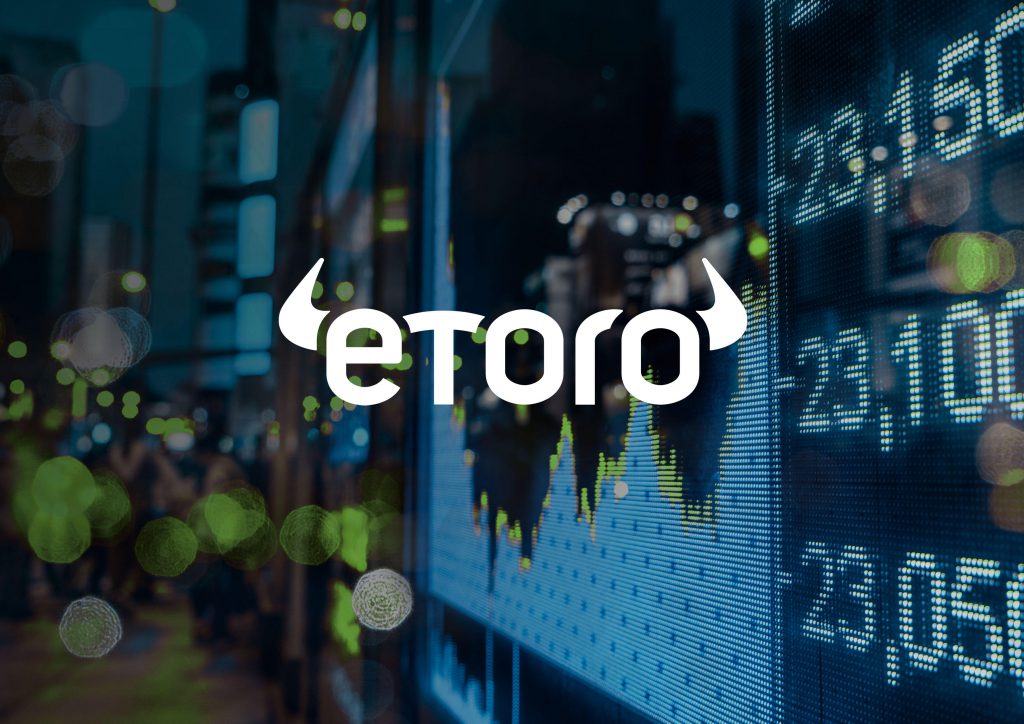 eToro is a multi-asset investing platform. You can invest in everything from forex, stocks, commodities, etfs and now even cryptos. In the U.S you can only trade crypto on eToro.
I use eToro for trading stocks and cryptos. I like being able to trade stocks from all over the world. They have stocks from the U.S, Europe and Asia. I also like being able to trade new assets such as crypto alongside my more traditional assets.
The big selling point for eToro is its copytrading features. This lets you automatically copy the trades made by more experienced traders. Many of the traders post detailed descriptions about how they trade and why they make each trade. This is a great way to learn more about trading.
I do like being able to invest in stocks like Apple etc and not having to pay any commissions or fees for long non-leveraged positions. This means I can keep stock trades open for the longer term to take advantage of larger market moves.
BlockFi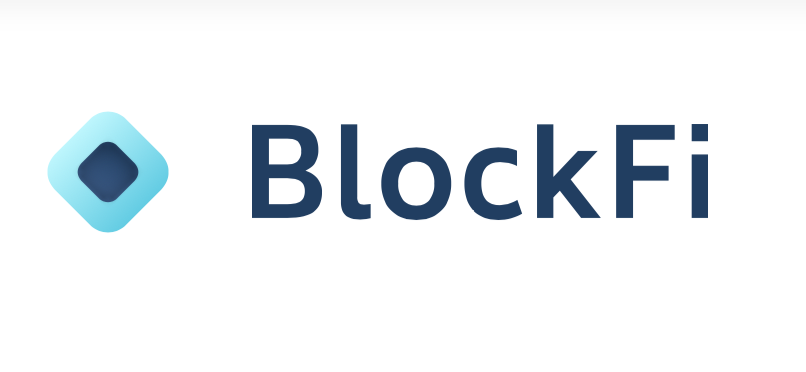 Are you sick of the really low interest rates that so called "savings" accounts offer? Did you know that you could be earning way more interest through crypto. BlockFi is like a bank but for crypto. They lend money to institutional investors. And they pass on the interest to you.
BlockFi is backed by some big investors – they obviously believe that crypto as a currency or store of wealth is only going to get bigger and bigger. I agree.
You can earn around 8% interest on your crypto and it depends on which crypto you deposit. The good thing about BlockFi is that your deposit compounds. So over time it is going to grow by more and more. Compounding is one of the most powerful ways to generate wealth and you can take advantage of it using BlockFi.
You don't need to be a big whale to deposit on BlockFi either. BlockFi doesn't have a minimum investment size.
Dharma
Dharma is another crypto investing app. It's basically just a wrapper for the compound protocol. This protocol is basically just lending/borrowing software. It's really complicated to understand. But using Dharma is probably the easiest investing app ever. You signup, transfer Dai or USDC (two StableCoins) into Dharma and it starts generating interest instantly.
The really cool thing about Dharma is that you keep control of your deposit at all times. Dharma never has control over your funds, but thanks to smart contracts they can invest your money through compound. You can withdraw it to your own wallet instantly and at any time. Borrowers on compound need to lock up an equal amount of crypto, which also means there is no risk of you losing money. Each loan is backed 100% by crypto.

The interest rate varies. When I wrote this post it was around 4% per annum. But it varies depending on the borrower demand.
Dharma is a good example of how automated investing, borrowing and lending is going to become in the very near future. And you can already jump on board and ride this early wave.
Coinbase
My most profitable investment of 2019 was crypto. I saw a gain of around 90% on my Bitcoin. In 2020 there is a halving event taking place. Basically the mining reward that miners receive is going to be cut in half. That means that less Bitcoin is going to be generated. And because there is less becoming available (with a max limit too), many are speculating that the price will rise. I think Bitcoin is going to be an important store of wealth in the future.

If you want to invest in Bitcoin then I recommend doing a simple Dollar Cost Averaging Strat. This way you will even out the volatility that still exists in the currency. You can set this up through Coinbase.
Coinbase has a really simple and easy to use app. And unlike some exchanges with dubious ownership, Coinbase is incorporated in the U.S and is a well known and large company. They aren't just going to disappear one night.
---
Disclaimer: eToro is a multi-asset platform which offers both investing in stocks and cryptoassets, as well as trading CFDs.
Please note that CFDs are complex instruments and come with a high risk of losing money rapidly due to leverage. 78% of retail investor accounts lose money when trading CFDs with this provider. You should consider whether you understand how CFDs work, and whether you can afford to take the high risk of losing your money.
Past performance is not an indication of future results.
Cryptoassets are volatile instruments which can fluctuate widely in a very short timeframe and therefore are not appropriate for all investors. Other than via CFDs, trading cryptoassets is unregulated and therefore is not supervised by any EU regulatory framework.
eToro USA LLC does not offer CFDs and makes no representation and assumes no liability as to the accuracy or completeness of the content of this publication, which has been prepared by our partner utilizing publicly available non-entity specific information about eToro.