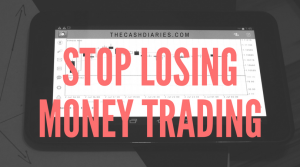 Succeeding in forex is as much about reducing mistakes as it is making winning trades. Forex attracts a lot of new investors and traders. And many of them make basic mistakes, lose their money and never trade again. I hate seeing this – especially as it is entirely possible to make good money from forex.
So here is my guide on why you may lost your money trading forex. These are the top mistakes I see newer traders make.
Using too much leverage
The easiest way to very quickly lose your entire trading balance is to use too much leverage. Leverage allows traders to control a larger amount of capital. This allows then to make larger profits with smaller market movements. However, if the market moves against your trader, your losses will also be amplified. It takes just one trade with high leverage to completely wipe out your account. So while leverage may seem attractive, new traders must start with smaller leverage.
If your broker only offers high leverage trading – find another broker!
Not stopping losing trades
A common mistake I see almost every beginner trader make is to let losing trades keep losing money. Yet when they have a winning trade, they'll close it almost immediately to book the profit. The problem with this strategy is that no trader wins every trade. If your losing trade loses more than lots of your winning trades, simple maths tells me you're going to lose all your money eventually.
Not know when to stop a trade flows into my next point…
Not using a strategy
Don't trade without a strategy. If you're a new trader, start by learning some Price Action basics. This will give you a much clearer picture on when to open trades and when to close them. If you have a strategy, you'll be more confident in leaving your winning trades open to gain better profits. And you'll also know when to stop out of a losing trade.
Trading during volatile times
Good traders love volatile markets. It's when they make the most money. On the flip side, it's often when bad traders lose the most money. If you're a new trader, it's probably best to sit out when the market is going to be at its most volatile. If you use an economic calendar, you'll know when this is going to happen. The market can move so fast in some situations, that brokers can't guarantee stop losses or take profits. So these times are not for the faint hearted or newbie traders. Sit it out, until you've got more experience.
Getting Emotional
Fear of missing out and an ego are two big causes of losing trades. A recent study found that traders with higher testosterone performed worse off over the long run then those with lower testosterone. And if you've been a forex trader for a long time, this makes perfect sense. New traders will jump into the markets at the wrong times, and when they lose a trade, they'll open another one right away. Just to try and prove themselves right.
There are lots of resources on taming your emotions when forex trading, I highly recommend you don't pass them off as fuzzy feel good stuff that isn't really important.
How to start making money from your forex trading
So here are some proactive steps you can take to turn things around…
Try Copy Trading
This is what I do. It works. Copy the trades of more successful and more profitable traders. eToro does this automatically for you. Not only do I learn more and more about trading by following the gurus, I make a profit at the same time. Supplementing copy trading with manual trading is a powerful combination.
Start with a Practice Account
If you can't make profitable trades with a practice account, you can't make money with a real account. I say this over and over. Do yourself a favor and grab a free practice account here. Use it. Learn and you'll be a much better trader for it.
Use a better broker
Some brokers are dodgy and setup for you to lose money. Binary option brokers are all scams – you won't make money from them. And other brokers only offer super high leverage trading. You'll only lose your money from them as well. Here is a list of brokers I recommend.
Use DealCancellation
EasyMarkets offers a feature that allows you to cancel losing trades within 60 minutes without losing anything. This unique insurance feature could be useful for new traders. Especially if you're just starting out. I can remember when I was first starting out how many mistakes I made. If only I knew I could cancel them!
Let me know in the comments what mistakes you made as a new trader 🙂
---
Disclaimer: eToro is a multi-asset platform which offers both investing in stocks and cryptoassets, as well as trading CFDs.
Please note that CFDs are complex instruments and come with a high risk of losing money rapidly due to leverage. 78% of retail investor accounts lose money when trading CFDs with this provider. You should consider whether you understand how CFDs work, and whether you can afford to take the high risk of losing your money.
Past performance is not an indication of future results.
Cryptoassets are volatile instruments which can fluctuate widely in a very short timeframe and therefore are not appropriate for all investors. Other than via CFDs, trading cryptoassets is unregulated and therefore is not supervised by any EU regulatory framework.
eToro USA LLC does not offer CFDs and makes no representation and assumes no liability as to the accuracy or completeness of the content of this publication, which has been prepared by our partner utilizing publicly available non-entity specific information about eToro.