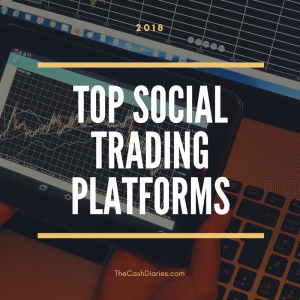 Social Trading combines trading and social networks.  In this post, i've rounded up the top social trading networks in 2018.   There's a couple of new platforms and some of the older ones are now much bigger and better.  Read on to find out which ones made the list:
What is Social Trading
Social Trading is a combination of a brokerage service and a social network.  The end result is a bit like combining facebook with a broker.  Users share and comment on their trades and you can follow the trades made by others.   Social trading is a powerful tool for learning how to trade.
eToro
eToro is the worlds largest social trading network.  You can make trades directly on eToro, and trade in markets such as Forex, Stocks, Cryptocurrency, Indices and many more.  eToro also has the worlds best copy trading features.  You can browse through the profiles of millions of members and find traders who have been profitable in the past, and who you can automatically copy.
Unlike many platforms, getting started on eToro requires very little capital – just $200.  eToro is my goto recommendation for people who are getting started copy trading.  It has the largest range of traders to copy and well built tools.
If you're looking for people to copy on eToro check out this post.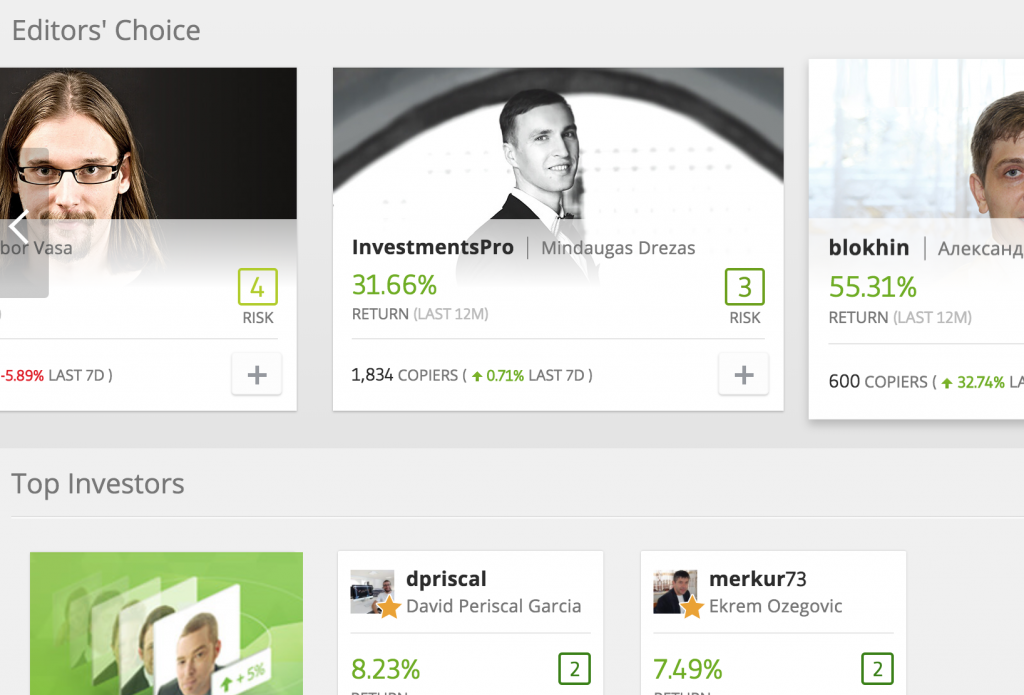 Zulutrade
Zulutrade has been around for ages.  Unlike eToro, which is a broker, Zulutrade isn't.  You need to connect it with your own brokerage account.  They support lots of different brokers.  You simply connect you brokerage account and then you can copy the trades of zulutrade traders.  Traders on zulutrade are rewarded for being profitable.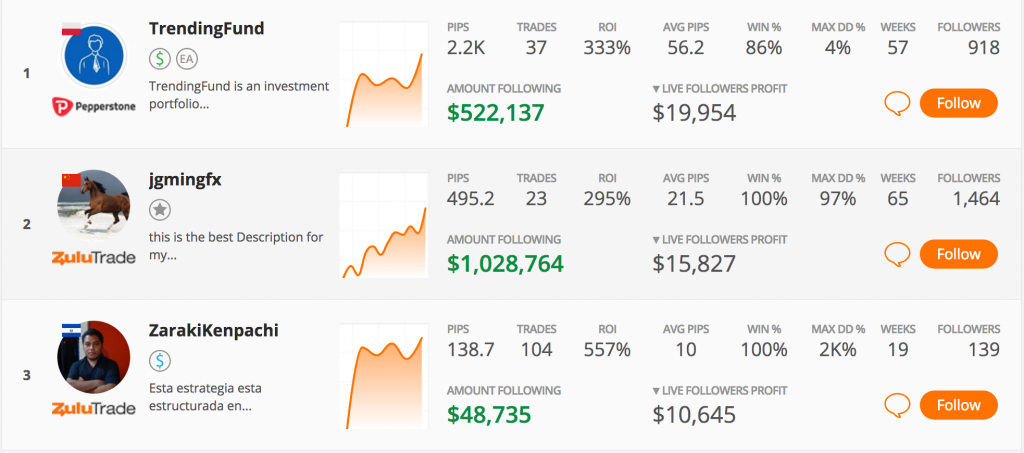 1Broker

1Broker is a bitcoin broker.  Through it, you can use Bitcoin to trade stocks and forex.  They also have some relatively basic social trading features.  You can share trades that you make with others on the platform.  Investors can also choose to automatically copy these trades.  The copy trading features are a bit basic compared to what you get on eToro, but it's perfect if you want to start trading using Bitcoin.
Whaleclub


Whaleclub doesn't have any copy trading features,  but it does let you share your trades with other members of the community.  Trades are shared through the "chat box" which is displayed on the trading interface.  By sharing trades you can help other members with their own trading.  People who talk the most in the chat box are also rewarded with small cash prizes which are handed out every hour.
I find Whaleclub to be a great place to hang out and learn from other traders.  Although you can trade forex, stocks, commodities and cryptos on Whaleclub, they only accept deposits in cryptocurrency.    I've reviewed whaleclub in depth here.
Tradeo
Tradeo is a social trading network that suffers from a lack of traders on the platform.  Although they've been around for a while, they've struggled in attracting the critical mass of traders required for a platform like this to succeed.  I've tried to use it a couple of times but haven't had any success.  Let me know in the comments if you've tried Tradeo and found it to work.
NagaTrader
Nagatrader is the newest kid on the block.  They were previously swipestox but have expanded into Forex and Cryptocrurency.  NagaTrader is the social network aspect of the Naga platform.  You can earn a passive income sharing your trades or take advantage of more experienced trades and auto-copy theirs.
While there are quite a few other social trading platforms around, none of them warranted a write up here.  Some of them have little to no activity on them or are really hard to use.   And some platforms only list forex bots, which i classify as scams.
Have I missed any popular platforms? Let me know in the comments.