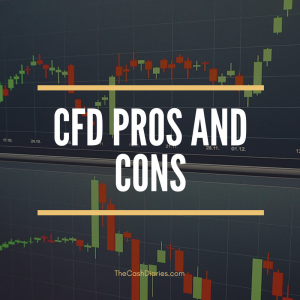 I use CFD trading all the time. For example, when I recently started my Facebook Stock experiment, I traded through CFDs.
In this post I'm going to break down some of the pros and cons to CFD trading so you can make a more informed decision before jumping in. Remember all trading involves risk and you should do your own research before making a decision to start.
What is CFD Trading
What exactly is a CFD? A contract for difference is essentially an agreement between you and your broker to pay the difference between when you open and close a position. So for example if you buy $50 worth of Facebook CFDs and the price rises 1%, the broker will pay you that 1%. If it falls 1% you pay the broker.
For all intents and purposes, CFD trading feels just like stock trading. You buy some stock, the price goes up or down and you lose or gain just like you would if trading a stock. But there are some differences between buying actual stocks and trading CFDs. I want to break some of the pros and cons…
The Benefits of CFD Trading
Trade both Long and Short Positions
One of things I like most about CFD trading is the ability to open both long and short positions. With a short position you profit when the underlying asset drops in value. It's a good way to take advantage of overvalued stocks that you think are due for a correction. This gives you more trading opportunities. Just be aware, I always feel that shorting a stock or other asset is more risky than taking a long position.
Instant Order Execution
Most CFD platforms offer instant order execution. You can open and close positions instantly. Depending on where you live and what markets you trade in, traditional stock brokers can take days to settle. With CFD providers you have instant access to your capital. Again this gives you more trading opportunities and the ability to better react to market conditions.
Low fees and commissions
CFDs usually have much lower fees than stock purchases. My traditional stock broker charges $9 per trade. And that is $9 to open the trade, and then $9 to close my position. So before I've even made a cent I need to make back the $18 I've spent.
Most CFD brokers won't charge you a fee to open and close positions. You'll simply pay the spread. I'll get into financing fees in the "cons" section.
Trade using Leverage
CFDs let you trade using leverage. This allows you to control a much larger position with a smaller amount of capital. Some stocks barely move, so unless you have an insane amount of capital invest, you're not going to profit much from a trade. Leverage does allow you to potentially make larger profits from small market movements. Obviously this doesn't come without added risk, and I go more into that in the cons.
CFD Trading Cons
You can lose everything you invest
Stocks rarely drop to zero. Stocks also have a habit of recovering after suffering losses. With CFD trading, if your position drops below a certain point it will just close out. Without any chance of recovery. Some CFD platforms like eToro offer unleveraged CFD trading where this isn't such an issue. But if you are trading with leverage, then you need to make sure you have enough money in your account to support the position if the trade goes against you.
You can easily overtrade
Because of the speed of CFD trading, its very easy to overtrade. Overtrading is one of the big mistakes new traders make. And this is something I see happen all the time on CFD platforms. Traders who don't have their emotions in check can easily keep opening positions or even worse opening and closing positions for tiny profits. Both big mistakes.
Financing Fees
If you keep a CFD position open overnight or over the weekend, CFD brokers will charge you a financing fee. This is them simply passing on the interest they have to pay to keep your position open. 1x Leverage (i.e no leverage) long stock trades on eToro don't have any financing fees. But if you trade with leverage or open short positions you will be charged a small financing fee. This is something you need to factor into your trading.
Leverage
While leverage can increase you profits it can also increase your losses. Dodgy brokers will be more than happy to offer newbie traders high leveraged trading because they know you'll lose your money. They won't even both matching your trades, knowing full well you'll eventually lose it all.
New traders should start with as low leverage as they can. Choose a platform like eToro that lets you choose the amount of leverage on a trade by trade basis.
Leveraged trading is risky and is something for advanced traders only.
Where I trade CFDs
I trade on eToro. You can follow my trades here on this blog. eToro offers stocks from markets all over the world as well as forex, commodities, indices and ETF trading. Best of all they offer a free practice account. So there's no need to risk real money getting to grips with CFD trading. You can experiment with virtual money under real trading conditions.
You can grab a free etoro account here
---
Disclaimer: eToro is a multi-asset platform which offers both investing in stocks and cryptoassets, as well as trading CFDs.
Please note that CFDs are complex instruments and come with a high risk of losing money rapidly due to leverage. 78% of retail investor accounts lose money when trading CFDs with this provider. You should consider whether you understand how CFDs work, and whether you can afford to take the high risk of losing your money.
Past performance is not an indication of future results.
Cryptoassets are volatile instruments which can fluctuate widely in a very short timeframe and therefore are not appropriate for all investors. Other than via CFDs, trading cryptoassets is unregulated and therefore is not supervised by any EU regulatory framework.
eToro USA LLC does not offer CFDs and makes no representation and assumes no liability as to the accuracy or completeness of the content of this publication, which has been prepared by our partner utilizing publicly available non-entity specific information about eToro.