So what's the easiest way to start your own investment portfolio? Fancy yourself as a bit of a day trader? Think you've got what it takes to lead other investors? Well then you should definitely think about joining etoro.
eToro is a social trading platform where investors can follow other traders. Whenever a trader makes a trade, that trade will be duplicated by the followers. As a copytrader, I can invest a minimum of $200 in following your trades. Whenever you make a trade, a duplicate of that trade will be opened in my account based on a ratio. So even if you make a trade with $10k I will still open that trade, but with a smaller amount. It's really cool!!
The Popular Traders on Etoro
eToro has this thing called "popular traders". Basically they will pay you if you people start following you and copying your trades. You basically earn a monthly income for simply sharing your trades.
Why Become a Popular Investor on eToro?
Cash. Simple as that. Popular traders get generously rewarded on etoro. I think the rewards are far better then any other trading platform I've seen. Plus etoro has a massive community so it's easier to get followers.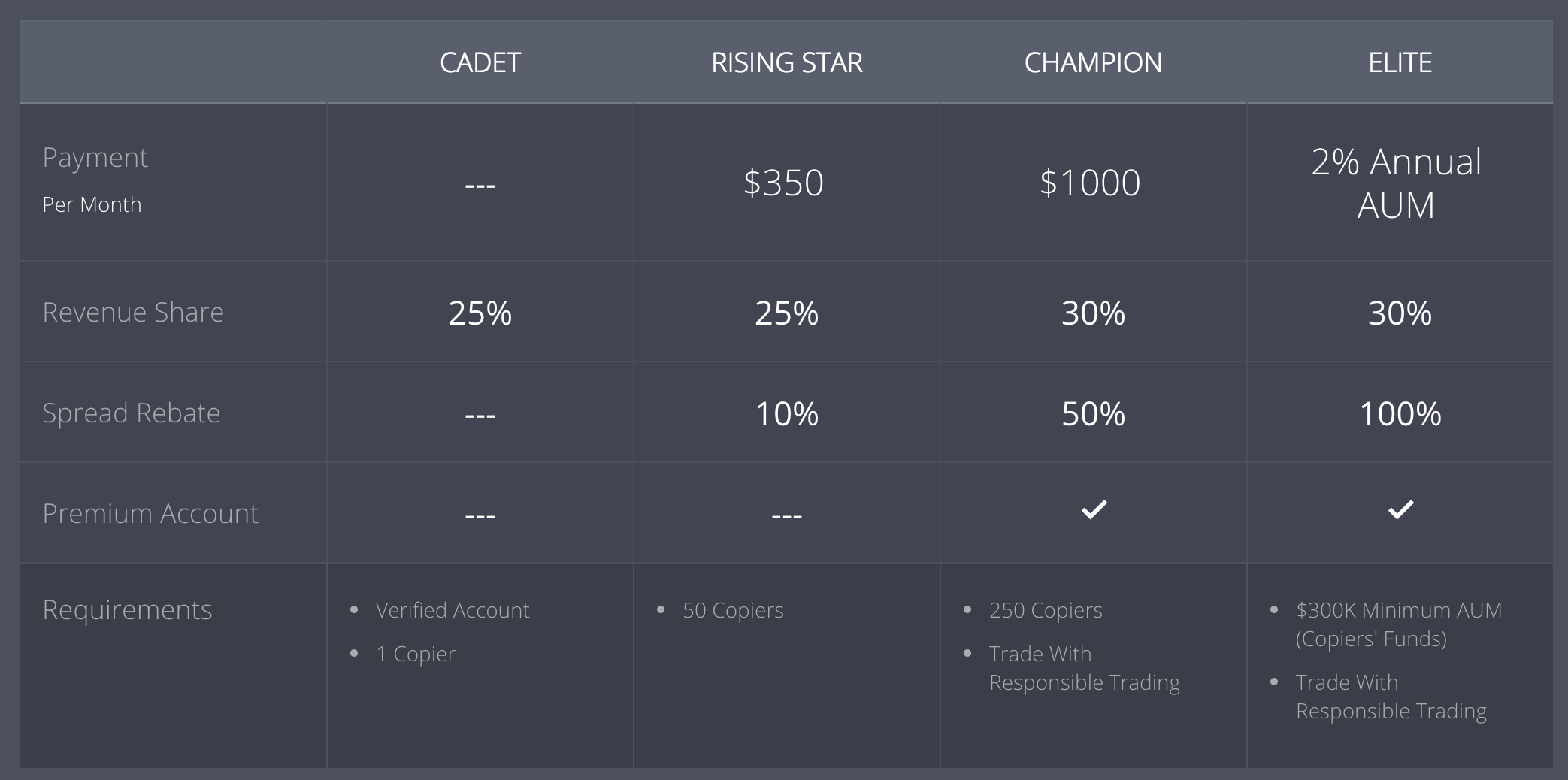 Whats a Copytrader?
A copy trader is someone who follows you on etoro, and has invested in you. They will automatically copy every trade you make. The more copiers you have on etoro, the more cash you make on top of all your usual trading income.
Social Trading is the Future
I'm a big believer in social trading. I think it's the future. eToro is the worlds largest social trading platform with millions of users, and it's only going to continue growing. It's worthwhile getting in now – people are only going to start copying you if you have a history of successful trades.
How to Become a Popular Investor on eToro.
Build a Portfolio – eToro tracks all the trades you make on their platform and generates a sexy stats page. This stats page is what potential copiers will look at to see if they want to follow you. Most people will only copy a trader who has at least 6 months history on the platform. Otherwise you won't even show up high in the search filters.
Invest in Currency and Stocks – Spread the risk around. Now sure, if you're an expert currency trader, then obviously you should stick to your guns. But I've found that most of the traders I copy invest in a variety of different products. On etoro you can invest in stocks, forex, commodities and indexes. So no matter what your style, you'll be covered.
Build a Complete Profile – Upload a profile picture, use your full name and right a bio. The etoro search has filters which show traders with full profiles. This is about trust. So take the time to build out your profile. Make sure you list your trading experience in your bio.
Interact with the Community – etoro is a trading community. You can comment on every trade, you can also comment on different markets. So if you have news to share – share it! If you're a popular investor, people will also post questions on your profile. Be active and respond to these. Remember, some members on etoro won't have a lot of experience – use comments to reassure these members and help educate them on how financial markets work.
Make Regular Trades – When i'm looking for a trader to copy, the first thing I usually do is make sure they make at least one trade per week. I'm not looking to have my money tied into a single trade for the next 12 months! I want a popular trader who is active and engaged.
Post to Twitter and Facebook – Want to expand beyond the etoro community? Reach new investors, and potential copytraders by posting your trades to social networks. eToro has a built in feature that allows you to quickly share trades. This is a great way to expand your reach.
Become a Popular Trader on Etoro Here
---
Disclaimer: eToro is a multi-asset platform which offers both investing in stocks and cryptoassets, as well as trading CFDs.
Please note that CFDs are complex instruments and come with a high risk of losing money rapidly due to leverage. 78% of retail investor accounts lose money when trading CFDs with this provider. You should consider whether you understand how CFDs work, and whether you can afford to take the high risk of losing your money.
Past performance is not an indication of future results.
Cryptoassets are volatile instruments which can fluctuate widely in a very short timeframe and therefore are not appropriate for all investors. Other than via CFDs, trading cryptoassets is unregulated and therefore is not supervised by any EU regulatory framework.
eToro USA LLC does not offer CFDs and makes no representation and assumes no liability as to the accuracy or completeness of the content of this publication, which has been prepared by our partner utilizing publicly available non-entity specific information about eToro.