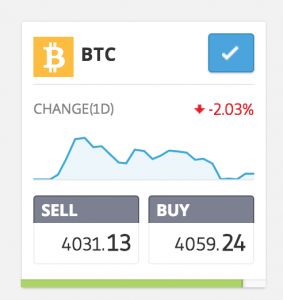 Bitcoin recently passed the $4000 mark, which means, that those who have help bitcoin for a few years, have probably made a lot of money.  But what if you didn't get in early?  Can you still make money from Bitcoin?
Well the good news is that Bitcoin is a very volatile asset.  Which means it goes up and down quite rapidly.  And for traders, where there is volatility there is money.    In this post I wanted to talk about the advantages of trading Bitcoin on eToro as opposed to a bitcoin exchange.
You may have seen ads for crypto on eToro and wondered how it worked.  Well hopefully this explains things for you.
CFD Trading
When you trade Bitcoin on eToro, you don't actually take ownership of the asset.  Instead you're trading a CFD.  In the world of finance, this is known as a derivative.  Because you don't actually need to worry about holding actual bitcoin, you can trade the crypto using fiat currency (such as USD).
Established Boker
One of the biggest advantages of trading bitcoin on eToro is that you're trading through a broker that is established with millions of customers.   They have been around for many many years, and are trusted by investors.  This is in stark contrast to many Bitcoin exchanges which in the past have just disappeared overnight.
Hackers are also a huge issue for Bitcoin exchanges, because Bitcoin can be transferred out anonymously.  Funds on eToro are stored in traditional banks, which are insured against cyber attacks.
That being said, I still use Bitcoin exchanges, but I'm just much much more careful when I do, and do so knowing they could disappear tomorrow.
Open Long and Short Positions
On eToro you can open both long and short positions.  This means you can profit when the price rises, with a long position.  And profit when the price falls with a short position.  Because the price of bitcoin moves around so much, there are plenty of opportunities to open trades throughout the day.
Let's look at some scenarios….say bitcoin is trading in a range.  This means the price keeps rising and falling within a range of prices.    When the price drops to the bottom of the range, you'd open a long position.   You'd close it out when it hits the top price.  You could then, based on your strategy obviously, potentially open a short trade to profit as the price falls within the range.  In this scenario you profit when the price is rising and falling.
Leverage
Leverage allows a trader to control a much larger position with a smaller amount of capital.  I won't explain how leverage works in this post, but I will say in increases your risks.  But for talented traders, leverage means they can increase their profits as well.
Leverage can be used on Etoro which will appeal to pro traders.
Copytrading
For those who aren't pro traders, the best feature of eToro is Copy Trading.  With copy trading you can automatically copy thre trades of other traders.
There are plenty of traders on eToro who trade bitcoin and the other cryptos.  And you can see all their past trades, and how profitable they were.    And with just a couple of clicks you can copy the trades they make.
If you're a beginner, this is a great way to learn about trading.
Easy to use interface
Trading bitcoin on eToro is very straight forward.  If you've used any other trading platform, you'll find it very familiar and easy to use.  If you haven't used a trading platform before,  you won't have much trouble either.  In my experience, it's probably the most beginner friendly trading platform, and certainly much easier to use than most bitcoin exchanges.
7 Day a Week Trading
One of the advantages of Bitcoin over Forex or Stocks, is that its traded 7 days a week.    eToro recently added 7 day a week trading for cryptos.    So if you're a forex or stock trader and looking to continue your run into the weekend you now can.
Practice Trade
When you open an account on etoro, you get a free practice account.  You can use this to trade using virtual money, under real world trading conditions.     And it's the best way to hone your trading skills..
Trade Bitcoin alongside traditional assets
On eToro you'll be able to trade crypto's such as Bitcoin, Litecoin and Ethereum, alongside more traditional assets such as Forex, commodities and stocks.
So in conclusion, I think eToro is a great place to trade Bitcoin.  People are already making money from trading bitcoin on etoro – you just need to look at people's profiles to see the trades they have made.  If you're looking for a new broker to trade bitcoin, then give eToro a look in.