This week I signed up for and invested in a new cryptocurrency portfolio service called Coinbundle. It lets you invest in a cryptocurrency portfolio without any fees.
In my opinon this could be huge for cryptocurrency and investors alike. So here's a rundown of what the offering is and how you can get investing in Coinbundle too:
What is Coinbundle
Coinbundle is a new service that lets you invest in one of three cryptocurrency portfolios with just 1 click and zero fees. If you've thought about investing in cryptos but weren't sure what you should buy, then these portfolios offer a good starting place.
There are three different Portfolios you can invest in:
Conservative – Bitcoin, Ethereum
Aggressive – Bitcoin, Ethereum, Ripple, BCash, Litecoin, Monero, Dash, Ethereum Classic, Steller, Nem
Emerging – OmiseGo, Neo, Cardano, Ethereum, Bitcoin, Basic Attention, Zcash, Powerledger, Lisk, Status
As you can see, Coinbundle lets you invest in lots of different and interesting cryptos with just a single investment. And you don't need to just buy into the one portfolio. You can spread your funds between the different portfolios to truly diversify your investment.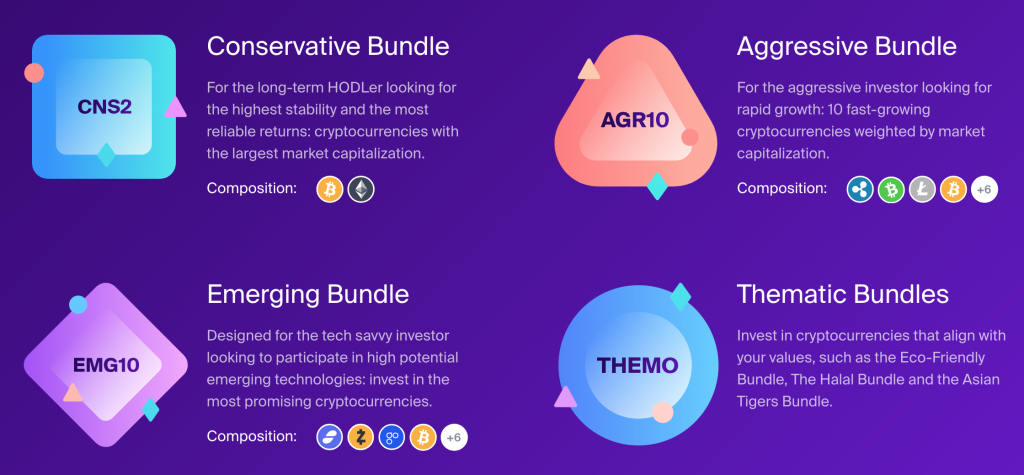 I chose to invest in the Emerging Portfolio. But I will also invest in the Aggressive and Emerging funds to really test things out.
How much does it cost
Probably the biggest selling point of Coinbundle is there are no fees! You can invest in a expert portfolio without any annual management fees. You simply deposit funds and you're ready to go. There was a small credit card transaction fee.
Why I like CoinBundle
I invested in less than 5 minutes
There was no complex verification process. I just had to submit my phone number. That's it. I was able to go from signing up to investing in less than 5 minutes.
Start with just $10
You don't need to be rich to get started. You can invest with as little as $10. This means you can make regular small deposits to grow your balance over time.
It's backed my some big investors
Coinbundle went through the prestigious YCombinator program and is now backed by some big names. This wasn't put together by some anonymous entity that will disappear overnight.
I was able to invest using a credit card
One of the pain points in crypto is getting fiat and converting it into cryptocurrency. Coinbundle made this really easy. When I signed up, there was no information about which countries Coinbundle is available in and what payment methods they accepted. But I can confirm that in Australia I was able to deposit using a credit card.
Really Nice Interface
A lot of crypto products offer hideous interfaces. Coinbundle has a great looking interface which is easy to use. They could do with adding more information about the platform. For example there is something called a BNDL bonus – I have no idea what it is. In my opinion they should get rid of it and just focus on offering the bundles.
Should you be investing in Cryptocurrency
I believe that cryptocurrency is one of those investments that could have a huge upside. So i'm willing to put a small amount of my net worth in. And yes, I fully understand that could all disappear. That's why i'm not betting the house and car on crypto. It's fun to be involved in, and if it continues to take off and grow, then it could make me very rich. If it doesn't, I'll just have been happy to been along for the ride.
Coinbundle Alternatives
CopyPortfolios
My favorite trading platform, eToro offers a product called CopyPortfolios. They currently offer two crypto themed CopyPortfolios. The main difference between CopyPortfolios and Coinbundles are the investment minimums. You need at least $5k to invest in CopyPortfolios. These are targeted at more serious investors.
Building Your Own Portfolio
Another option is to build your own portfolio on your favorite exchange. If you're in Australia, this could easily be achieved using CoinSpot (as they have all of the coins listed on CoinBundle). The rest of the world, I'd recommend CoinBase. Both of these options let you buy Bitcoin, Ethereum etc, using fiat. Coinbase even has a recurring buy feature that lets you setup regular cryptocurrency buys.
Sharing my Results
Like usual, I'll be sharing my Coinbundle investment results. So make sure you follow me on Twitter to keep up to date with the latest results.
Overall I think Coinbundle is offering something really special – a way for regular people to buy into Cryptos. This could be huge!
You can sign up to Coinbundle here
---
Disclaimer: eToro is a multi-asset platform which offers both investing in stocks and cryptoassets, as well as trading CFDs.
Please note that CFDs are complex instruments and come with a high risk of losing money rapidly due to leverage. 78% of retail investor accounts lose money when trading CFDs with this provider. You should consider whether you understand how CFDs work, and whether you can afford to take the high risk of losing your money.
Past performance is not an indication of future results.
Cryptoassets are volatile instruments which can fluctuate widely in a very short timeframe and therefore are not appropriate for all investors. Other than via CFDs, trading cryptoassets is unregulated and therefore is not supervised by any EU regulatory framework.
eToro USA LLC does not offer CFDs and makes no representation and assumes no liability as to the accuracy or completeness of the content of this publication, which has been prepared by our partner utilizing publicly available non-entity specific information about eToro.