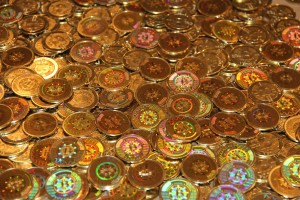 This blog is all about sharing my experiments in increasing my income. Whether that's savings with Acorns, trading on etoro or mining bitcoin on Hashflare.
So in the spirit of transparency I thought I would take you through my current Cryptocurrency portfolio and why I'm investing in this space.
Bitcoin
Bitcoin is obviously the grand daddy of cryptocurrency. It's what gets 90% of the headlines. I consider Bitcoin to be similar in purpose to Gold. It's a good store of value and effectively lets you become your own bank. Even though the ride will be volatile, due to it's limited supply the price should appreciate over time.
Ethereum
Most of my portfolio is actually made up of Ethereum, mainly because in 2017 it grew so much. I need to do some rebalancing. I think Ethereum is a great project. It proves that there are uses for cryptocurrency beyond being just a currency. 2017 was the year of the ICO – with the vast majority of them being powered by Ethereum. There are still a bunch of tokens in the top 100 coins that run on Ethereum.
Nano
Formerly known as RaiBlocks, I got into Nano in the early days. Why? Because it instantly made sense and they had a great product. Nano allows you to make instant transactions without fees. What more of a sales pitch do you need?? They also have a great team. Hopefully more and more exchanges, brokers etc support Nano as it has the potential to become the workhorse of cryptocurrency.
Litecoin
I love to use Litecoin as an actual currency. Transferring small amounts of Bitcoin is too expensive. Litecoin is what I use to transfer funds between exchanges. As it's something I actually use, and something I get real value out of, it makes sense for me to invest in the project as well.
Privacy Coins
I've invested in a number of so called Privacy coins because of fundamental factors. If governments move to limit or restrict cryptocurrency, privacy coins could become very popular. I don't believe they'll only be used for nefarious purposes. People are willing to pay for privacy.
NavCoin
While NavCoin can be used as a privacy coin, I think it's most interesting because of the active development behind it. Whenever I invest, I like to take a good look over the actual product (I never invest in ICO's or coins that haven't released any software). NavCoin has a well designed product and continuous active development.
Verge
It's a privacy coin – hated by many, loved by some. I'm ambivalent. I owned a small amount in $$$ terms which became much larger when the price of verge soared. I'll be transferring some of this into Bitcoin.
Zcash
ZCash was designed to provide strong privacy protections. Zcash explains itself in the following way…"If Bitcoin is like HTTP, the Zcash is like HTTPS". There's obviously real value in https on the internet – it protects us everyday. So it makes sense that this could become very useful in the crypto world too.
Other Coins
Other coins of note are NEO, Dash, Ripple, FunFair, Stellar, Enigma, Substratum and Digibyte. I don't really have enough of an opinion right now about these products to write anything more than this list. All were small, very speculative investments.
Where I'm Buying Crypto
Coinbase
Although the fees are a bit high, you can't beat Coinbase for it's convenience. They allow credit card or wire transfer buys. I do appreciate their interface as well.
CoinSpot
I buy most of my alt coins through CoinSpot. They're an Australian service, so you'll need to be based in Australia. Unlike most exchanges, they actually allow you to purchase alt-coins using fiat currency. No need to buy bitcoin first, wait for it to transfer to an exchange and then make a purchase. A real time saver!
Binance
Binance has a huge number of different alt coins on offer. If you're not Australian, then they will make a good choice for you. They have some of the more obscure coins I own.
Trading vs Buying
All of these coins I've bought with the intention of holding. I also do trade Bitcoin, Ethereum, Ripple etc. This is more like day trading where I only keep positions open for a few days at most. For crypto trading I use eToro or Plus500.
A Managed Portfolio?
Want to invest in cryptocurrency, but don't want to manage having to buy each coin, rebalance your portfolio etc etc. ? The Crypto CopyPortfolio could be an option for you. It invests in some of the most popular coins, and they rebalance everything on a monthly basis. Plus they don't charge any fees!
Make sure you keep your portfolio safe
While my own portfolio is small, I still wouldn't want to lose it. Make sure you don't keep large amounts of coins on exchanges and instead use secure hardware wallets!
---
Disclaimer: eToro is a multi-asset platform which offers both investing in stocks and cryptoassets, as well as trading CFDs.
Please note that CFDs are complex instruments and come with a high risk of losing money rapidly due to leverage. 78% of retail investor accounts lose money when trading CFDs with this provider. You should consider whether you understand how CFDs work, and whether you can afford to take the high risk of losing your money.
Past performance is not an indication of future results.
Cryptoassets are volatile instruments which can fluctuate widely in a very short timeframe and therefore are not appropriate for all investors. Other than via CFDs, trading cryptoassets is unregulated and therefore is not supervised by any EU regulatory framework.
eToro USA LLC does not offer CFDs and makes no representation and assumes no liability as to the accuracy or completeness of the content of this publication, which has been prepared by our partner utilizing publicly available non-entity specific information about eToro.