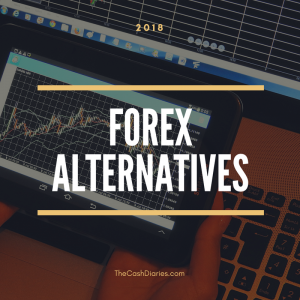 Making money trading forex is difficult. And it's not suitable for all people. In fact, most people who try trading forex end up losing their money. While forex can be a great way to make money, there are plenty of other forex alternatives out there which can be less risky and just as profitable.
So what are some legitimate money making alternatives to trading forex? I've listed some of my favorite options in this post:
Copytrading Forex
Copytrading is where you automatically copy the trades of more experienced traders. This is a great option to get into forex without having to have a heap of trading knowledge or experience. Instead you can rely on the skills of other traders. I've put together a comprehensive guide on copy trading how to find people to copytrade here.
Copytrading works best when you copy multiple people to diversify your investment.
eToro
eToro is my copytrading platform of choice. It's one of the worlds largest brokers with millions of traders. Copytrading is pretty easy on eToro – just search through the profiles of popular traders and then allocate money to automatically copy their trades. Now whenever they make a trade, your account will too.

1Broker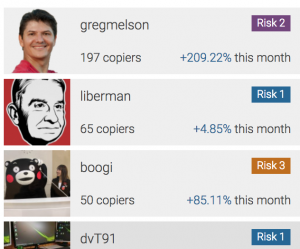 1Broker doesn't have the same polish and quality as eToro. But if does allow you to copytrade forex and stocks using Cryptocurrency. In fact, 1Broker only accepts bitcoin deposits. It's a good way to make use of your Bitcoin, instead of just letting it sit around. And just like eToro, you can take advantage of more experienced traders.
Trading Stocks
Forex markets are extremely volatile. If you've ended up losing your money trading forex due to volatility, then you should take a look at stock trading. While stocks can move around a lot, in general they don't experience the same levels of volatility as forex.
Trading Stocks on eToro
You can even combine stock trading and copytrading on eToro, by only copying traders who invest in stocks. these traders tend to open fewer trades and aim for longer term gains with less risk as opposed to short term profits with higher risk.
Hands Off Trading with Acorns
If you want a hands off approach to trading stocks, then I would recommend investing in ETFs. One option is to invest via an app such as Acorns. Acorns invests your spare change in a broad portfolio made up of ETFs. This option doesn't give you much control over what you invest in, and it's suited for longer term profits.
If you're the type of trader who overtrades and struggles with self control, then Acorns is a great alternative for you. Especially as the portfolios have been put together with a nobel prize winning economist.
Investing in Cryptocurrency
If you're looking for hot markets, with a huge amount of volatility (and profit potential) then cryptocurrency is for you.
I would say that most people who invested in cryptocurrency in 2017 probably made a profit. The same can't be said for 2018 so far, but cryptocurrency has a habit of exploding into bull runs.
Cryptocurrency trading is definitely not for the faint hearted. And it does require a lot of practice and skill to make consistent profits.
Buying Cryptocurrency on Coinbase
The easiest way to buy bitcoin would have to be through Coinbase. If you're looking to dip your feet into the water then coinbase is a good place to start. You can even set it up to make regular small purchases at set intervals (think dollar cost averaging).

Trading Cryptocurrency
If you want to trade bitcoin and even open short positions to profit when the market declines, I would recommend a trading platform such as eToro. You can can trade 10 different popular cryptocurrencies and open long or short positions. They even offer a managed cryptocurrency investment called the Crypto Copy Portfolio which invests in the top coins automatically.

Alternatives that don't work!
There are plenty of options out there that will try and present themselves as legitimate options to forex. But many are just great ways to lose money. Here are a couple that I think people should watch out for:
Binary Options
Don't confuse binary options and forex trading. One is gambling and the other is trading. Binary options brokers are setup to just take your money. The payout structure is just like a casino – you need to have twice as many wins as you do losses to make a profit. And not even the best traders can do that consistently. So over time you will lose your money.
Binary options are a serious investment – investors and traders in the financial industry don't trade binary options. Because they know it is simply gambling.
Forex Robots
Forex robots or Binary option robots are another scam. If there was a robot that could consistently make forex profits, why would they sell it! In forex you are always trading against someone else. There is a winner and a loser. So selling a winning trading bot just doesn't make any sense. The forex robots are just a tool to sell you on making a deposit at a binary options broker. You'll end up losing that entire deposit.
Do you know of other legit forex alternatives? Let me know in the comments.
---
Disclaimer: eToro is a multi-asset platform which offers both investing in stocks and cryptoassets, as well as trading CFDs.
Please note that CFDs are complex instruments and come with a high risk of losing money rapidly due to leverage. 78% of retail investor accounts lose money when trading CFDs with this provider. You should consider whether you understand how CFDs work, and whether you can afford to take the high risk of losing your money.
Past performance is not an indication of future results.
Cryptoassets are volatile instruments which can fluctuate widely in a very short timeframe and therefore are not appropriate for all investors. Other than via CFDs, trading cryptoassets is unregulated and therefore is not supervised by any EU regulatory framework.
eToro USA LLC does not offer CFDs and makes no representation and assumes no liability as to the accuracy or completeness of the content of this publication, which has been prepared by our partner utilizing publicly available non-entity specific information about eToro.