StormGain is the sleeve partner of Newcastle United FC.  Wondering what they do? Looking to make money with StormGain?  Read on to find out more.
StormGain is a relatively new crypto exchange, wallet and trading platform.  I believe they offer a couple of good opportunities for making money:
Earning Interest – you can deposit crypto and earn 10% interest on it
Trading Crypto – if you know how to trade, Stormgain's low fee trading could make it a good choice for you.
Earn up to 10% interest on your crypto
StormGain pays 10% interest on crypto deposits.  Why?  Well you're an essential part of the trading platform.  When traders use leveraged trading on StormGain, they are effectively borrowing capital to control larger positions.  And this isn't free for traders – they pay interest.  It works out to be approximately 14% per annum.  Which is how StormGain is able to pay 10% per annum to its depositors.
So you don't need to be a trader on StormGain to make money.  All you need to do is deposit crypto and you'll start earning interest.
Here are the details:
You can Earn Interest on multiple Cryptos – these include USDT (tether), BTC, LTC, BCH, ETH and XRP.
Interest is paid every 30 days – Interest is paid in a lump sum 30 days after you started accumulating interest.
$50k Limit – while this won't be an issue for most users, if you're a larger investor than there are probably better options. I would recommend BlockFi for large deposits.
$100 USDT Minimum – you need to holding at least $100 USDT (and I'm assuming it's the same equivalent limit for the other cryptos)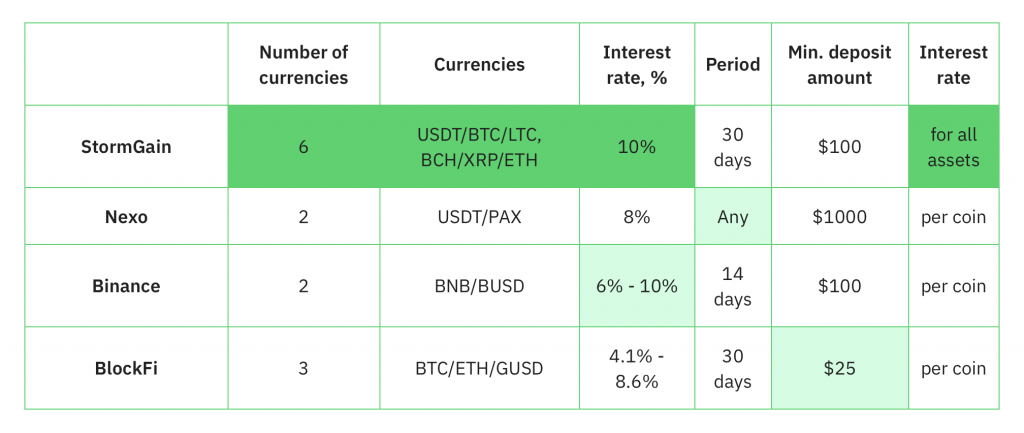 Trading with StormGain
StormGain is trading platform for Cryptocurrencies.  You can trade major cryptos such as BTC, LTC, ETH etc.  And you can also trade with up to 100x leverage.
StormGain isn't as simple to use as a platform like eToro.  I still recommend that to beginners.  But if you're a more advanced trader who is looking to take advantage of market volatility then a platform like StormGain could be for you.  If you've tried a platform like Bitmex and are looking for something that is more reliable, then again StormGain is a good option.
I do like that they don't charge hourly fees.  Instead they are charged daily.  This means if you're a day trader who only opens positions for short periods, you could potentially save a lot.
Trade using a demo/practice account
One very useful feature on StormGain is the free practice account. This will allow you to trade cryptocurrency under real market conditions using virtual currency.  It's a great way to learn how to trade.  And you won't risk any real money!  If you're new to trading make sure you start with a demo account.
StormGain Exchange
StormGain also offer an exchange where you can convert between different cryptos.  They also let you purchase crypto using fiat (credit card).  By the looks of it they are definitely trying to become a one stop shop for crypto.
Summing Up…
Right now, I'm most excited by their 10% interest on crypto deposits.  While many different trading platforms offer interest on deposits, 10% is by far the highest I've seen.  And because it's being used to fund margin trading, it's a tried and tested way to generate interest that provides little to no risk for the depositor.  I'll be trying out their trading platform over the coming weeks and will write a more detailed review soon.
You can find out more about StormGain here