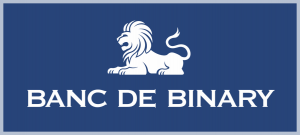 Is it possible to make money with Banc De Binary?  Are people actually using the platform and making a profit.  I've tried it out and want to share with you how I feel about Banc De Binary and whether it's a legitimate way to make money.
What is Banc de Binary
Banc de Binary is a binary options trading platform.  I've written in the past about Binary Options in general but I though I would create a more specific post for this platform.
Banc de Binary was founded in 2010 – right when this type of platform was just starting to emerge. It was one of the original players in the space.
But just because it's been around for many years, doesn't mean that it is a legitimate way to make money online.
Can you make money from Banc de Binary
In short, you can probably make money in the short term, but if you plan on lasting for more than a week, the odds of you succeeding are very small.
Why?  Because unlike a regular forex broker, positions on Banc de Binary close out after a short period of time.  That's what Binary options trading is all about – you bet whether a stock will go up or down over a set period of time.  With a traditional forex broker, you can hold onto a position while its negative and close it out only when it's returned to the positive.  This reduces some of the risk.
Banc de Binary is a hugely risky trading platform.  I don't know of any traders who have profited consistently over the long term.  You can compare it to a casino.  You might win the odd game of roulette, but over time the house will always win.
Should I trade with Banc de Binary
No.  There are many less risky, yet just as profitable alternatives.  After signing up, I couldn't see any real reason why this platform is better than any other binary platforms (all of which I don't like).  Stick to something more reliable and transparent and leave these high risk "trading" platforms to the gamblers.
Watch out for Binary Option Scams
While Banc de Binary isn't a scam, there are plenty of websites that will try and tell you, you can make ridiculous amounts by signing up to a binary platform and using some sort of auto trader or robot.  Sorry to say these really don't work and will not increase your chances of turning a profit.