YouHodler is a service that lets you earn interest on your crypto.  It's basically a savings account for your crypto where you earn interest on your Bitcoin, Ethereum, Ripple, and more.    What's more they offer interest of up to 12% – way higher than the interest you'd earn on traditional savings account.
I've been using this tool for the past couple of weeks and wanted to share my full YouHodler review.
What is YouHodler
YouHodler is a Swiss based company that offers a number of different crypto products:
Crypto Savings Account – earn up to 12% interest on your crypto.
Crypto Loans – take out a loan using crypto as collateral
Multi Hodl – A unique tool that combines a savings account with crypto loans. More on that below.
Turbocharge – A tool to borrow crypto to buy more crypto (basically multiply the amount of crypto you own).
Earn Interest on your Crypto
Are you sick of your Bitcoin, Ethereum or other cryptos just sitting in a wallet not doing anything?  Are you waiting for the price of crypto to go up? Why not make some interest while you wait!
YouHodler is like a bank but for crypto.  They offer loans and savings accounts.  The revenue they generate from lending is used to pay interest on your savings.
Here are the current interest rates for crypto:

As you can see the rates go up to 12%.  This is quite a bit higher compared to other similar products.  There are a number of crypto savings accounts that pay interest, but YouHodler is currently the market leader when it comes to interest rates.  Obviously these interest rates might change in the future – it all depends on the current market demand for a particular coin.
How to Earn Interest on your Crypto:
Complete KYC (A legal requirement, it's quick though)
Transfer your coins into your YouHodler wallet
After 1 week, interest will be paid into your account
Multi HODL
Multi HODL is a unique product offered by YouHodler.  It lets you use a portion of the funds in your savings account to take out a crypto loan.  This loan is used to buy more crypto.  So basically you use a small portion of your funds to increase your overall holding of crypto.  As the price of crypto rises, the loan is paid back.  There is some risk involved.  If the price of crypto drops you'll still need to pay back the loan.  But you can't lose more than the % you've allocated.
This is actually a strategy that investors have been using years.  You can currently take out a margin/investing loan through most banks in order to purchase shares.  This is no different, it's just using crypto.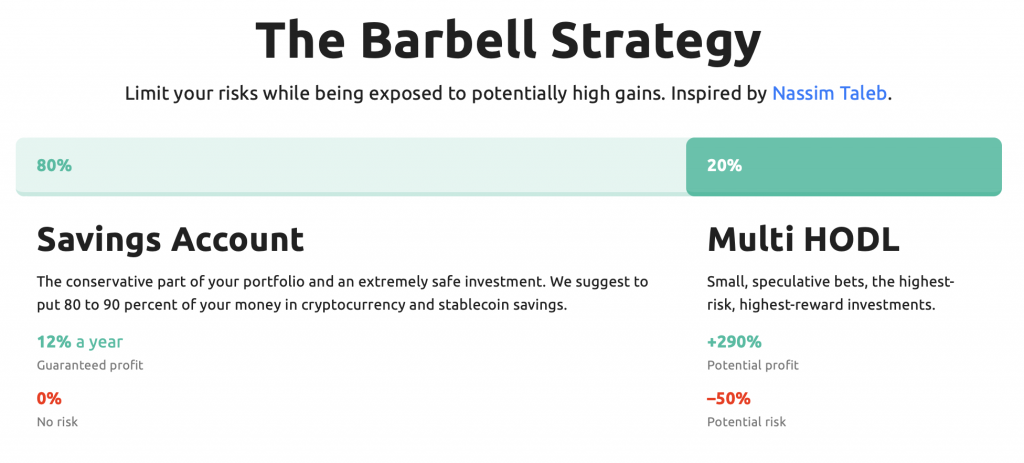 As you can see from the chart above, most of your crypto gets stored in a savings account.  This earns you guaranteed interest of 12% (or whatever % based on the coin you're using).  The rest of your crypto gets used to place small bets that have a potential for much higher returns.
If you've wanted a strategy to grow your crypto, then this could be for you.
Earning Compound Interest
Compounding is one of the most powerful tools in saving.   The good news is that YouHodler pays out interest every week.  So your funds will compound every week.  Basically you'll keep earning more and more interest every week as more and more interest gets paid into your account. This is compounding!  Traditional banks usually pay interest out monthly.  So compounding doesn't have much of an effect (especially with their super low interest rates).  But on YouHodler you'll notice more of an effect.
Is YouHodler Safe?
YouHodler uses LedgerVault.  This is one of the most secure places for organisations to store crypto.  It is backed by a 150m crime fund.  So if anything was to go wrong, you'd still be covered.  YouHodler also has their own fund in place as well to make sure you won't lose access to any funds.
YouHodler is a well known company within the crypto space and not some anonymous group.  They are situated in Switzerland and subject to their laws.
YouHodler vs Nexo
Nexo is a similar company to YouHodler.  They offer crypto loans and also let you earn interest on crypto.    The biggest difference between the two are the interest rates.
It all depends on the coin you have.  Personally I prefer to use YouHodler, because I get access to the Multi Hodl tools.  They also offer a larger range of coins.
Nexo has one major catch – you need to hold Nexo tokens in your Nexo wallet in order to earn the full interest rate.  This is one major downside of using Nexo.
My YouHodler Review
YouHodler is a great way to make money on your crypto.  If you're sick of your crypto sitting in a wallet doing nothing you might as well transfer it to YouHodler to earn up to 12% interest.
At the moment I'm just using the savings account.  The multi hodl product is interesting to me.  I think it will work amazingly during a bull market.  But while the market is flat, I'm being patient.  If there is a bull market, using multi hodl could seriously multiply your crypto holdings, but obviously there are risks involved.  For most people I think sticking to the savings account is your best bet.
Overall I think it's a great product and I'm excited to keep using it.