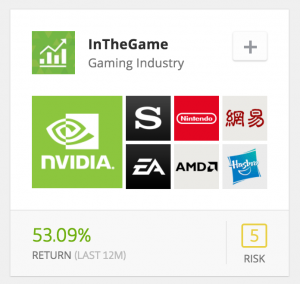 I recently bought myself a PS4 Pro, and it got me thinking about the gaming industry.  After some research I realised that the industry was much, much larger than I had thought.    I realised there could be some interesting investment opportunities and I also discovered that you can invest across the entire sector with the new "InTheGame" copyportfolio from etoro.
A CopyPortfolio?
A copyportfolio is a themed investment.  It has an underlying strategy, and is this case the strategy is to go long on gaming.  Unlike hedge funds, copyPortfolios can be bought into instantly and you can close your position instantly as well.  CopyPortfolios are a financial product offered by eToro and make investing in interesting ideas and concepts really easy.
You could invest in the underlying assets individually, but the nice advantage of a CopyPortfolio is you invest across a diverse set of assets and your portfolio is automatically rebalanced every month.  So you're benefiting for expert financial help without having to drop any huge fees.
The InTheGame CopyPortfolios
This CopyPortfolio invests in a number of stocks in the gaming industry.   These include gaming card manufacturers Nvidia and AMD.  Console platforms such as Sony and Nintendo and also game makers such as EA.
At time of writing, the portfolio had gained over 50% over the past 12 months!  Now there has been a recent bull run on stock exchanges around the world, but this has out performed that run.
Why invest in this CopyPortfolio
If you believe that the gaming industry will continue to grow, then this is the portfolio for you.  Personally I think there is lots of upside to the industry – but remember that's just my personal opinion based on my own research and you should do your own.
My Analysis
I feel that gaming isn't something that is suddenly going to disappear or be uprooted by a new player.  Unlike other entertainment industries such as Film or Music, gaming isn't going to suffer due to piracy.   And there are huge profits with gamers willing to pay $100 per game.    Of course the big upside could be in VR and we're starting to see more VR hardware and games and this is obviously going to continue.
This is definitely a portfolio to watch in the future.  Even if your not in a position or don't feel like this is your investment, you can add it to a virtual portfolio in etoro.  This way you can see how it performs in a practice scenario but using real world trading conditions and data.
You can find out more about the portfolio here
What do you think of the gaming industry?  Worth investing in?  Do you think it will continue to grow?  Let me know in the comments.