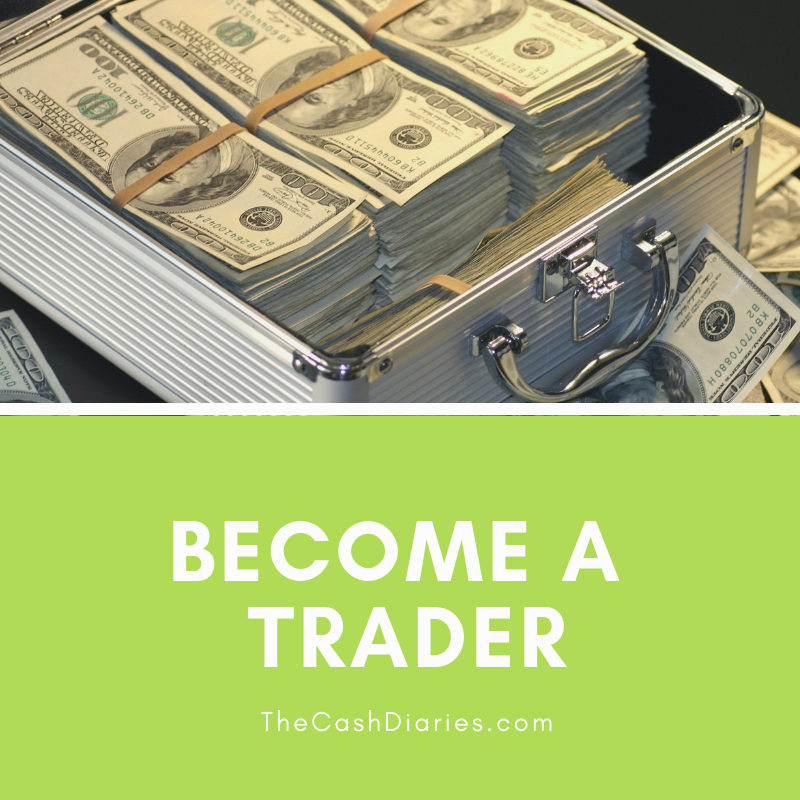 Trading is one of the few unique careers that can be done from anywhere, in your own time and doesn't rely on anyone else but you. It's also one of the things you can do to gain financial freedom – freeing yourself from working 9-5 and a fixed income.
Trading isn't a get rich scheme. It takes skill, patience and the right mindset. And like anything in life, it takes practice. All traders will fail to begin with, the trick is to keep going, keep learning and manage your losses.
Here's a step by step approach to getting started trading.
1 – Learn the basics
The first step on your trading journey will be to learn the basics. This includes learning to read charts, how to open and close trades and fundamental analysis. I think the best way to get started is with Copy Trading. This is where your trading account automatically copies the trades made by a more experienced trader.
By copying trades, you'll learn all about trading without having to do the hard work yourself. It's a great way to get started while still making some money.
The best copy trading platform is eToro. You can browse through the profiles of hundreds of thousands of traders and see every trade that they've made and how profitable they've been. And of course you can automatically copy these traders. Even if you don't want to start copy trading, I'd recommend still signing up with eToro as it's a good community to be part of. Traders post their ideas and help others learn. Best of all, eToro is free to join.
I'd also recommend either taking a trading course on Udemy or reading a book. Just so you understand all the jargon and how trading works.
2 – Come up with a trading strategy
There are lots of different types of trading strategies. This is why I'd recommend doing a Udemy course. Start with some price action trading – I find it's most reliable for beginners. Once you've decided on a strategy you can put it into action with a practice account…
3 – Start with a practice account
Once you've got a grip of the basics you can start trading on a practice account. When I first started trading, I was both copy trading and practice trading. So I was making money in my copy trading account and practicing my own trading in another.
Again, eToro is the perfect place to practice trade. When you sign up, eToro gives you a free virtual or practice trading account. It has $100k of virtual money to trade with. You can use this money to trade anything on eToro (which includes stocks, forex, commodities and cryptocurrencies).
I would recommend using your practice trading account like you are trading with your own money. Don't open really big trades, that you would never open in real life.
Don't start trading with real money until you can make a profit in your practice account.
4 – Start Trading
This is where it gets fun, but also really stressful (at times). Once you're making profitable trades in your practice account – aka you know what you're doing – you can start opening trades on your real account. Start small and stick with your strategy. If you're trading correctly, a single bad trade won't wipe out your account and you'll be able to move on.
Tips for better trading:
Start with low leverage
The #1 mistake of beginner traders is using too much leverage. Use as little leverage as possible when you begin. eToro is a great trading platform for this as you can choose how much leverage you want to use per trade.
Learn to control your emotions
Trading is all about knowing when to open a trade and when to sit it out. This comes down to learning to control your ego and emotions. You can even take course on "trading mindset" which will help you.
Invest your profits
Part of trading is being able to survive when the markets aren't doing you any favours. To do this you'll need to create a safety net. And the best way to do this is to invest in a diversified index fund(s). There are products like Acorns or Betterment which will do this automatically for you.
Stay away from Binary Options
Real traders know that Binary Options are just a scam. They are targeted towards beginners who don't know what they're doing. Binary Options are just gambling and you should stay far away from them.
---
Disclaimer: eToro is a multi-asset platform which offers both investing in stocks and cryptoassets, as well as trading CFDs.
Please note that CFDs are complex instruments and come with a high risk of losing money rapidly due to leverage. 78% of retail investor accounts lose money when trading CFDs with this provider. You should consider whether you understand how CFDs work, and whether you can afford to take the high risk of losing your money.
Past performance is not an indication of future results.
Cryptoassets are volatile instruments which can fluctuate widely in a very short timeframe and therefore are not appropriate for all investors. Other than via CFDs, trading cryptoassets is unregulated and therefore is not supervised by any EU regulatory framework.
eToro USA LLC does not offer CFDs and makes no representation and assumes no liability as to the accuracy or completeness of the content of this publication, which has been prepared by our partner utilizing publicly available non-entity specific information about eToro.