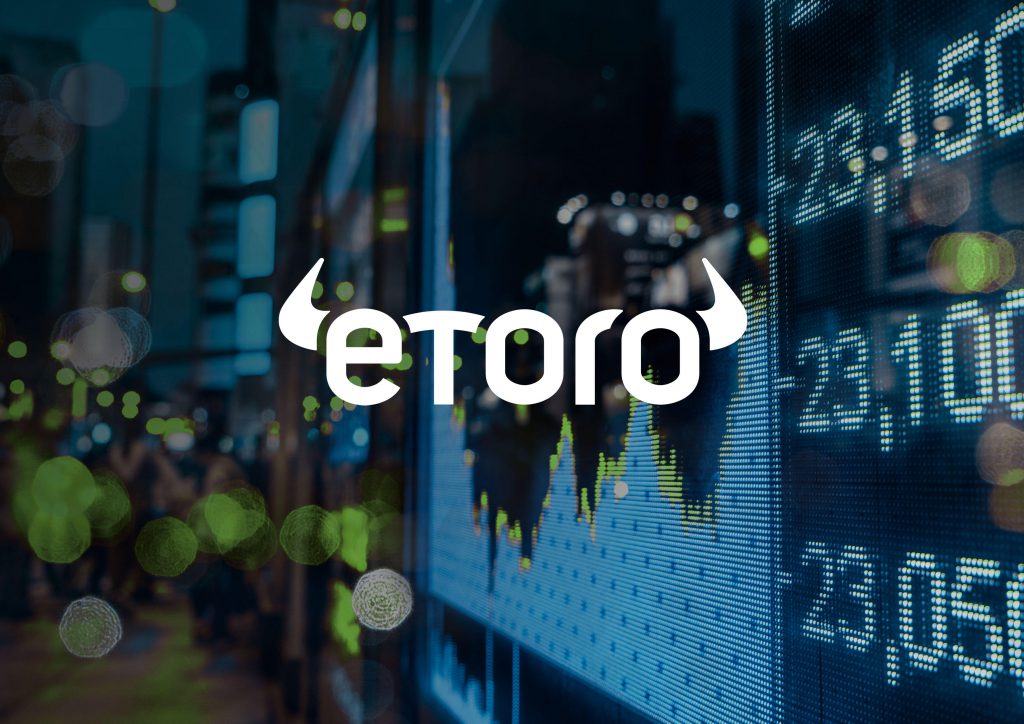 Have you heard of copy trading but not known where to start? This is my guide on how to start copy trading on eToro. I've been trading and copy trading for the last 5 years or so. I think its a great way to learn more about investing and economics and tap into the knowledge base of more experienced traders.
2020 has been a pretty crazy year so far and markets have been volatile. But there have been traders who have been able to take advantage of this volatility and had success. This is where copy trading is super powerful. You can tap into the traders who are making the most of these trying times.
What is Copy Trading
Copy Trading is where you automatically copy the trades made by other traders. It's a great way to tap into the trading knowledge of more experienced traders. When they make a trade, your account will make the same trade. On eToro trades are copied based on proportion (which in my opinion is an excellent feature). So if a trader uses 1% of their account capital to open a position, 1% of the funds you've allocated will be used. This means you don't need a huge amount of capital to copy a trader. They might be trading with hundreds of thousands of dollars, but you can make the same trades using just $200. Each trade will just be opened with a much smaller amount of capital but always in the same proportion.
How to Start Copy Trading
Here is my walkthrough on how to get setup copy trading:
1. Sign up to eToro
It's free to sign up to eToro. Even if you're not thinking about trading yet, it's a great community to be a part of. eToro is a social trading platform. It's a bit like a mix between Facebook and a trading platform. You can follow and interact with other traders and talk about different markets.
I follow a bunch of interesting traders on eToro. You get a feed which aggregates all their activity such as trades or comments.
2. Make a Deposit
eToro accepts a number of deposit methods including credit card, bank transfer and PayPal. Before you can deposit you'll be ask to verify your account. The verification process differs depending on where you live but I found it to be pretty painless and quick.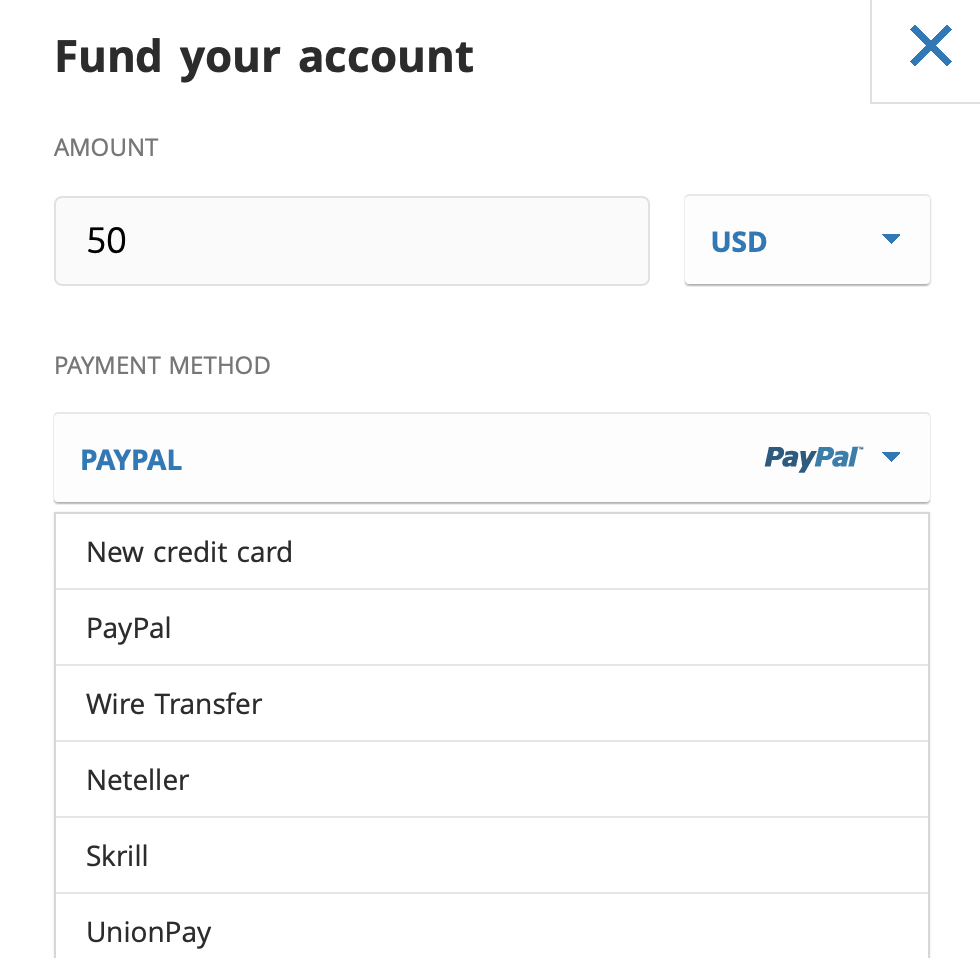 Remember you don't need to make a deposit. When you sign up to etoro, you get given a virtual account as well. You can use this account to trade virtual funds. You can even copy trade people using the virtual account. So it's a good way to test out eToro and see if it's the right type of platform for you.
3. Choose a trader to copy trade
The most important part of copy trading is choosing the right person to copy. Here are some of the things I look out for when copying people on eToro. You can use the search tool on eToro to filter traders by all of the following settings:
History – I only copy trade people on eToro who have more than 12 months history on the platform. While anyone can be lucky trading for a month or two, it takes skill to turn a profit over a longer period. So I only copy traders who have at least 12 months history on the platform.
Risk Score – I like to copy traders who have a risk score of 4 or less. eToro assigns each trader a risk score. The higher the score, the more risky the trading style. Generally a trader who has a low score will be using a smaller % of their account capital to open trades and are trading in less volatile markets.
Portfolio – I like to look at what the trader has traded in the past and what they are currently holding. Personally I like to copy stock traders and experts in single markets (like the UK). But this is just my personal preference. You might prefer to copy a crypto trader, or someone who invests in a mix of markets.
Feed – I like to copy traders who post regular updates on their feed. The best traders keep their copiers updated with details on their positions and reasoning behind trades. It's a great way to learn more about trading and economics!
Trades Per Week – Personally I don't like to copy traders who only make 1 or 2 trades every few weeks. It can be frustrating to copy someone and not see your copied position do any trading. So I like to copy traders who are actively making a few trades each week.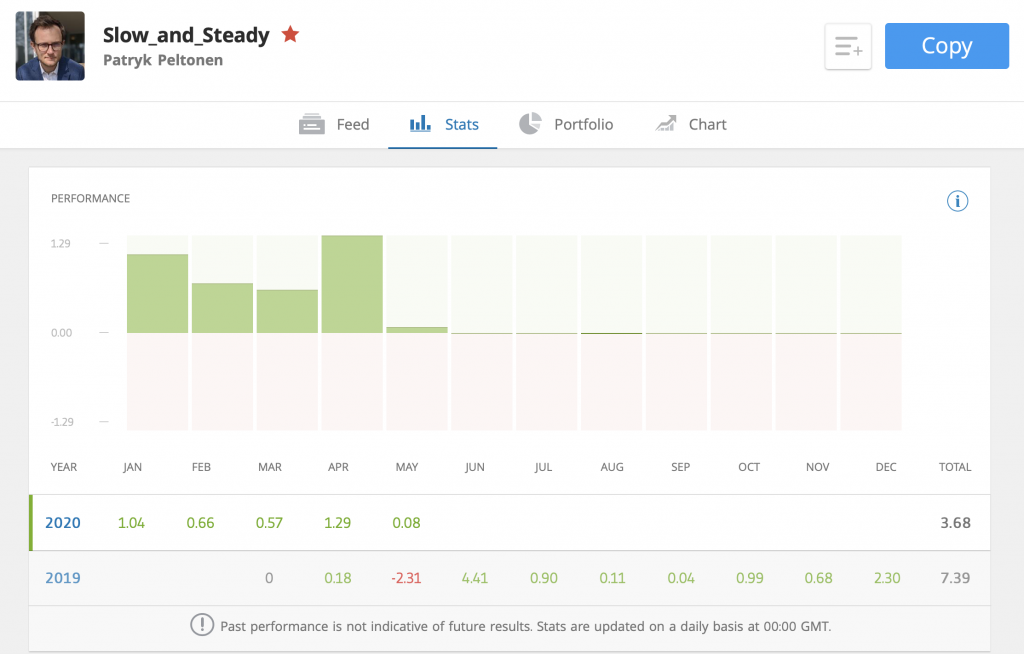 Once you've found a trader to copy, you can allocate funds. Just click on the big blue copy button. You can set how much you want to copy with and you can also choose to set a stop loss. This will automatically close your copy position if the allocated funds drops by a certain amount. I don't change the default stop loss.
Tips for Copy Trading and eToro
You can start with a practice account – If you're new to trading and just want to try the platform out, you can do this with a virtual account. When you sign up to eToro you automatically get a free virtual account. It has virtual funds that you can use to copy trade or manually trade.
You don't need to copytrade on eToro – eToro isn't just a copy trading platform. You can also invest manually in a range of different assets.
Minimum Deposit – There is a minimum deposit for new traders of $200. This is just for first deposits. In Australia the minimum is $50.
You can find out more about eToro here and sign up for a free account to try it all out.
---
Disclaimer: eToro is a multi-asset platform which offers both investing in stocks and cryptoassets, as well as trading CFDs.
Please note that CFDs are complex instruments and come with a high risk of losing money rapidly due to leverage. 78% of retail investor accounts lose money when trading CFDs with this provider. You should consider whether you understand how CFDs work, and whether you can afford to take the high risk of losing your money.
Past performance is not an indication of future results.
Cryptoassets are volatile instruments which can fluctuate widely in a very short timeframe and therefore are not appropriate for all investors. Other than via CFDs, trading cryptoassets is unregulated and therefore is not supervised by any EU regulatory framework.
eToro USA LLC does not offer CFDs and makes no representation and assumes no liability as to the accuracy or completeness of the content of this publication, which has been prepared by our partner utilizing publicly available non-entity specific information about eToro.