Getting into stocks can seem a bit daunting. That changed when I started using the social trading platform – eToro. I've been using it for the past few years with great success.
Disclaimer: Disclaimer: 78% of retail CFD accounts lose money
eToro has a made a business of making trading as approachable as possible allowing anyone to being trading online.
While trading on eToro seems much easier than on other platforms, there are still a number of things you need to watch out for. In this guide I'm going to take you through step by step
How to get setup on eToro
How you can get started trading stocks
How to copy the trades of successful and profitable traders automatically
The common mistakes people make on etoro
So read on to learn how you can start trading stocks online from the comfort of your couch…
So What is eToro
eToro is an easy to use trading platform that incorporates social and copy trading features. eToro launched in 2006 and since then the platform has undergone numerous revisions and updates and now has over 5 million traders.
Copy Trading is the big feature that makes eToro unique. To use copy trader, you search through the profiles of profitable traders. If you find a trader that matches what you are looking for you can allocate funds to automatically copy their trades.
The most copied users on the platform are rewarded with commissions and other benefits. This incentives traders to not only be profitable but to practice responsible trading.
Because eToro has these copy trading features, it makes it a good choice for new traders who are looking to learn more about trading and investing. But it is important to note that while eToro and trading can be very profitable, it can be risky too and you can lose money.
Getting Started on eToro
Getting started on eToro takes a matter of minutes and don't worry you don't need to make a deposit or spend any money to begin with.
Sign up for an Account
Signing up is free and will take a few minutes. It's all online. You'll be asked for a phone number, but this is just to prevent fraud.
Register an eToro account here
Disclaimer: Disclaimer: 78% of retail CFD accounts lose money
You now have an account that is ready for trading! How exciting…
Make a Deposit
You don't need to make a deposit to use eToro. However in order to invest, obviously you will need to deposit some money. The minimum you can deposit is $200. This will allow to copy two people (as the minimum needed to copytrade a person is $100).
If you don't wish to make a deposit you can still follow along this guide using a demo account. When you sign up to eToro you automatically get a demo account with demo funds and you can switch between your demo and real accounts at anytime.
Check out the Platform
eToro is entirely web based (although you can also use their mobile app too). I'll take you through some of the different features of the web trader platform:
Watchlist
Your watchlist holds the stocks, people and other markets you are interested in investing in. You'll land on the watchlist when you first get an account.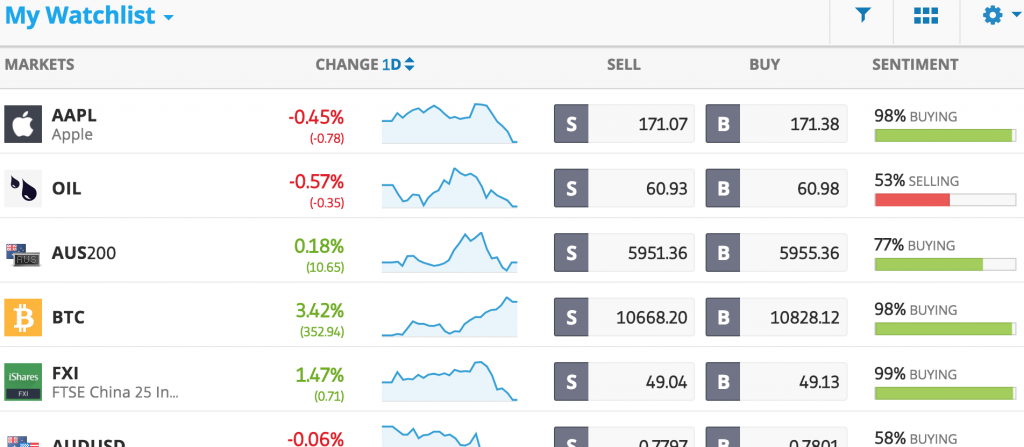 Portfolio
This contains the markets that you've actually invested in. The dashboard shows how much you've invested and what the Profit/Loss is for each investment.

Trade Markets
This screen shows all the different things you can invest in on eToro. To add a market to your watchlist, just click the plus icon.
Copy People
This is where you can browse through the profiles of traders on the platform. It's the "social" part of eToro. I'll show you how you can filter and find the best traders to copy, below.
There is also a News Feed and CopyPortfolios section you should explore. The news feed contains a feed like facebook which is made up of all the posts from traders you are copying/following. CopyPortfolios are a new investment product from eToro which I'll cover briefly below or you can get in depth guide here.
Past performance is not an indication of future results. Trading history presented is less than 5 complete years and may not suffice as basis for investment decision. This is not investment advice.
Copying Traders
Picking your own stocks to invest in, isn't for everyone. So copying other traders can be an easier and less risky way to invest in stocks.
This is the investment method I recommend for most people. And it's what I do too 🙂
When you copy someone on eToro, you allocate funds to automatically copy the trades of someone else. Thankfully eToro makes this extremely simple and in reality it's as hard as clicking a button.
eToro will then invest the allocated funds into the trades that the trader makes in the same proportion. So if a trader uses 10% of their capital to buy Apple stocks. 10% of the funds you allocated will also be used to buy Apple stocks. Simply put, you'll earn the same rate of return as the trader you have copied.
How to Find traders to copy
Beginners on eToro often just copy the first people they see who have massive returns. But as I'll explain here, that won't always end in success. It's best to use the guidelines below to filter out traders who from my experience don't deliver long term results. I've built this list from experience after using the platform over the past few years.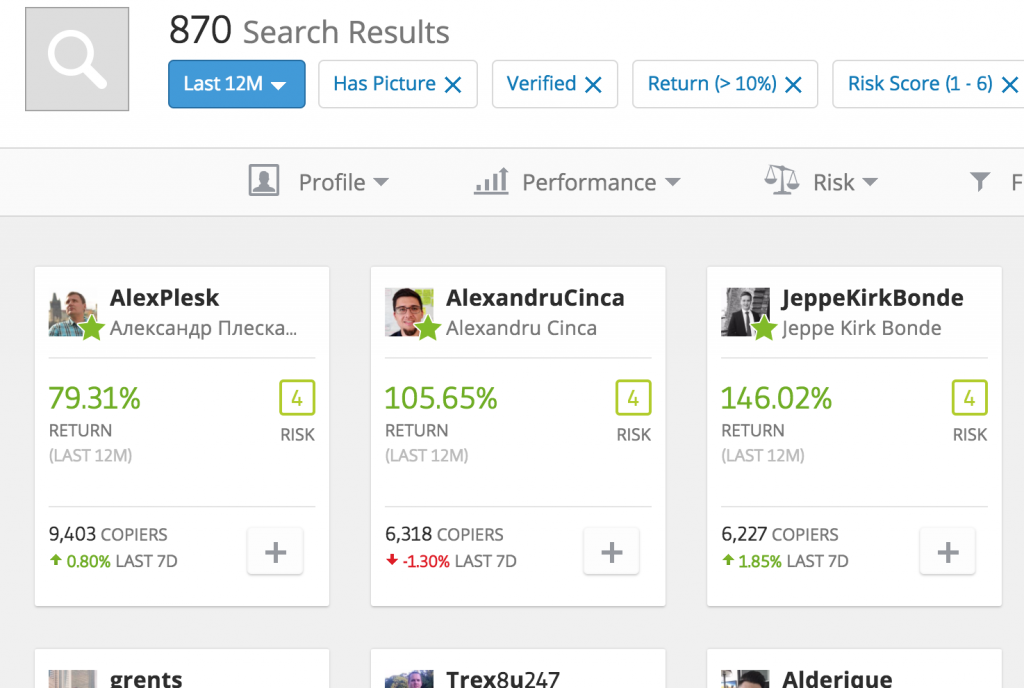 What a Good eToro Trader should look like…
Trading History
The best traders are consistent traders. All traders have good and bad months. So it's impossible to tell if a trader is good or just lucky if they only have a month or two of trading history on eToro.

Low Drawdown
eToro shows the daily, weekly and yearly drawdown. This is the most a trader has been "down" over that period. Anything more than 10% in my opinion is bad.

Risk Score
eToro gives each trader a risk score, and it's a good indicator of who to copy. Generally I would only recommend copying traders with a risk score of 4 or lower. The lower the better! The risk score is calculated based on the markets the trader trades in, the amount of leverage they use and the amount of capital they allocate to each trade.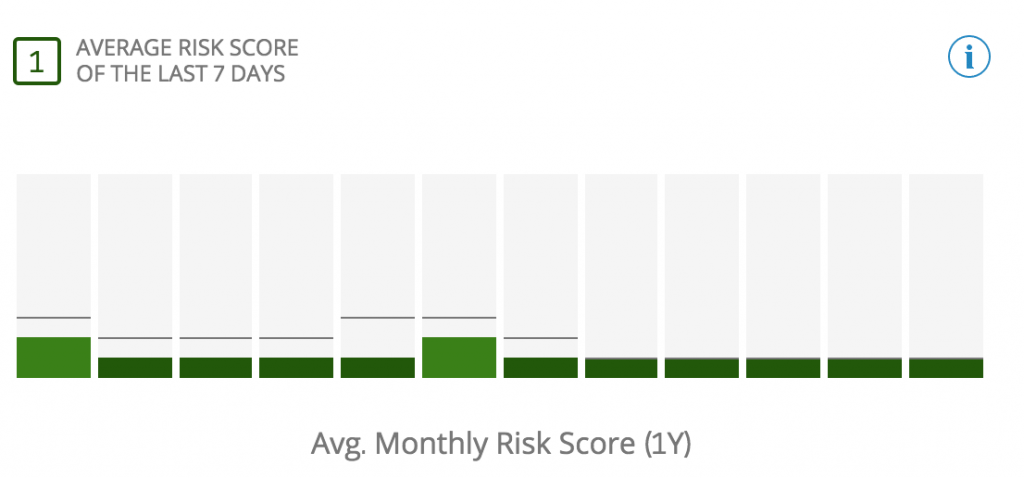 Return
Don't just copy trade the trader with the highest return! Some traders use high leverage and take way too many risks. They might get lucky once or twice and show large returns, but this lucky quickly runs out. 100%+ returns aren't realistic over the long term.
Markets
Based on how much risk you want to take on, you'll want to avoid some traders. Cryptocurrencies can deliver high returns but they are also very volatile and risky. Forex and commodities can be extremely volatile as well. If you're new to investing, you might want to stick to copying traders who invest in stocks. From my experience these deliver the best returns over the long run with the least amount of risk.
How to Copy

Copying a trader is dead simple. Once you've found someone you want to copy, just click the "copy" button on their profile. You'll be asked to enter how an amount you want to allocate to their account and what the stop loss should be.
The stop loss is the amount of capital you are willing to risk before eToro will stop copying that trader for you. This is a measure to ensure that if a trader has a really bad run, you won't end up losing all your money.
When you enter an amount, you'll be presented with the Average Trade Size. This will show you how much of your capital will be used on average for each trade.
It should also be noted that the trader never has access to your actual funds. The trader who you copy will be trading with their own real money. And their trades are simply mirrored in your account.
Following Users
If you're not ready to actually copy a user, you can still follow them. This will add them to your watchlist and their posts will be shown on your news feed. This is a great way to monitor the performance of a trader. I follow a whole bunch of people, and only copy trade the top performers based on my list of things to look for.
Manually Trading
You don't just need to copy other people on eToro. You can also open trades yourself. To do this requires more work as you'll need to be familiar with how the stock market works and what makes a stock go up or down.
Before you start manually trading, I recommend doing a good test run in your demo etoro account. This way you can make trades without risking any money.
Become a Popular Investor
If you manage to become a good enough trader, you'll be able to become a part of eToro's Popular investor program. The more people who copy your trades, the better the perks you'll get from eToro. I've written a comprehensive guide on how to become a popular investor on eToro.
The top investors on eToro can earn a full time income from their trading. So it's definitely something to work towards if you're a talented trader.
CopyPortfolios
CopyPortfolios are a managed investment product from eToro. They allow you to invest in a themed group of stocks in one investment. For example, if you're into video game like me and believe there's lots of value in the future of that industry, you can invest in a Gaming CopyPortfolio. This fund invests in a bunch of different gaming related stocks.
eToro offers a large range of different CopyPortfolios in different industries and using different investment philosophies. CopyPortoflios require more capital to get started ($5000). But they don't have any fees. I recommend CopyPortfolios for those look for a more hands off approach to investment.
Mistakes New Traders Make on eToro
Here are some things to watch out for on eToro…
Copying a Single Trader
Diversification is the key to investment success, and it's no different on eToro. Don't allocate 100% of your funds to one trader. Instead aim to allocate no more than 25% of your capital to a trader. I like to keep some capital spare.
Copying "Most Popular" traders
The most popular traders aren't necessarily the best. Use my checklist about to ensure you the right type of trader.
Using Too Much Leverage (manual trading)
If you're making trades on your own, the number mistake I see beginners do is using too much leverage. This is a sure fire way to see your capital disappear.
Not knowing when to cut your losses
No trader wins 100% of the time. The best traders know when to cut a loss in order to protect their winnings.
Randomly Picking Stocks
Never pick a stock without doing the research. If you want to pick stocks on your own without using Copy Trading, I would recommend learning about what makes a stock undervalued or overvalued. This is a good, fundamental place to begin.
You can find out more about eToro here
---
Disclaimer: eToro is a multi-asset platform which offers both investing in stocks and cryptoassets, as well as trading CFDs.
Please note that CFDs are complex instruments and come with a high risk of losing money rapidly due to leverage. 78% of retail investor accounts lose money when trading CFDs with this provider. You should consider whether you understand how CFDs work, and whether you can afford to take the high risk of losing your money.
Past performance is not an indication of future results.
Cryptoassets are volatile instruments which can fluctuate widely in a very short timeframe and therefore are not appropriate for all investors. Other than via CFDs, trading cryptoassets is unregulated and therefore is not supervised by any EU regulatory framework.
eToro USA LLC does not offer CFDs and makes no representation and assumes no liability as to the accuracy or completeness of the content of this publication, which has been prepared by our partner utilizing publicly available non-entity specific information about eToro.