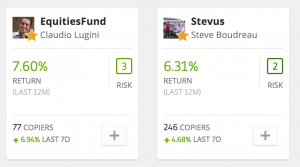 Although I've reviewed plenty of the traders on eToro, to help give you ideas on who to copy, I wanted to write about how I actually write these reviews.  What do I look for in a good copy trader and what filters should you be using when you search for someone to copy.
For those who don't know, Copy Trading is where you automatically copy the trades of a profitable trader.    You can do this through my favorite copy trading platform, eToro.  There are currently over a million traders on the platform, so how do you actually know who to copy?
These are the things I look for when evaluating a potential copy trade:
12 Months+ Trading History
The first and most important thing I look for is a trading history.  I've seen too many traders make great returns for a month or two and then lose everything.  You can be lucky and make a profit over a month or two.  But it takes more than luck to return a profit over 12 months.    I'm most comfortable copying someone who has a few years of history on the etoro platform.  As etoro ages, more and more people fit this criteria.
When I look back through the history, I make sure there aren't any months with huge losses.  Although this isn't a dealbreaker.  Even the best traders have a bad month.
Gains around 10% p.a.
I like copying traders who deliver returns of around 10-20% per year.  If a trader has a return of say 200% – it's a red flag.  They are probably using a high degree of leverage and using most of their capital in a single trade.  This means their accounts could easily get wiped out.  I'm happy to copy someone who has a return of around 50%  – but only if they have a low risk score.
Trades per week
One of the most annoying things is copying a trader and them not making a trade for the next couple of months!  I like copying traders who are engaged in regular trading.  So anyone who makes an average of 1+ trades per week is someone I would copy.  There are some stock traders on etoro who are obviously going long on a few stocks – and in this scenario i'm happy to still copy them.  Just be aware, you might have to wait until they start trading after copying.
Average Holding Time
One of the early problems of eToro was that traders would keep losing positions open for a long time.  This is because open positions didn't show up on your stats.  That has now changed, so average holding time is less of a factor.    However, depending on your objectives, you might not want your capital tied up in positions for months on end.  Remember, it is possible to stop copying and close copied trades at any time.
Risk score
The risk score on eToro is calculated based on a traders trading style.  If they open positions using a small % of their capital using low leverage then they will have a low risk score.  If they do the opposite they will have a high risk score.  I only like copying people with low risk scores.  I'm talking 1-3.  I might consider a trader with a risk score of 4-5 but I would probably copy them using my practice account first, just to make sure.
Practice Copy Trading
The good thing about etoro is that you can use a free practice account to copytrade with.  That way you can experiment copying people, without have to risk your actual money.
So these are the things I look out for when copy trading – how about you?  What do you use when filtering and searching for people?